2017 Mid-Autumn Festival Drawing Contest Highlights Strong Family Bonds with NYC Youth
Main Content
2017 Mid-Autumn Festival Drawing Contest Highlights Strong Family Bonds with NYC Youth
On November 4, 2017, the 2017 Mid-Autumn Festival Drawing Contest Award Presentation Ceremony, presented by EmblemHealth, Flushing BID and CPC, recognized all 10 finalists at CPC Queens Community Center. This event showcases the amazing artistic talents of the youth in our communities. 600+ Contestants submitted their artwork illustrating the traditions of the Mid-Autumn Festival that mean the most to them.
Special thanks to NYC Councilmember Peter Koo for recognizing the artists and his inspiring remarks to all of the finalists. Thanks to Joe Shen, Vice President of Multicultural Marketing of EmblemHealth, Dian Yu, Executive Director of Flushing BID, and the EmblemHealth team for their efforts as well as sponsoring this meaningful event for the community and families. This event is not just a drawing contest but also an opportunity to strengthen our family bonding through the creative process, submission of the artwork and parents' presence at the ceremony.
As the largest Asian American social services agency in the United States, CPC provides culture related programs for all ages. CPC is privileged to partner with these two organizations to hold this cultural event for the community across the boroughs. We are proud and committed in our communities, and we are constantly striving to make our communities and families better.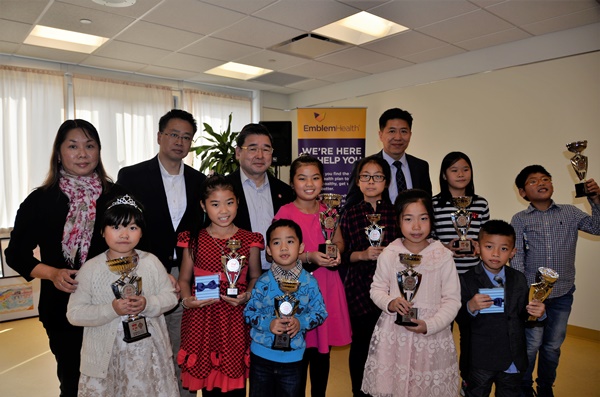 Finalists at award presentation from left to right: Sharon Lin, Sabrina Gao, Jayden Gao, Selena Gao, Susanna (Si Chen) Liang, Isabel Zheng, Audrey Wang, Rynn Ou Yang, Raphael Zheng
Finalists:
Age 4 - 6

First Place: Sharon Lin
Second Place: Xinling Zheng
Third Place: Rynn Ou Yang

Age 10-12:

First Place: Audrey Wang
Second Place: Raphael Zheng
Third Place: Susanna (Si Chen) Liang

Age 7-9:

First Place: Selena Gao
Second Place: Isabel Zheng
Third Place: Sabrina Gao

Popular Drawing: Jayden Gao (Age 4-6 Group)
Congratulations to all! All finalists' artwork will be displaying to the public at EmblemHealth Neighborhood Care Center at 87 Bowery, New York NY 10002, starting from November 8, 2017 to January 31, 2018.