Youth Visioning for a Better World
Main Content
Youth Visioning for a Better World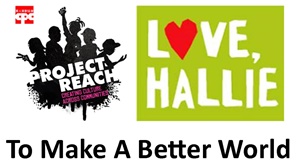 On September 18, 2017, Project Reach co-hosted a significant visioning session with Love, Hallie Foundation, a foundation created by Hallie Geier's family after her tragic passing. Hallie Geier was an 11-year old child activist who spent her childhood years writing prolifically about social problems, being frustrated that a 9-year old could not volunteer in many social cause organizations but deciding to take action herself anyway "to make a better world".
Over 35 adults and young people convened to talk about the vision for a venue in Times Square and online media which would work to empower other children to become engaged in social justice causes and in making a better world.
Facilitated by David Park, a consultant from Columbia University, 10 young people from Project Reach's Winternship, representing CPC Manhattan, Brotherhood SisterSol (Harlem), CORO Youth Leaders (Bk), The POINT (Bx), Staten Island Tech (SI), Francis Lewis HS (Qns) and Murry Bertraum HS (Mn), 4 young people from Hallie's Angels and 20 young and older adults, executive directors, foundation people and Love, Hallie Board members all met one another, talked about their own personal journeys taking social action and brainstormed ideas for what the Time Square venue and online effort might look like.
Project Reach Winterns opened the session and in the end, most of the attendees agreed that young people must be at the table from the very beginning and that issues taken up must also include the reality and problems facing young people themselves - that the space and program had to be cognizant of young people coming from marginalized communities as well.