CPC Brooklyn Raises Over $90,000 to Empower Local Communities
Main Content
CPC Brooklyn Raises Over $90,000 to Empower Local Communities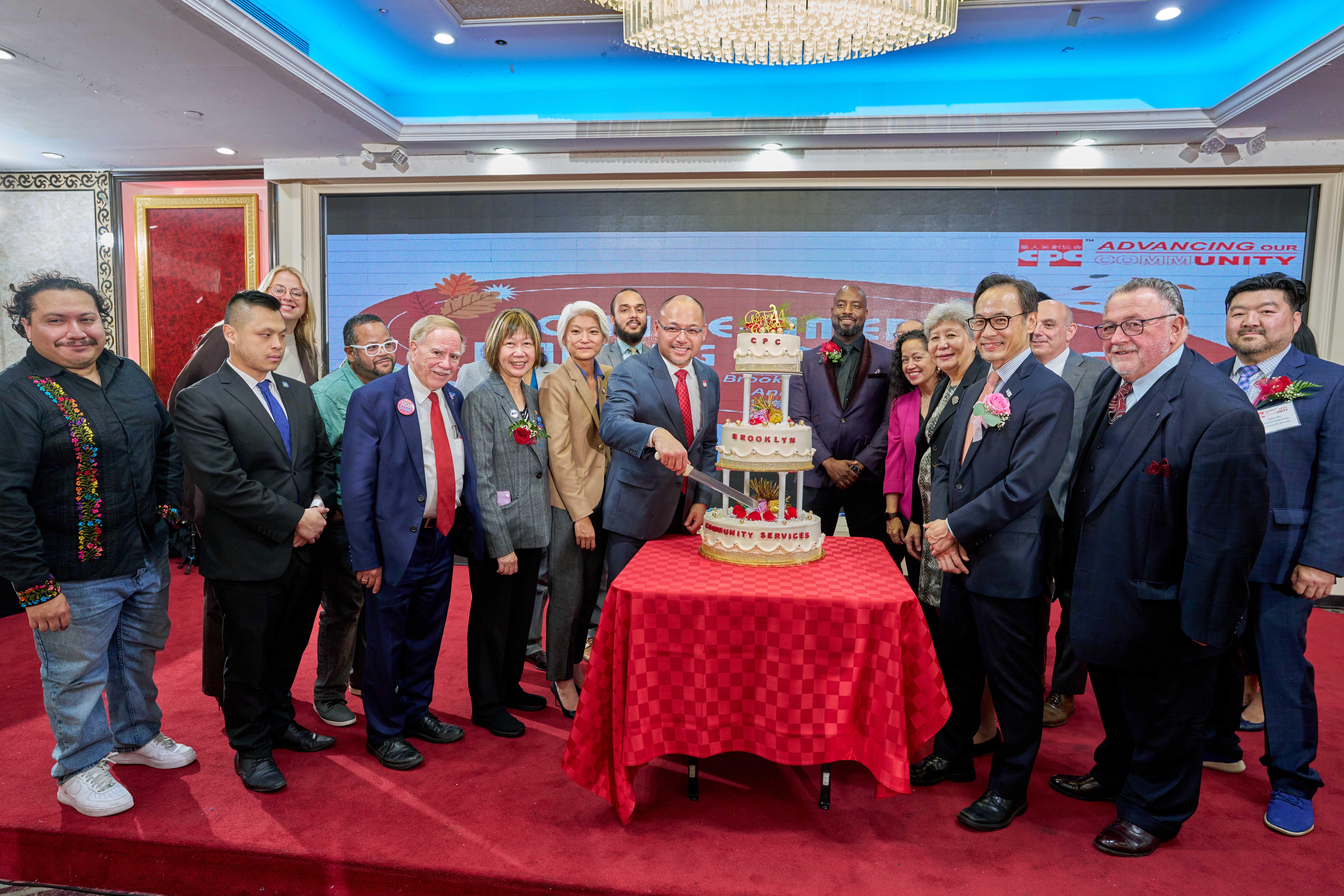 ***FOR IMMEDIATE RELEASE***
Date: October 27, 2023
Press Contacts:
Wayne Ho, President & CEO | (212) 941-0920 x 143 | who@cpc-nyc.org
Alice Du, Director of Communications | (212) 792-4585 | adu@cpc-nyc.org
CPC Brooklyn Raises Over $90,000 to Empower Local Communities
New York, NY – The Chinese-American Planning Council (CPC), the nation's largest Asian American social services organization, raised over $90,000 at the 44th Brooklyn Community Services Benefit on Thursday, October 26, 2023. This funding will play a pivotal role in advancing CPC's mission of expanding outreach, providing enhanced support to communities across Brooklyn, and empowering individuals to pursue enriching opportunities in their lives.
"Our annual benefit showcases the collective strength and generosity of our community members, partners, and sponsors. Together, we are making a tangible difference in the lives of individuals and families in Brooklyn and across the city. I am deeply grateful for the support that drives our mission forward," said Wayne Ho, President and CEO of CPC.
The Brooklyn Community Services Benefit brought together over 500 philanthropic, business, government, and nonprofit leaders to celebrate CPC's transformative programs and services in Brooklyn.
"Over these four decades, we have had the privilege of serving thousands of Brooklyn residents, offering services that have yielded profound and lasting transformations," said Steve Mei, Director of CPC Brooklyn Community Services. "I want to congratulate this year's honorees for their leadership and dedication in providing services to our community."
CPC Brooklyn Community Services provides services to over 19,000 Brooklyn residents, promoting growth and well-being through diverse services and community events. This includes support in benefit, legal immigration, language access, workforce, youth, and more. Notably, it collaborated with the Office for New Immigrants to provide over $230,000 in cash relief to undocumented neighbors affected by Hurricane IDA.
This year's event paid tribute to four outstanding individuals: Alexa Avilés, New York City Council District 38, Yang Chen, Executive Director of the Asian American Bar Association of New York, Sheldon Dempster, Principal of MS 220, and Dr. John Marshall, Chief Medical Officer of the Maimonides Medical Center.
"I'm humbled to have been recognized as one of this year's benefit honorees," said Council Member Alexa Avilés (D-Sunset Park). "With a mission to advance and support the needs of Chinese-American, immigrant, and low-income New Yorkers, CPC BCS has been at the forefront of tackling community struggles across District 38 neighborhoods. From our coordinated flu shot drive, to a number of food distribution events, to Eighth Avenue clean ups, to setting up pro bono legal support with culturally and linguistically competent staff, I am proud to have joined with you in meeting our residents where they are."
"I am humbled and honored to receive this acknowledgment from the Chinese-American Planning Council (CPC). I look forward to celebrating the 44th anniversary of the service and excellence CPC has provided the community on October 26, 2023, as well as our school's continued partnership with CPC to support the students and families of Sunset Park!" said Sheldon Dempster, Principal of MS 220.
"It has been an honor for Maimonides to collaborate with CPC in the promotion of healthy communities. We couldn't ask for a better partner," said Dr. John Marshall, Chief Medical Officer of the Maimonides Medical Center.
The success of this benefit and the achievement of CPC programs are directly attributed to the generosity of all the sponsors and partners. Their support empowers CPC to continue making a profound impact in the community.
"Bank of China U.S.A. first began its partnership with CPC almost a decade ago. Today we congratulate this year's honorees and CPC's remarkable commitment and achievements in improving the lives of so many throughout the New York metropolitan area," said Shurui Li, SVP & Queens Branch Manager of Bank of China.
"May you continue to empower community members to achieve their goals in education, family and career. Pitta & Baione LLP remains dedicated to the community through our advocacy in obtaining 9/11 health and compensation benefits for community memes and preserving their government benefits," said Yichun Luo, Senior Claim Manager of Pitta & Baione LLP.
"RiverSpring Health Plans, on behalf of its MAP and MLTC programs, is happy to attend Brooklyn Community Services 44th Anniversary Benefit hosted by CPC. RiverSpring Health recognizes the fine work of CPC and all of the Brooklyn Community Services member organizations, and salutes them for their multiple decades of exemplary service, benefiting the residents of the many vibrant neighborhoods and diverse communities they serve," said Caroline Moy, Marketing Outreach Manager of RiverSpring Health Plans.
"Resorts World is proud to support the Chinese-American Planning Council and the important work the organization does to strengthen our communities," said Michelle Stoddart, SVP Community Development of Resorts World New York City.
"CPCHAP extends warm congratulations to CPC Brooklyn Community Services for their successful annual benefit. We look forward to our continued collaboration in providing exceptional services to the community," said John Sullivan, Chief Operating Officer of the CPC Home Attendant Program (CPCHAP).
"Wynn Resorts is committed to diversity and inclusion and is proud to support the Chinese-American Planning Council's 44th anniversary celebration. The Chinese-American Planning Council does great work in the community, and their accomplishments over the last 44 years, and the work of this year's honorees, are certainly worthy of recognition," said Glenda Swain, Vice-President, Diversity & Inclusion, of Wynn Las Vegas and Encore.
For more information about CPC and its range of community services, please visit www.cpc-nyc.org.
About the Chinese-American Planning Council (CPC):
Chinese-American Planning Council (CPC) is a social services organization that creates positive social change. Founded in 1965, CPC is the nation's largest Asian American social services organization and aims to promote the social and economic empowerment of Chinese American, immigrant, and low-income communities of New York City. CPC is the trusted partner to individuals and families striving to achieve goals in their education, family, community, and career.
關於華人策劃協會 (華策會):
華人策劃協會(簡稱"華策會")是一個致力於創造正向社會變革的社會服務機構。華策會成立於1965年,是美國最大的亞裔美國人社會服務機構,旨在促進紐約市華裔美國人,移民,及低收入社區的社會權益和經濟賦權。華策會是為實現其教育,家庭,社區及職業目標而努力的個人和家庭可信賴的機構。
ACERCA DE CPC
El Chinese-American Planning Council (CPC) es una organización de servicios sociales que crea un cambio social positivo. Fundada en 1965, CPC es la mayor organización de servicios sociales asiático-americanos del país y su objetivo es promover la capacitación social y económica de las comunidades chino-americanas, inmigrantes y de bajos ingresos de la ciudad de Nueva York. CPC es el socio de confianza de más de 60.000 personas y familias que se esfuerzan por alcanzar objetivos en su educación, familia, comunidad y carrera.
Press Coverage: World Journal