Essential Worker Highlight: Susan Zheng, Manager of CPC Individual Residential Alternative
Main Content
Essential Worker Highlight: Susan Zheng, Manager of CPC Individual Residential Alternative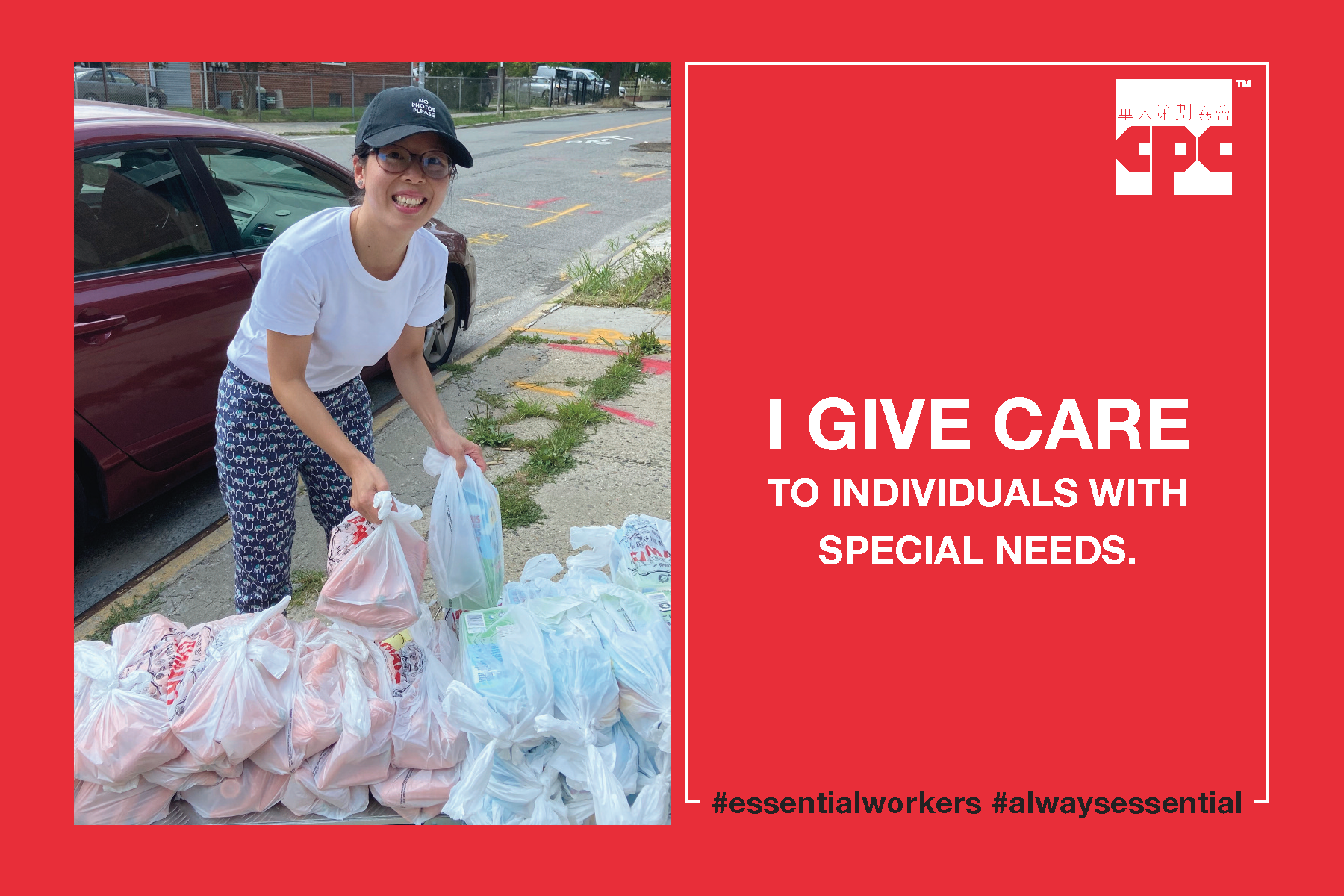 While medical personnel treat the coronavirus in our hospitals, other human service providers and essential workers are ensuring New Yorkers have the resources they need to not only remain safe but also continue to have opportunities to thrive. These individuals, whether working from home or within our neighborhoods, are supporting a strong recovery for those who are too often overlooked, underrepresented, or underinvested in.  
The following Q&A took place between Chris Kuo of CPC Leadership Council and Susan Zheng, Manager of Individual Residential Alternative (IRA) at the Josephine M. Ho Community Residence for Special Needs. Susan oversees the IRA program that provides 24-hour care and activities for the six residents with developmental disabilities in a group home. Susan was recognized by City and State as "Local Queens Hero".
The CPC Leadership Council is a tight-knit community of business and nonprofit leaders who seek to advance CPC's mission to promote social and economic empowerment of Chinese American, immigrant, and low-income communities. 
Join CPC in sharing stories of essential workers using the tag #AlwaysEssential and #EssentialWorkers. 
Essential Worker Highlight: Susan Zheng, Manager of CPC Individual Residential Alternative
Chris Kuo, Leadership Council: Could you tell us about your journey to where you are today?
Susan Zheng, Manager of CPC Individual Residential Alternative: My family and I immigrated to America from Fuzhou, China in 1996. We struggled adapting to our new lives here, and there was a generation gap between my parents and younger siblings that often made them clash. My parents were very traditional and set in their ways, while my siblings always wanted to do things differently. It was difficult for them to communicate with each other, and I had to be the bridge that connected them and helped them understand each other's points of view. Besides that, my youngest brother was diagnosed with ADHD as a child, which was really hard for my family to deal with. I was the one who took him to see a psychiatrist and learned skills for managing his behavior at home. His attitude has improved a lot since then. Because of these experiences, I knew that I wanted to do something in life that involved helping the immigrant community. A friend introduced me to an opening at CPC for a Medical Service Coordinator seven years ago. I started out in that role and then got my Master of Social Work before joining the Individual Residential Alternative program (IRA), where I've been for two years now.
Chris Kuo, Leadership Council: What exactly do you and the other staff at the IRA do?
Susan Zheng, Manager of CPC Individual Residential Alternative: The IRA is a group home for six Chinese women with developmental disabilities. Their ages range from 30 to 65, and they all speak Cantonese. My first task as the manager there was to create a structure for our program, which exists to help them grow. I oversee a team of about 25 staff members who work in shifts throughout the week to provide 24-hour care to the residents. We assess their health, nutrition, and medical needs and keep track of their finances, including their use of benefits like food stamps and SSI. We accompany them to appointments with healthcare professionals and day habilitation service providers, who teach them social skills and keep them engaged in the community. The residents need to see through our daily actions that we really care for them, so we try to build strong relationships with each of them and also work closely with their family members. The families are the ones making decisions about their care, but sometimes they overlook our residents' rights as individuals. We have to educate them to ensure they understand how their decisions will impact our residents.
Chris Kuo, Leadership Council: What skills are needed for the work that you do?
Susan Zheng, Manager of CPC Individual Residential Alternative: We try to hire staff who are trained in providing medication to our residents. We have a nurse who comes to the house every week to check on the residents' health, review their medical records, and make sure that they are up to date with doctor's appointments. She is available to us for consultation 24/7 and is the one who gives qualified staff permission to administer medication. Staff members who don't have this skill provide other services like cooking and cleaning. We also work with a nutritionist who gives us a meal and snack menu to follow. Our team receives training to help them meet residents' dietary needs. One resident, for example, has trouble swallowing and can only eat ground-up foods. There are also safety skills that our staff need to have. We do a fire drill every month and train staff on how to respond to emergencies. Our staff, who are all Chinese, have the cultural mentality that whatever happens to the residents is their personal responsibility. We try to teach them to value their own lives as well. Finally, we all need to be understanding and work as a team. Sometimes residents become angry with us when they can't have what they want (like extra meat or sugar in their food). We try to minimize this kind of behavior by controlling the tone of our voice and the language that we use to help them calm down. We negotiate with them and offer them something else they may want. We may even need to step back and let another staff member talk to them instead.
Chris Kuo, Leadership Council: How has COVID-19 affected your program?
Susan Zheng, Manager of CPC Individual Residential Alternative: When the pandemic started, the first thing I did was make sure that my staff were comfortable with leaving their homes and that their family members agreed to let them to come to work. Our staff are all in their 50s and 60s, so to help them feel safer, I began providing them with transportation to and from the IRA. This was possible for us because we are only a small group home, but other agencies haven't been so lucky. Our staff members mainly get their news from WeChat and have a hard time telling apart real news from fake news. I had to educate them on how to look up COVID-19 statistics and check different news sources. I also got cleaning supplies and PPE for them to use at work. It was hard at the beginning when there was a shortage of this equipment. To minimize their exposure in the community, I stopped sending them out to do the grocery shopping for our residents. Chinese prefer eating fresh produce to canned or processed foods, and everyone at the IRA shares a small fridge, so my staff would normally go out to buy groceries 2-3 times per week. I am the one who does all of the shopping now since I'm the youngest. It took a while for our residents to get used to all of these changes. We had to explain to them every day why we need to wear our masks and gloves and wash our hands as often as we can. After months of questioning us, they finally recognize that this is the new normal.
Chris Kuo, Leadership Council: What inspires you to continue to do this kind of work?
Susan Zheng, Manager of CPC Individual Residential Alternative: Even though I have to deal with so many things at once, I honestly feel relaxed working with our special needs population. Most other people hide their emotions to some extent and keep their thoughts to themselves, but my residents immediately let you know if they are happy, sad, or angry or if they like you or hate you. It shows on their faces. Whenever they want something, they will find a way to get your attention. If I ever say something wrong that upsets them, I can correct it immediately. If they become angry with me, I can give them space, and the next day everything will be okay. I feel no burden working there. Before coming to the IRA, I was a caseworker who made visits to the homes of people with special needs. It was different from working at the IRA because I only saw each individual for 45 minutes at a time. There really wasn't a way to connect with them the way I do now. In my two years here, I've seen our residents grow so much. Our youngest resident, for example, is autistic and used to have a lot of difficulty staying with our group for any activity. Whether it was watching TV at the group home or going out into the community, it was never long before she would say, "I want to leave." But now, she can manage to stay with us for much longer. We were even able to take her to a circus show, which she watched half of before needing to take a walk. That's such a great improvement for her. Seeing these kinds of changes makes me happy.