CPC Brooklyn Community Services Celebrated Thanksgiving with our Senior Service members
Main Content
CPC Brooklyn Community Services Celebrated Thanksgiving with our Senior Service members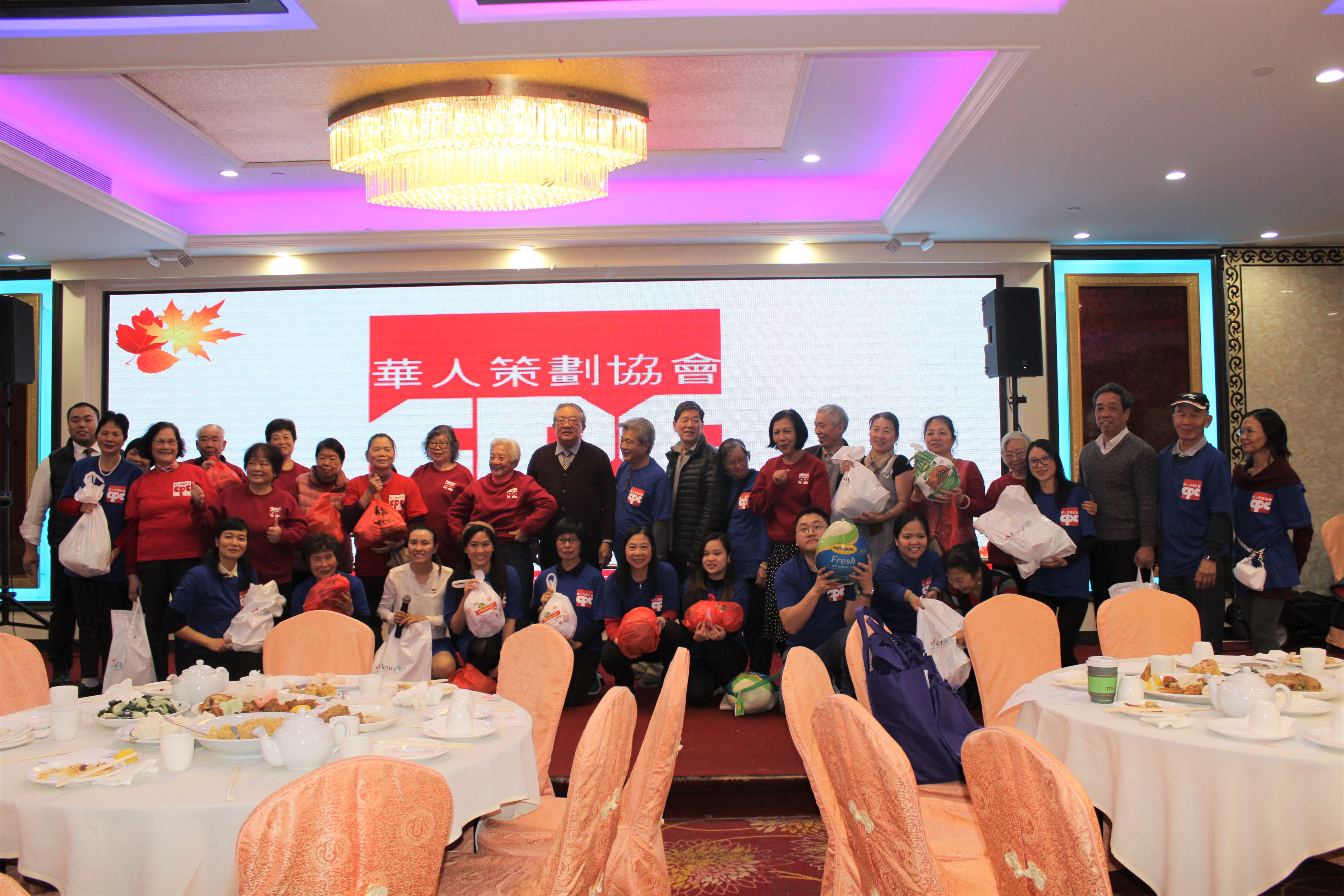 On Wednesday, November 27th, 2019, 180 senior members from CPC Brooklyn Community Services Senior Services came out to celebrate a day of giving thanks and good spirits. Every senior member received a variety of donated items such as a re-useable tote bag from Xincon Homecare Agency, Liang Cha Herbal Tea from Brooklyn Crafted, and candy from Xingtao Newspaper.
The restaurant was filled with laughter and cheer as everyone caught up with one another and took photos with Thanksgiving-themed props. As you walked through the restaurant, you could hear the seniors discussing their Thanksgiving plans and how they plan on taking home a 20-lb turkey, if they won. There were over 20 lucky turkey winners that day! We are very thankful to NYS Senator Andrew Gournardes, NYS Senator Zellnor Myrie, Council Member Justin Brannan, Council Member Mark Treyger, Assembly Member Peter Abbate, and MetroPlus Healthplan for their donated turkeys. The look of joy and excitment on the faces of our seniors when they saw how many turkeys were being raffled.
The luncheon was not only a Thanksgiving celebration but also a celebration of those with November birthdays. There were 20 senior members on stage and we celebrated their birthday with two big cakes! Council member Carlos Menchaca joined our celebration by singing Feliz Cumpleaños to our seniors.
In addition, our Senior Dance Group performed their 3rd place winning performance for everyone. Everyone watched in awe as our Senior Dance Team moved in sync with the music and gave a wonderful show. Soon thereafter, our Senior Singing Group performed two songs: one about congratulating CPC and another about being a CPC Senior member.
CPC Brooklyn Community Services Senior Services staff likes to keep our senior members engaged mentally so we came up with two table games to get everyone thinking and working in harmony. Our first game consist of rearranging the CPC logo. Seniors worked together to glue pieces together to recreate the logo. Our second game was called "感恩天天有,幸福到永久 (Thanksful every day, Happiness last forever)". Seniors worked together to create a image of a turkey. Winners of our table game were awarded with items donated by Xingtao Newspaper.
Our luncheon ended with everyone smiling and their bellies full of food. There was enough food for our seniors to take home and have as another meal! While there were not enough turkeys for every senior, throughout the luncheon, there were many opportunities to win a prize. Everyone was able to leave with at least a couple items.
---
We would like to thank everyone who came out to CPC Brooklyn Community Services Senior Services Thanksgiving Luncheon. Great Shout Out and Thank You to Brooklyn Crafted, Emblemhealth, Metroplus Healthplan, United HealthCare, and Xincon Homecare Agency for your support and sponsorship.
Special thanks to NYS Senator Andrew Gounardes, NYS Senator Zellnor Myrie, Assembly Member Peter Abbate, and Council Member Carlos Menchaca, for taking the time out of their schedule to celebrate Thanksgiving with our community members. We would also like to thank Wai Yee Chan from Council Member Justin Brannan's office and Angel Fung from Council Member Mark Treyger's office for stopping by and supporting our Senior Service program.