CPC Youth Awarded 2019 UNH Viacom College Scholarship
Main Content
CPC Youth Awarded 2019 UNH Viacom College Scholarship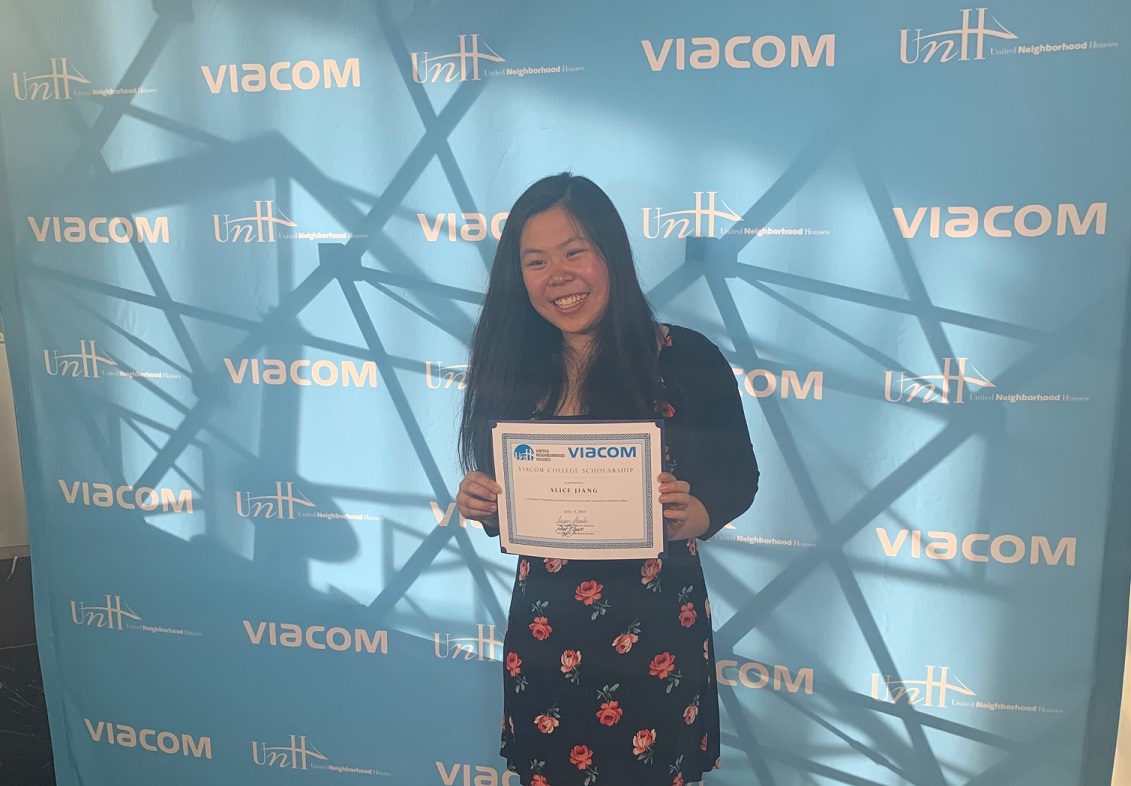 On Tuesday, June 4th, Alice Jiang from the CPC Queens Learn and Earn Program was awarded the 2019 United Neighborhood Houses (UNH) Viacom College Scholarship. The UNH Viacom College Scholarship Program seeks to promote tolerance and positive community change by supporting the growth of future leaders through higher education. Alice, along with 8 other students across the UNH Settlement House network, were each awarded a $2,000 scholarship through a competitive application process. A current high school senior at Brooklyn Technical High School, Alice is attending Case Western Reserve University this fall.
Joined at Viacom's headquarters by her mother, Queens Learn and Earn staff Christopher Wong, Tony Chong, and Priscilla Chuang (who provided support with the application process), and Brian Chen, Director of Education and Career Services, Alice received the award in recognition of her leadership qualities and demonstrated commitment to positive social change. In addition, Alice delivered the Student Remarks at the ceremony. She spoke about her experience with the Learn and Earn program and her many volunteer activities, which include Brooklyn Tech's college ambassador program; canvassing with the United Democratic Organization; and poll site monitoring during election day. Alice also shared her goal of empowering her community to become better able to take control of their lives through registering to vote and actively participating in the political process.
"It is truly an honor to be the first CPC youth participant to be awarded (the UNH Viacom College Scholarship)! This award is overall really meaningful to me in a sense where my family will now have less financial stress on paying for my college tuition. But on the bigger note, it demonstrates how severe the lack of Asian voices there are. This award will be a reminder that if I work hard enough with others to inform more communities about ways they can become involved, together as a whole we can become stronger to fight for what we believe in." - Alice Jiang
CPC congratulates Alice on her significant, and well-deserved, accomplishment!
Funded by the NYC Department of Youth and Community Development, the Learn and Earn Program provides work readiness, college readiness, leadership development, mental and sexual health education, and employment opportunities for NYC high school juniors and seniors. Learn more about the Learn and Earn Program here.