Bolder Giving, Artful Living
Main Content
Bolder Giving, Artful Living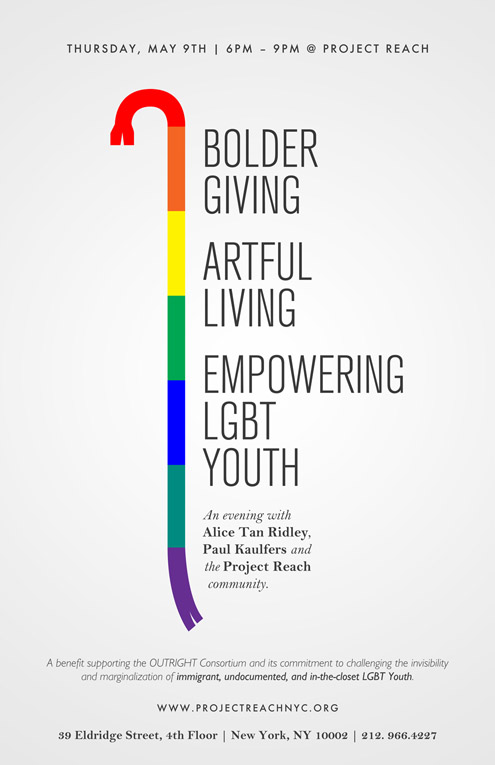 Dear Friends, Family and Community Partners,

On Thursday, May 9th
In conjunction with Bolder Giving's National Give OUT Day
Project Reach will host:

"Bolder Giving...Artful Living...Empowering LGBT Youth"
An evening with "America's Got Talent" finalist, Alice Tan Ridley,
sculptor Paul Kaulfers and the Project Reach community

Thursday, May 9th 6pm-9pm
@ Project Reach

A benefit supporting the OUTRIGHT Consortium and its commitment
to challenging the invisibility and marginalization of
Immigrant, Undocumented, and In-The-Closet LGBT youth.

Could you please consider making a contribution to Project Reach between NOW and May 9th?

1) please go to: http://giveout.razoo.com/story/Project-Reach

2) to learn more about Give OUT Day, go to:http://giveout.razoo.com/giving_events/giveout13/home


It is less important how much you give and more important that we have as many donors as possible donate on this site so that new donors, who don't know Project Reach, will be drawn to possibly contribute when they see our page with all of our supporters and friends.

Our goal is to raise $25,000 by May 9th and grow a larger, more sustainable, grassroots donor base from community members, family & friends, whose hard earned dollars when contributed make them OUR major donors!
It will be a day that will acknowledge the many years that Project Reach and its many partners have brought together marginalized communities who would otherwise have never met and partnered with them to fight against homophobia, heterosexism, sexism, misogyny and many other forms of discrimination.

thanks so much for your support!

See below for more information about our amazing Honorees and Artists who will join us on May 9th!

_________________________________________________________________________________

Event Honorees:

Staten Island LGBT Center
with special acknowledgement of
Elysa Fein
and the Center's amazing
LGBT Youth

Queens Community House
Generation Q
Queens Center for Gay Senior
(formerly SAGE-Queens)

Working tirelessly to sustain safe spaces for LGBT Youth and Elders


LGBT YOUTH
who have overcome homophobia, transphobia, and many
other obstacles to become amazing social justice changers

Cassey Alexandre
Haitian lesbian, homeless advocate for LGBT youth
formerly from Make The Road New York

Jamie Tam
First transgender male to be admitted and graduated
from Russell Sage, an all-women's college and
Transgender youth advocate with FIERCE!

Simon Sandh
Coordinator, city-wide LGBT dinners and annual
LGBT Retreats, formerly from South Asian Youth Action


Event Artists:

Alice Tan Ridley is a Project Reach mom, mother of Gabourey Sidibe from Academy Award nominated "Precious", who started singing in the subway and went on to become an "America's Got Talent" sensation.

Paul Kaulfers is a gay man living with AIDS from Scranton, PA who taught ceramics/pottery to young people at our Social Justice Boot Camp and now contributes a significant percentage of the sale of his pottery to Project Reach.