CPC Unveils the Lois C. Lee Early Childhood Center
Main Content
CPC Unveils the Lois C. Lee Early Childhood Center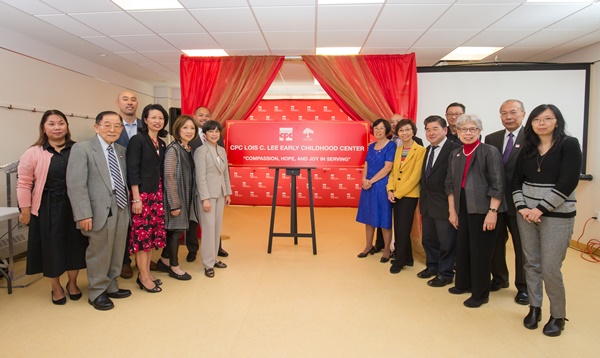 On October 20, 2017, CPC and the Ong Family Foundation unveiled the Lois C. Lee Early Childhood Center located in the new CPC Queens Community Center in Flushing, Queens. CPC and the Ong Family Foundation took this momentous opportunity to honor Lois C. Lee, an educator and community leader to generations of children and families. Lois started her career almost 40 years ago when she took her first teaching job in Manhattan's Chinatown. She has since been a staple in CPC's Child Care services from mentoring volunteers and staff, to bringing compassion into the classroom, to advocating for the children and families in our programs. Lois hopes that her message of "Compassion, Hope and Joy in Serving" will resinate with all who come to the center.
The Queens Early Childhood Center is a new addition to our high quality Early Childhood programming. We are proudly opening our doors to unveil a safe, stimulating, nurturing and engaging early childhood center to provide high-quality and onsite pre-school development.
For more information on CPC programs in the CPC Queens Community Center click here
For more information how you can name a part of the CPC Queens Community Center click here
---
Click for coverage by Sinovision
Click for coverage by World Journal
Click for coverage by Epoch Times
Click for coverage by China Press
---
About The Ong Family Foundation
The Ong Family Foundation was established 20 years ago in 1997 with a broad range of philanthropic interests. The Foundation principally fund programs that are comprehensive, community-based and preventive in nature. To date, the Foundation has provided support to 84 nonprofit organizations.