CPC Brooklyn Community Services Celebrates 37 Years of Service with Smiles & Patriotism
Main Content
CPC Brooklyn Community Services Celebrates 37 Years of Service with Smiles & Patriotism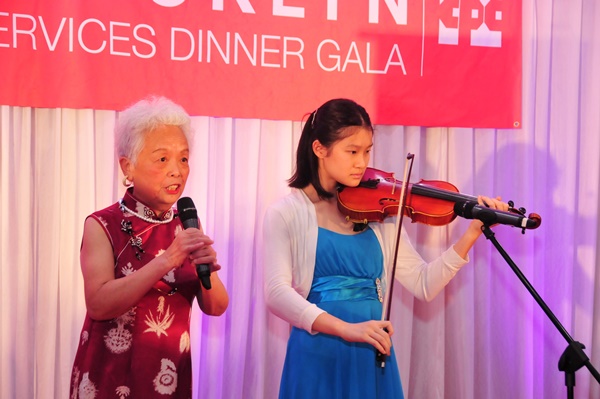 The CPC Brooklyn Community Services program recently held their 37th Anniversary Dinner Gala on Thursday, October 20th, 2016. Held at the New Spring Garden Restaurant, they were fully booked with over 550 attendees and honored guests such as Congress Member Nydia Velázquez, Senator Martin J. Golden, Assembly Member Pam Harris, Assembly Member William Colton, Assembly Member Peter Abbate, Council Member Carlos Menchaca, Council Member Vincent J. Gentile, District 47 Leader Nancy Tong, Acting Brooklyn DA Eric Gonzalez, District 20 Superintendent Karina Costantino, Chief Captain of the 72nd Precinct Emmanuel Gonzalez and representatives from Mayor's office, City Comptroller Scott M. Stringer, Public Advocate Letitia James, Council Member Mark Treyger and Senator Jesse Hamilton's office. There were many highlights that night, including the honoring of President and CEO of the Brooklyn Chamber of Commerce, Mr. Carlo Scissura, President and CEO of Maimonides Medical Center, Mr. Kenneth Gibbs, Ms. Alice Lee, Assistant Principal of P.S.105 and Kwok Shing Hong Inc. for their incredible community work.
One particular highlight from the evening stood out as the embodiment of CPC Brooklyn's spirit -- 15-year old Audrey Soo and 72-year old Ms. Jin Mei Chen held a captivating performance of the American national anthem. All eyes and ears were on Audrey setting the tone and melody on violin and Ms. Chen delivering a beautiful rendition of the patriotic song.
It's hard to believe that only five years ago, Audrey was a student at the CPC After-School Program at PS 153 and Ms. Chen had just immigrated to the United States. Congresswomen Nydia Velázquez had particularly praised Ms. Chen, a member of CPC Brooklyn Senior Services, whose vocals had struck a resounding chord of inspiration within the 23-year Congress member. As the first Puerto Rican woman to be elected to Congress, Ms. Velázquez was no stranger to the difficulties of new immigrants and gushed with pride upon seeing Ms. Chen's performance.
In the five years since immigrating to the U.S., Ms. Chen has since enrolled in CPC's ESL class and Citizenship class, where she studies day-in and day-out to learn English, educate herself and assimilate with the country. As member of the CPC Senior Services, she has made many great friends among the other senior members, who had all banded together in her support. From numerous encouragements, to fashion advice and even lending their personal best fashion accessories to Ms. Chen, the other senior members truly demonstrated how powerful close community bonds can be.

"It was incredibly inspiring to see all the work Ms. Chen personally put in to practicing the lyrics and making sure she gave the national anthem the respect and effort it deserved. I doubt there was a single person in the crowd of over 5​50 supporters who didn't feel deeply patriotic. Her success and dedication really makes you feel accomplished as a service provider because we know there are many others like her, working hard to chase that American Dream.", said Janice Won, CPC Interim President & CEO.

It is stories like hers that continue to motivate the CPC Brooklyn Community Services to work harder in serving the smiles of Brooklyn with dedication, integrity and professionalism.
CPC Brooklyn Community Services would also like to thank our generous sponsors for working with us to provide our community with the foundation to succeed.
Alphacare
Affinity Health Plan
Americare
Apple Bank
A+ Academy
Bai Sha Family Association
Brooklyn Chamber of Commerce
CAIPA
Carat Club Tailoring Inc.
Carking Kind
Chinese-American Sunshine House
ConEdison
CPC Home Attendant Program
Dr. William Cheung, M.D.
Eastman Real Estate
Elite Learning Group Inc.
Emblem Health
Empire BlueCross BlueShield
Empire State Bank
Fang Zheng Construction
First American International Bank
Fook Funeral Group
Healthfirst
Humana
Kwok Shing Hong
Mass Mutual
Maimonides Medical Center
Midwood Asian American Ambulance
NY Lotus Light Association Inc
NYU Langone Medical Center
Park Asia
Peking Food LLC
Senior Whole Health
UCA of Brooklyn
UnitedHealthcare
VNSNY Choice Health Plans
Wellcare
Xincon Home Health Care Services
For more information on Brooklyn Community Services please click here.