Rallying to Resolve the Backlog of Naturalization Cases
Main Content
Rallying to Resolve the Backlog of Naturalization Cases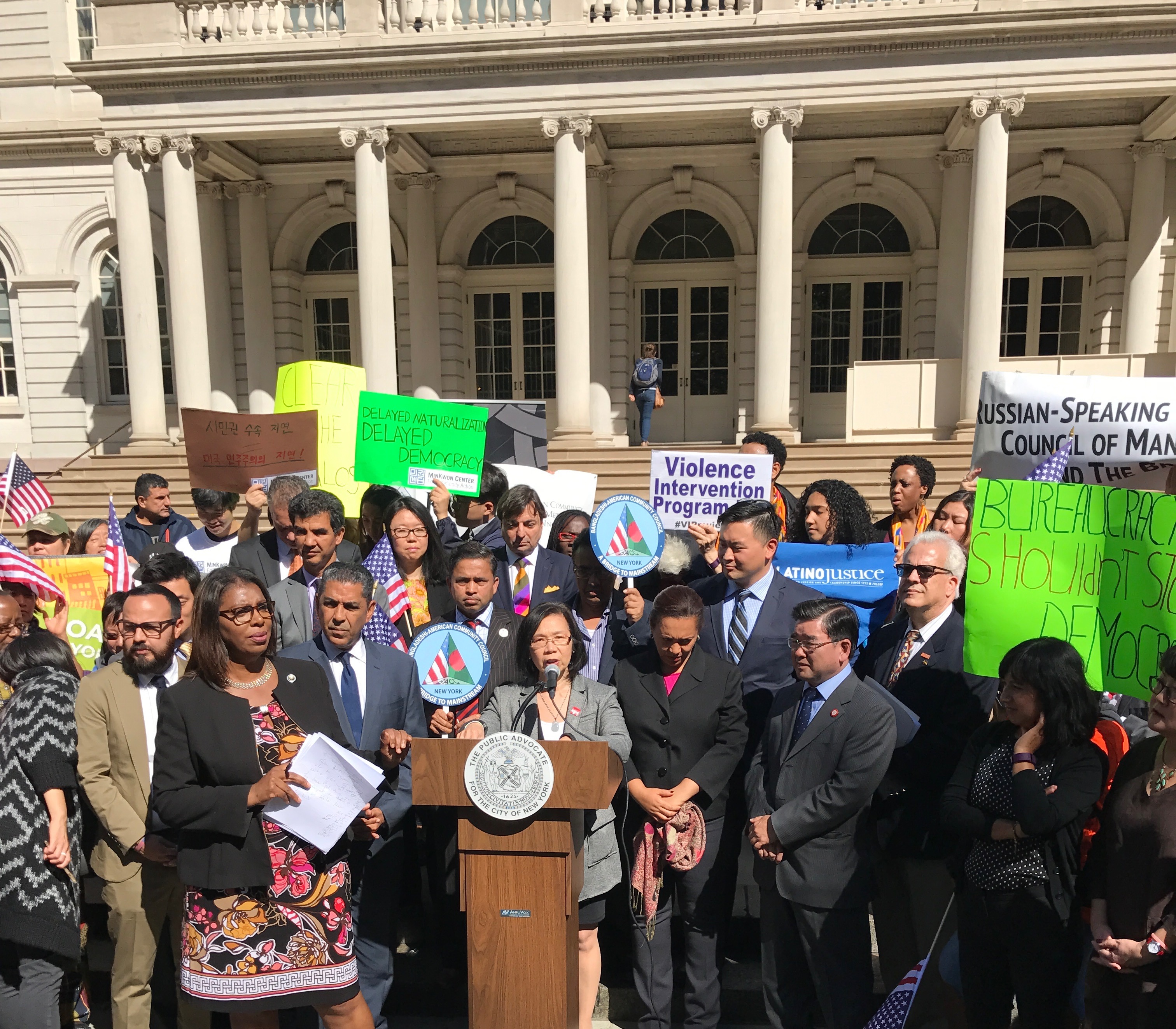 On October 5, 2016, CPC joined the NYC Public Advocate, Leticia James, elected officials such as NYS Assemblymember Ron Kim and NYC Councilmember Peter Koo, immigrant rights groups and concerned citizens to urge the federal government to provide the U.S. Citizenship and Immigration Services (USCIS) with sufficient emergency funds to process the maximum amount of backlogged naturalization applications before the October voter registration deadline.
"Resolving the severe backlog in processing naturalization applications will enable immigrants to access more benefits and services, and propel them toward economic self-sufficiency. Of paramount importance is the urgent call to action in exercising their right to vote in the upcoming election and for their voices to be heard. Civic engagement is a fundamental right of every New Yorker. Why have over half million people sitting on pins and needles to realize an important milestone in their journey towards the American dream?" said CPC Interim President & CEO, Janice Won at the rally organized by the NYC Public Advocate.
English language acquisition and support in the citizenship application process are crucial first steps for many immigrants on their journey to integrate into their new communities and become economically self-sufficient. One of the ways CPC assists in this crucial process is through our Office of New American (ONA) Citizenship program. Through ONA CPC has helped approximately 350 individuals file their citizenship applications since 2015. CPC also encourages civic engagement and participation with our over 500 adult literacy students, some who may be voting for the first time in a presidential election in November.
In partnership with MinKwon Center for Community Action's APA VOICE (Voting and Organizing to Increase Civic Engagement) collaboration, CPC has assisted over 400 people to register to vote and knocked on more than 5,000 doors to promote civic engagement. Our efforts have involved over 75 volunteers including youths and seniors.
It is important for the voices of the APA community are heard during this election cycle.
For more information on CPC's Office of New American (ONA) Opportunity Center (naturalization assistance and literacy classes specifically to assist in the naturalization process) contact CPC's Manhattan Mulit-Social Services program at 212-941-0030.
To register to vote visit CPC's Queens Community Center at 136-18 39th Ave., 8th Floor Flushing, NY 11355 or call 718-358-8899 for more information. The Board of Election's voter registration deadline is October 14, 2016.
For more information on CPC's Multi-Social Service programs click here
For more information on CPC's Adult Literacy program click here