CPC Brooklyn Branch Celebrates Its 35th Anniversary
Main Content
CPC Brooklyn Branch Celebrates Its 35th Anniversary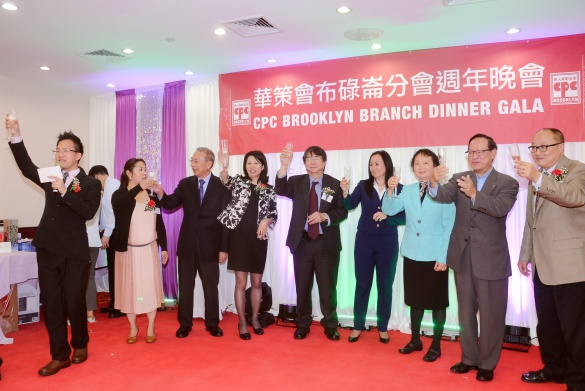 On Thursday, October 23rd 2014, CPC Brooklyn Branch celebrated its 35th Anniversary at the New Spring Garden Restaurant. The gala honored four outstanding members of the community for their incredible contributions to the Brooklyn Community: Karina Costantino the Superintendent of District 20, Larry McReynolds the President of Lutheran Family Health Centers, Peggy Sheng the Chief Operations Officer of CAIPA and Dr. Jim Huang the Oncologist and Hematologist of Maimonides Medical Center.
Hundreds of CPC Brooklyn Branch supporters, special guests and elected officials shared their gradtitude and congratulations for a long history of service to the Sunset Park community and beyond. CPC CEO David Chen and CPC Brooklyn Branch Wai Yee Chan thanked our four honorees for their dedication to their constituents. Senator Martin Golden, Assemblyman Peter Abbate, Assemblyman William Colton, Councilman Carlos Menchaca, Councilman Mark Treyger, Councilman Vincent Gentile, 47th District Leader Nancy Tong, Superintendent Michael Prayor, Superintendent Karen Watts and representatives from Governor Cuomo, Mayor Bill De Blasio, District Attorney Kenneth Thompson and Assemblyman Felix Ortiz were also present to offer their congratulations.
Many organizations sponsored and supported CPC Brooklyn Branch that night including chief sponsors Lutheran Family Health Center, M&T Bank, CAIPA, Maimonides Medical Center, Bay Ridge Toyota, Con Edison, Emblem Health, Fook Funeral Group, Healthplus Amerigroup, Good Luck Car Service, Universal Medical Service, First American International Bank, Bai Sha Association and many more.
The event was a huge success due to the overwhelming support from the community. In commemoration of its 35 years of service in Brooklyn and 50 years of service to the Asian and low income communities citywide, CPC vows to work towards doing even greater things for the community.
To read more about our honorees please click here for their biographies:

bklyn branch 35th gala honoree bios 2.pdf