CPC Partners with MFY Legal Services
Main Content
CPC Partners with MFY Legal Services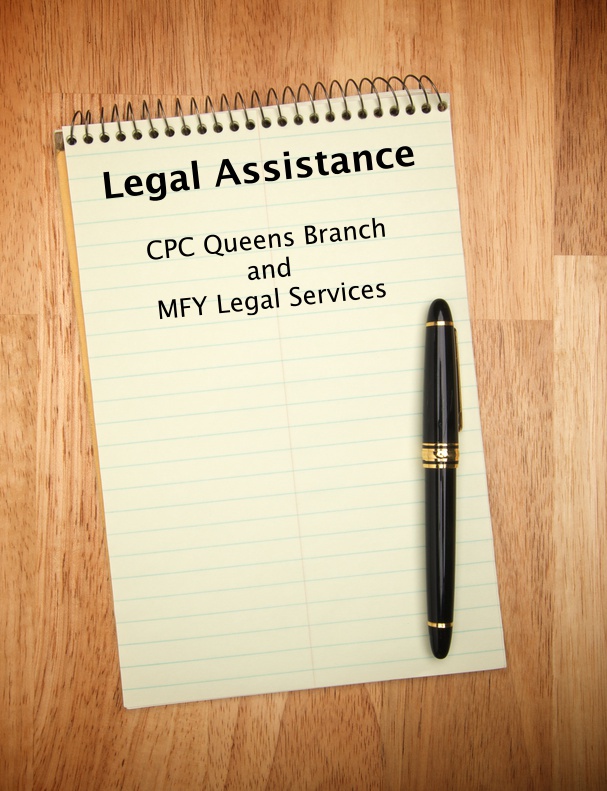 CPC is partnering with MFY Legal Services to provide free legal assistance with government benefits in English and Chinese. Representatives from MFY Legal Services will be posted at CPC Queens Branch the first Thursday every month to provide assistance with obtaining:
Supplemental Security Income (SSI)
Social Security Disability (SSD)
SNAP (Food Stamps)
Medicaid/Medicare
Public Assistance (PA)
We may be able to help if:
Your benefits stopped or reduced and you don't know how to get them restored.

Your application was denied and you don't know why.

You need a fair hearing to get your benefits restored.
For more information, please call CPC Queens at 718-358-8899 and dial extension 0.
You will be asked for your name and phone number. A staff member will call and schedule an appointment with a lawyer if appropriate. All services are free and confidential.

你需要就下列各种福利获得免费法律支持吗?
SSI养老补助金

SSD伤残补助金

SNAP (Food Stamps) 营养补助(粮食劵)

Medicaid/Medicare医疗补助、医疗照顾

Public Assistance (PA)公共援助金
我们可以提供以下帮助,假如:
你的福利被终止或降低了,而你不知道如何恢复。

你的申请被否定,而你不知道原因何在。

你需要参加公听会使得你的福利得以恢复。
要获取更多信息,请致电华策会皇后区分部,电话号码为718-358-8899,分机号按0。
你会被问及你的姓名和电话号码。如果适合的话, 我们员工會安排您和律师见面的时间。所有服务都是免费的和保密的。
以上服务是和MFY法律服务机构合作完成的。