CPC Joins Win Panel Discussion on Advancing Leadership Through Collaboration
Main Content
CPC Joins Win Panel Discussion on Advancing Leadership Through Collaboration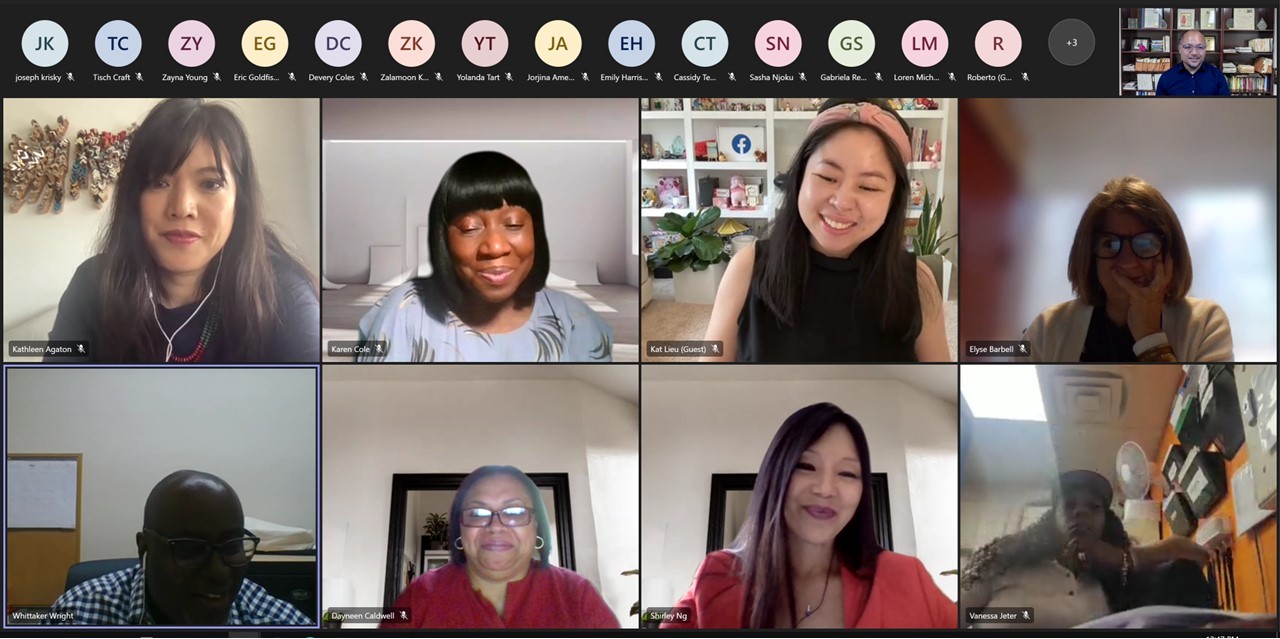 CPC joined fellow community-based partner and largest provider of shelter and supportive housing for New York City's homeless families, Win, for a panel discussion on advancing leadership through collaboration. Win's Asian American and Pacific Islander (AAPI) Heritage Month celebration featured a panel discussion on May 25th facilitated by Whittaker Wright, Director of Income Building at Win and including CPC President and CEO Wayne Ho; Shirley Ng, Community Organizer, Asian American Legal Defense and Education Fund (ALDEF); Kat Lieu, Founder of Subtle Asian Baking, and Author of Modern Asian Baking at Home (June 28, 2022); and Win's AVP of Research, Evaluation & Strategic Learning, Kathy Agaton. Panelists bios are included below.
Their discussion centered around the AAPI Heritage Month National Theme, "Advancing Leadership Through Collaboration."
==
Wayne Ho is the President and CEO of the Chinese American Planning Council (CPC), the nation's largest Asian American social services agency. With a mission to promote the social and economic empowerment of Chinese American, immigrant, and low-income communities, CPC has a consolidated budget of $250 million to employ over 5,000 staff who serve over 125,000 community members in the areas of education, family support, and community and economic empowerment at 35 locations throughout New York City.
Since the pandemic started, CPC has led successful advocacy efforts to secure $10 million from the State and $4 million from the City to promote Asian American recovery and safety, spoken out against the rise in anti-Asian hate crimes, led the #Providers4FairPay campaign in support of living wages for home care workers, distributed over $7.4 million in cash assistance and over 400,000 lbs. of food to community members and been quoted ​in over 250 news stories. Most recently, Wayne served on the transition teams for Mayor Eric Adams, Manhattan Borough President Mark Levine, Manhattan District Attorney Alvin Bragg, as well as the joint nonprofit procurement task force of Mayor Eric Adams and Comptroller Brad Lander.
Previously, Wayne served as Chief Strategy and Program Officer for the Federation of Protestant Welfare Agencies (FPWA), an association of 200 community and faith-based member agencies aiming to promote upward mobility of underserved New Yorkers, from 2013-2017, and was the Executive Director of the Coalition for Asian American Children and Families (CACF), the nation's only pan-Asian children's advocacy organization, from 2004-2013. Wayne has been recognized by City and State in the inaugural Asian Power 100 in 2020, in the inaugural Nonprofit Power 50 in 2018, and as a 40 Under 40 New York City Rising Star in 2014. He was one of 10 leaders invited to meet with President Obama during the White House's Asian Pacific Islander Heritage Month Celebration in 2011. Wayne serves on numerous boards, including Coro New York Leadership Center and NYC Employment & Training Coalition, and is appointed to several New York City and State advisory boards. Wayne received his Bachelor of Arts from UC Berkeley and his Master's in Public Policy from Harvard University's Kennedy School of Government.
==
Shirley Ng is the Community Organizer at Asian American Legal Defense and Education Fund. She manages the Stop Asian Hate project and provides outreach to the Asian American community with educational resources through tabling events. She mobilizes volunteers and plans further outreach with other groups and organizations to support the Asian American community together. In February, AALDEF's community outreach in Stop Asian Hate was named the Bronze Winner for Human & Civil Rights in the inaugural Anthem Awards. In her personal life, Shirley has advocated for many causes, have organized, and participated in many community events, and have served on the board of the local Chinatown YMCA and on the NYC chapter of the Asian American Journalists Association.
==
Kat Lieu, formerly a Doctor of Physical Therapy, felt burned out as a healthcare professional and fell in love with baking around the start of the COVID pandemic. She is currently a full-time author and recipe developer at modernasianbaking.com. Originally from New York City (but born in Montreal, Canada), she now calls Washington state her home. Lieu is also the founder of a popular online baking group called Subtle Asian Baking (SAB). You can find more of her recipes and creations on her Instagram and TikTok, @subtleasian.baking. Kat's first #veryasian baking cookbook, Modern Asian Baking at Home, will be out on June 28, 2022. Prior to writing cookbooks, Kat wrote young-adult romcoms featuring Asian American heroines.
Kat has rallied her online community to do bake sales across the globe, raising $10,000 for New York City Chinatown organization Welcome to Chinatown, which used the money to provide 1,000 hot meals for food-insecure people in the area, and $5,000 for Double Crispy Bakery, a struggling Asian-owned business in New York. This year, she's donating money to the Very Asian Foundation and Heart of Dinner (an organization that feeds food-insecure elderly Asian people in New York City) with another online fundraiser that's running until the end of May, AAPI Heritage Month. She says the community now has 300,000 followers and members across platforms; she hopes to raise at least $10,000 with this year's fundraiser.
As the U.S. recognizes Asian American, Native Hawaiian and Pacific Islander Heritage Month amid a rise of violence and attacks, the AANHPI community has taken a stand for a more equitable, secure, and inclusive society. Kat was honored and is featured on "Good Morning America's" 2022 Asian American Native Hawaiian Pacific Islander Inspiration List." - Good Morning America
These days, when Kat isn't baking, writing, running Subtle Asian Baking, or creating viral social media short-form videos, she plays video games with her son and hangs out with her cute Shih-poo, Panda.
==
Kathleen Agaton, M.S., (she/her) is the Assistant Vice President of Research, Evaluation, and Strategic Learning at Win, where she leads person-centered, trauma-informed strategic learning to drive social innovation and organizational transformation. She is a social impact strategist with 15+ years of experience leading cross-functional teams in strategic learning and impact measurement for non-profit organizations, philanthropies, and government agencies across the U.S. Kathleen is a member of the Design Justice Network and actively contributes to the field of Impact Measurement and Management through thought partnership with the Global Impact Investing Network and Social Value U.S. She received her Bachelor's in Integrative Biology and minor in Music from the University of California at Berkeley, and her Master's in Public Health from the Harvard School of Public Health, with a concentration in Maternal and Child Health. When she's not at work, she is throwing pottery in the studio or shuttling her middle school twins to soccer and music.