Statement on Home Care Grievance Decision
Main Content
Statement on Home Care Grievance Decision
Home Care Grievance Decision
On February 25th, a decision was reached in the 1199SEIU grievance process, which established a Special Wage Fund of at least $30 million with contributions from all 42 home care agencies in order to compensate current and former 1199SEIU home care workers in a resolution of wage and hour claims. The Chinese-American Planning Council Home Attendant Program Inc. (CPCHAP) is among the 42 home care agencies involved in the process, of which arbitration was the final step.
"Of the more than 100,000 home care workers unionized by 1199SEIU and participating in this process, about 5% are former or current CPCHAP workers. As a long-time, proud unionized organization, CPCHAP respects our home care workers' election of 1199SEIU as their advocate and representative and acknowledges 1199SEIU's grievance process to address worker concerns. Similar to 1199SEIU, we accept the arbitrator's final decision," said Wayne Ho, President and CEO of CPC.
The arbitrator found that there were unintentional mistakes made by home care agencies, but the arbitrator made a point to say that not all home care agencies were in violation to the same degree or extent of different wage statutes and that a few home care agencies had no liability at all for the wage claims. However, the arbitrator decided that a Special Wage Fund would be fair and equitable in the interest of a fair remedy and prompt payment to all home care workers. CPC Home Attendant Program Inc. has approximately 5% of these workers and will contribute about $1.3 million into the fund after the court affirms the arbitrator's decision.
CPCHAP provides critical, life-saving home care services to Medicaid patients – those who are older
adults and people of all ages with disabilities – who cannot afford such services otherwise. CPCHAP is well-respected for its ability provide culturally and linguistically competent home care services to a rapidly aging population in New York State.
Major Issues Remain
"Moving forward, there remain serious, pressing issues that must be addressed to create a more sustainable home care industry for all workers and patients. This is why we continue to advocate alongside 1199SEIU, patients, and workers for systemic reforms, as we have for more than five years, to call for the passage of Fair Pay for Home Care to raise wages and the Epstein/Persaud bill to end 24- hour shifts. This legislation will help build a more just and caring economy for both long-term care recipients and those who serve them," said Mr. Ho.
Like other fully Medicaid-funded, nonprofit home care agencies, CPCHAP is subject to all Medicaid rates, rules, and regulations. As such, change is only possible through new legislation. CPC and CPCHAP continue to call for the following legislative changes of New York's home care system, which all advocates, home care agencies, and community members alike can also help with by calling their State legislators:
• End the 24-hour rule for home care (A3145A Epstein/S359A Persaud)
• Pass Fair Pay for Home Care (S5374 May/A6329 Gottfried)
• Lift the Medicaid cap to enable at least $3 billion for Fair Pay for Home Care and $1 billion to mandate 24-hour shifts be converted to 12-hour split shifts without impacting care hours for patients
• Pass the New York Health Act (A6058 Gottfried/S5474 Rivera) to provide comprehensive health care and long-term care for every New Yorker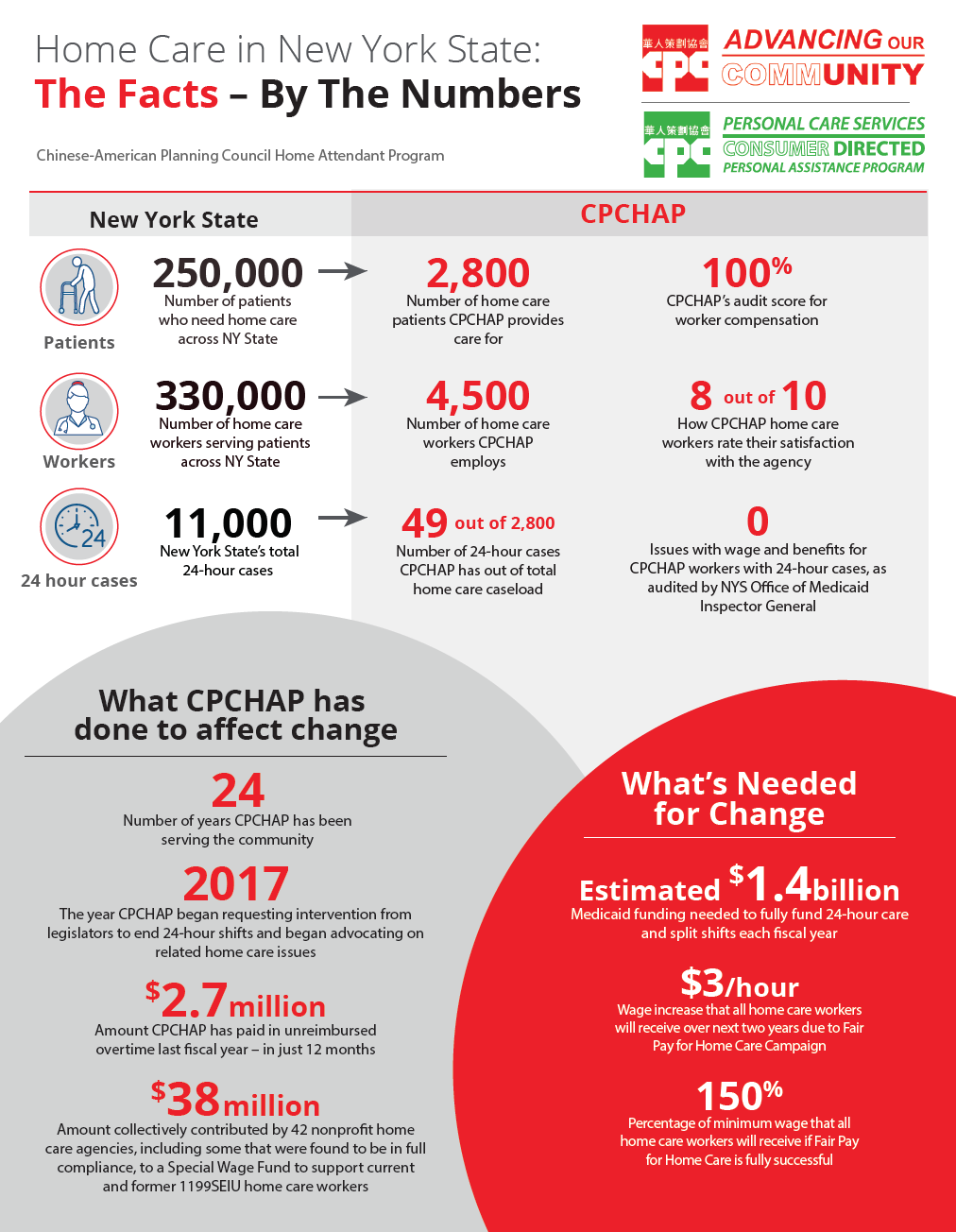 Download a PDF of the infographic above here.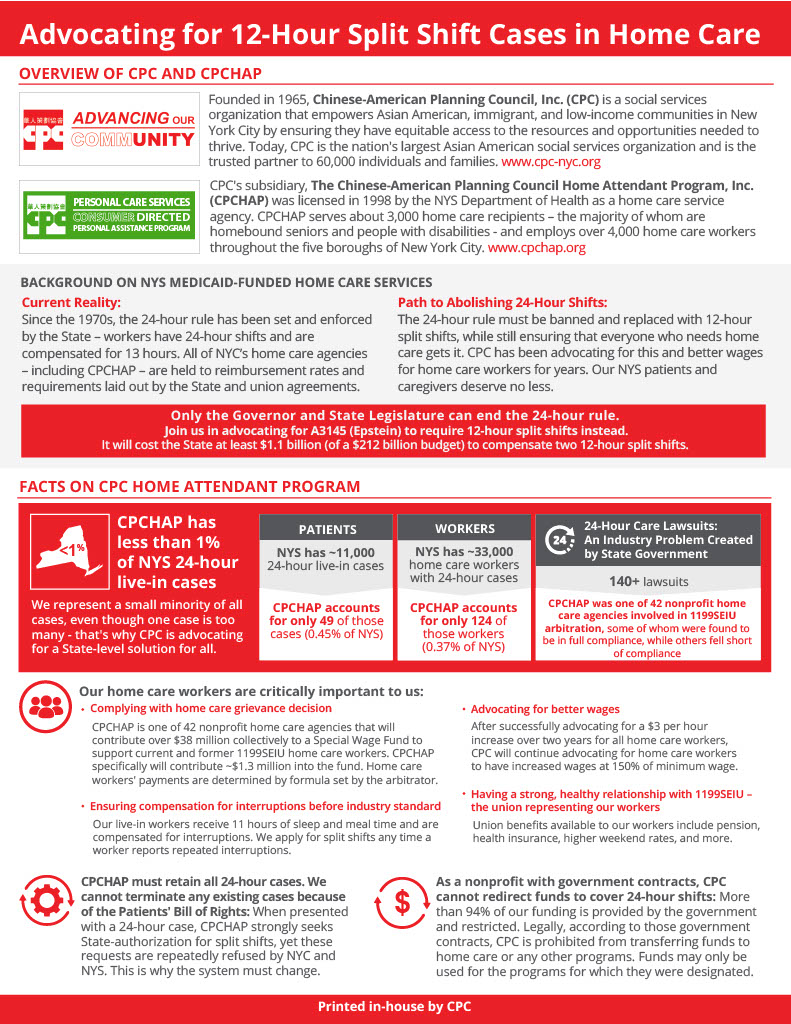 Download a PDF of the infographic above here.