Chinatown Receives $20 Million from New York State
Main Content
Chinatown Receives $20 Million from New York State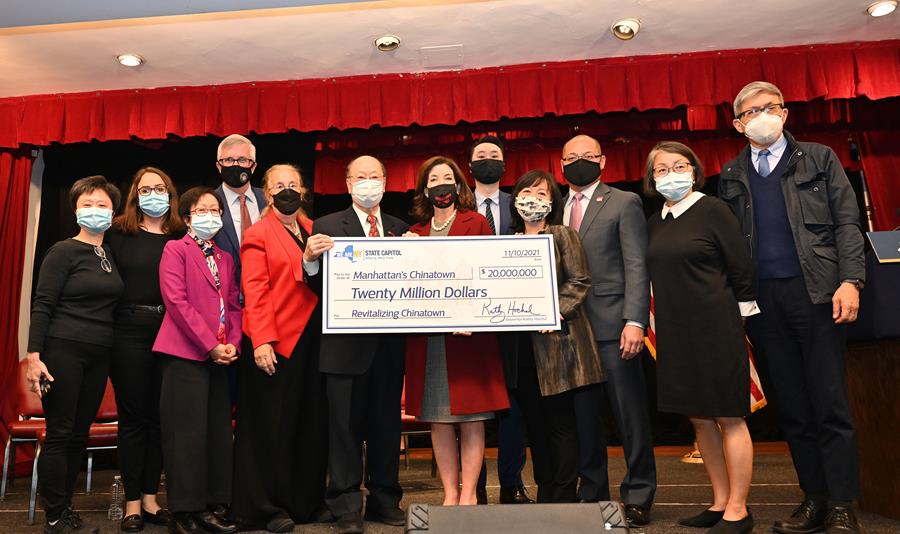 Governor Hochul Announces Chinatown as $20 Million New York City Region Winner of the Downtown Revitalization Initiative
State to Work with Residents, Community Leaders and Public Officials to Revitalize Chinatown
"Government leaders and community organizations coming together to uplift the AAPI community with this revitalization is an extraordinary step toward undoing years of injustice. We commend Governor Hochul for today's announcement and look forward to all this will bring to Chinatown," said Wayne Ho, President and CEO of the Chinese-American Planning Council.
On November 10th, Governor Kathy Hochul announced that Chinatown will receive $20 million in funding as the New York City Region winner of the fifth round of the Downtown Revitalization Initiative (DRI). The DRI serves as a cornerstone of the State's economic development policy by generating new opportunities for long-term growth. Chinatown's successful proposal to build upon its long-standing history as a cultural destination was a collaborative effort by Chinese-American Planning Council (CPC), Asian Americans for Equality (AAFE), Asian American Federation, Chinatown Manpower Project, Chinatown Partnership/Chinatown BID, Chinese Consolidated Benevolent Association, Chung Pak LDC, and Think Chinatown.
Chinatown's $20 million DRI will not only continue the progress of several ongoing and planned projects -- including the restoration of the Kimlau Memorial Monument, multiple affordable and senior housing projects, and multiple resiliency projects at NYCHA properties -- but will also create the vital momentum needed to elaborate on these efforts. The proposal has three signature anchor projects: the East Broadway Mall, Forsyth Plaza / East Broadway Triangle, and Kimlau Square. Additional projects will create new arts and cultural space, improve connectivity, increase housing, and expand green space.
Read the full press release from the Governor's Office.
"Chinatown serves as a beacon of cultural richness and diversity, not just for New Yorkers, but for the entire world," Governor Hochul said. "With this award, Chinatown will shine even brighter and reach its fullest potential as a vibrant community and an international arts and cultural destination. Strategic public investments like this spark an upward cycle of revitalization that takes on a life of its own by enhancing community pride, creating a positive buzz and attracting private sector investments."
Thank you to Governor Hochul for this investment in Chinatown. Thank you to Congresswoman Nydia Velazquez, State Senator Brian Kavanagh, Assembly Member Yuh-Line Niou, Manhattan Borough President Gale A. Brewer and Council Member Margaret Chin for their leadership, advocacy, and support.
Learn more about the Downtown Revitalization Initiative.