CPC Career Center Hosts Virtual Event with DCAS
Main Content
CPC Career Center Hosts Virtual Event with DCAS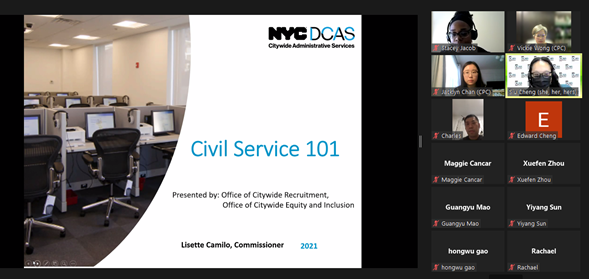 On October 14, 2021, CPC Career Center hosted a virtual information session in partnership with the Department of Citywide Administrative Services (DCAS).
Representatives from DCAS gave community members a close look at the job application process for positions in New York City government. They gave valuable insight into the differences among the wide variety of jobs and answered questions from community members. There was also time dedicated to going over the civil service examinations, which are required for some of the job positions. We hope that our community members were able to learn a lot from this event!
---
If you missed the event this time, you can always reach out to the Career Center for help with your job search by filling out an application form at https://tiny.cc/cpccareercenter. You can contact us at (212) 941-0041 or at ecsinfo@cpc-nyc.org with questions.