Lunar New Year Concludes at CPC Hong Ning with Whirlwind of Joyful Activities
Main Content
Lunar New Year Concludes at CPC Hong Ning with Whirlwind of Joyful Activities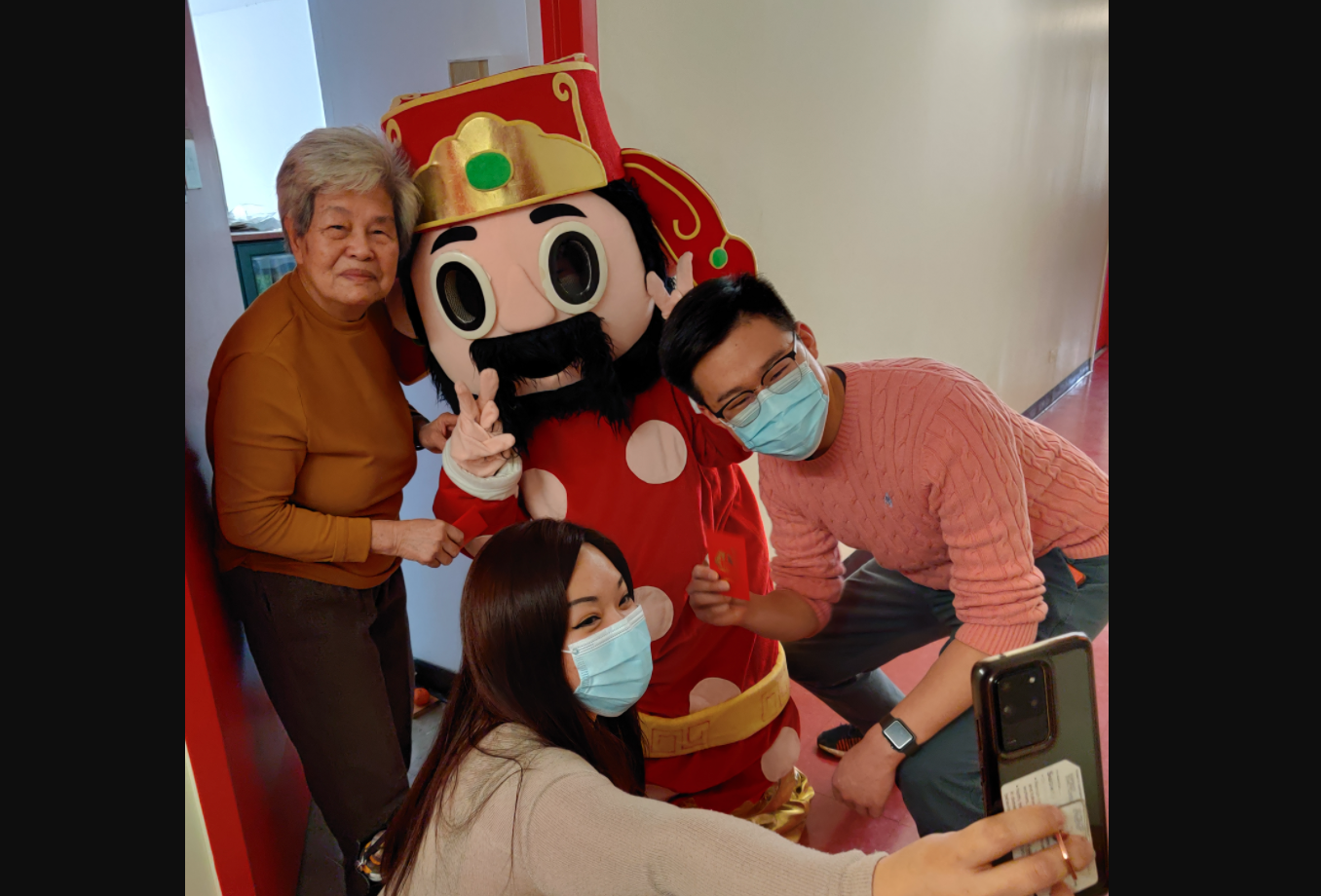 Tenants at Hong Ning Housing for the Elderly were pleasantly surprised as the Lunar New Year was approaching its 2021 conclusion. It seems like a whirlwind of activities (good) had visited last Wednesday and Thursday placing its staff on high activity alert. They are captured here:
February 25, 2021, Thursday. Simultaneously taking place while the vaccination clinic was being held (On this Thursday, February 25, please go here to view the report of the pop-up vaccination clinic that was held for Hong Ning residents and essential worker, a donated food distribution made possible by a support group from McKinsey was also taking place. Asian American employees from McKinsey sponsored 150 meals and 80 orders of dumplings for the Lunar New Year. Calling up the reserves, Priscilla Fok, Tenant Wellness Coordinator, recruited volunteers from our community partners, Heart of Dinner (Nicole L., Flora L.), and CPC staff, including Sophia Tornabene (CPC Project Management Intern) and Jackson Hu (CPC Fiscal Accountant) who knocked on doors and distributed the meals.
February 24, 2021, Wednesday. A round of boxed meals was prepared and delivered to all tenants by community volunteers from our community partner Heart of Dinner. Volunteers had responded to a call by Heart of Dinner to bring comfort to the elderly due to the rise of anti-Asian racism and violent attacks in the course of this continuing pandemic.
While meals were distributed, Money God (see photos) also paid a visit to each tenant to continue the holiday cheer. Staff from the Early Childhood Center at Little Star (Mayra Bordelies, Jose Otero, Kai Leung) and Childhood Development Services Division staff (Mary Cheng, Carrie Black) graciously provided support by providing goody bags. Inside the goody bag, one found an orange, lucky candies/chocolate, and a piggy plush. The chocolates were donated by other seniors and staff.
We enthusiastically give thanks to the Heart of Dinner volunteers (Frank H., Jennifer T.) and Suki, a Hong Ning resident's daughter, who assisted with the Money God visits.