Winner of CPC Project Gateway's Share Your Story Series: Lukewarm Chicken Tenders
Main Content
Winner of CPC Project Gateway's Share Your Story Series: Lukewarm Chicken Tenders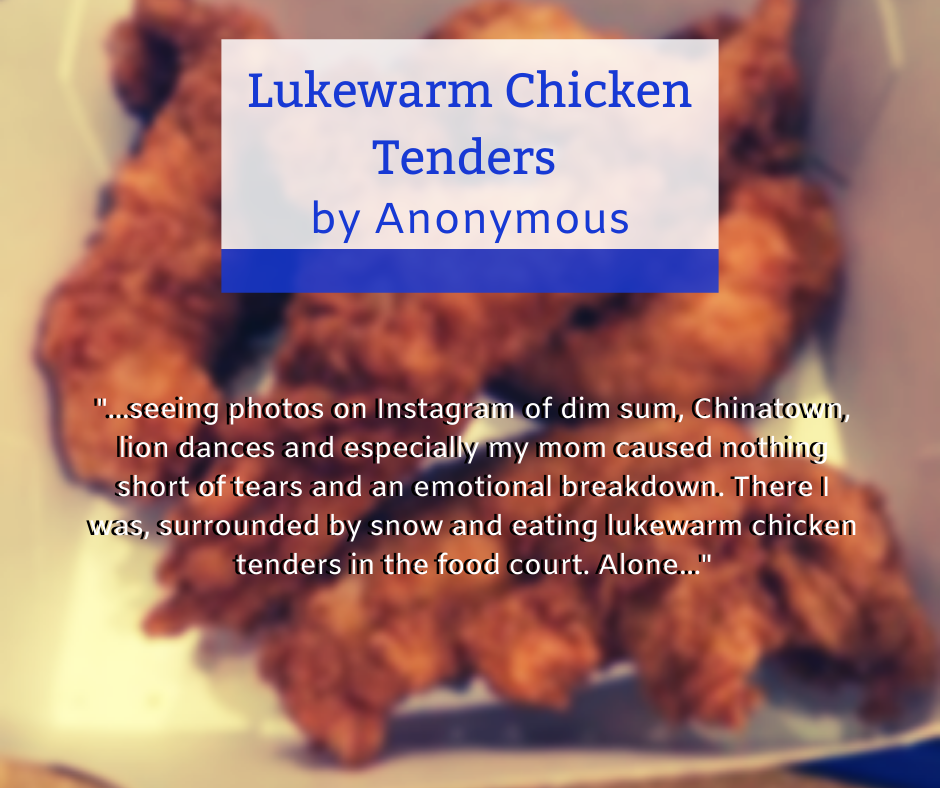 The winner of CPC Project Gateway's Share Your Story Series: First Week of College is a story titled "Lukewarm Chicken Tenders." The short story was submitted by a recent graduate of SUNY University at Buffalo (UB). It recalls their first week of college, along with challenging feelings of being alone and far from home. The story is both a heartfelt and inspirational description of their experience in college as a journey to adulthood and learning to accept the experiences and emotions associated with going to college miles and miles away from home.
---
Lukewarm Chicken Tenders
by Anonymous
GO BULLS! If that doesn't scream pride, I don't know what will. This pride doesn't just come from nowhere but from my progression through the years I've spent at SUNY University at Buffalo (UB). The origins of my experience at UB wasn't so prideful. It was the total opposite. I remember when my family dropped me off at a Chinese take-out restaurant lot. Just like that, with chicken and broccoli in my hand, I was stuck in a new city --- all alone. I remember the conceptual "adult me" took control and the former autopilot teenager left with my family in the car back to Brooklyn.
As traumatizing as being left alone in a parking lot was, it wasn't until the Lunar New Year that homesickness really hit me. This was the first of 18 years where I wasn't with my family...
Seeing photos on Instagram of dim sum, Chinatown, lion dances, and especially my mom caused nothing short of tears and an emotional breakdown. There I was, surrounded by snow and eating lukewarm chicken tenders in the food court. Alone.
At that moment, I realized this was the result of my decision to go 350 miles away for college. If I wanted to experience the joy I anticipated, I had to experience all the emotions that came with being away from home. It was part of the deal. I had to learn how to cope with the situation and grow as an "adult".
From this event in my first weeks in Buffalo, Lunar New Year is now my favorite holiday but it doesn't come from a happy place. It comes from the memory of myself sitting in a food court with lukewarm chicken tenders. I took heart in all the self-taught lessons resulted from being an adult in Buffalo.
---
For more information about Project Gateway, feel free to contact us below:
Instagram: @cpc_projectgateway

Facebook: @CPC.ProjectGateway

Email: PGCC@cpc-nyc.org