Project Gateway's Second "Share Your Story" Topic is Conquering Challenges
Main Content
Project Gateway's Second "Share Your Story" Topic is Conquering Challenges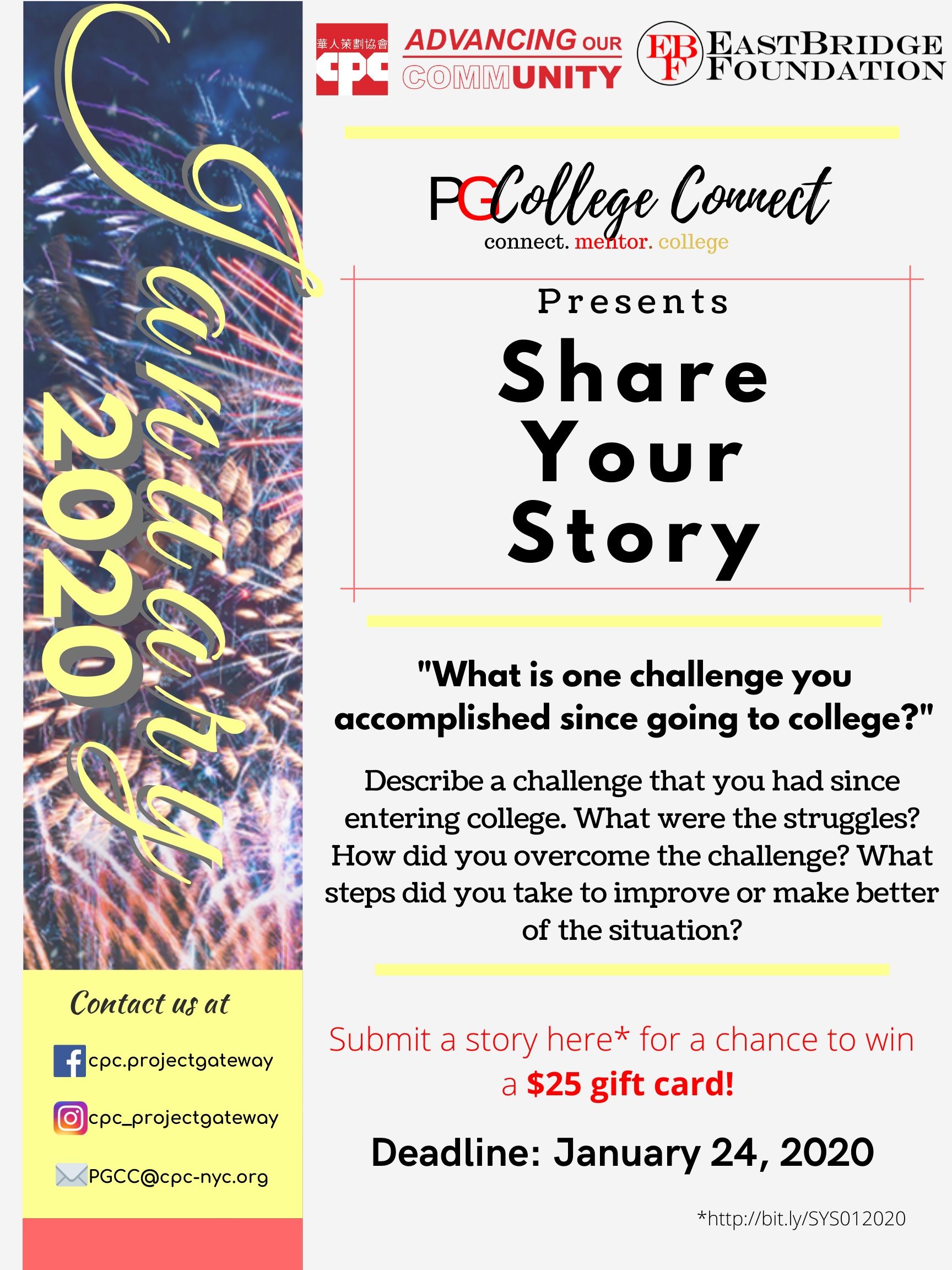 Project Gateway is hosting a second "Share Your Story" series to allow community members to submit stories regarding their college experience. Submissions must answer the given prompt each month. Our College Advisory Council (CAC), a student-led committee, will be reviewing the stories and highlighting winner(s) each month. Selected winner(s) will receive a $25 gift card as well as have their stories highlighted on our social media pages!
See below for more information on our January Story Contest!
January 2019

"WHAT IS ONE CHALLENGE YOU ACCOMPLISHED SINCE GOING TO COLLEGE?"

Describe a challenge that you had since entering college. What were the struggles? How did you overcome the challenge? What steps did you take to improve or make better of the situation?
DEADLINE TO SUBMIT STORY: January 24, 2020 at 11:59AM EST.
Public Rules:
Write a short story answering one of the prompts (max 250)
Submit your story →
here
←
Email us at PGCC@cpc-nyc.org for any questions.
Winner(s) will win $25/$50 Amazon gift cards! *
Eligibility
This story contest is open to all undergraduate and graduate college students as well as recent graduates.
How to send your story
Send your story through our
bit.ly/SYS012020
. Your story must be in the format of .doc, .docx, .pdf, or .txt.
Timeline
Monthly story prompts will be posted on Friday, January 3rd, 2020
Submissions will be accepted until Friday, January 24, 2020.
Judges will review the stories and winners will be notified by Friday, January 31, 2020.
Winners will publicly be announced on February 3rd of the following month along with their stories.
Story Guidelines
Stories must not exceed 300 words.
One submission per entrant.
Winners will be announced the week following the deadline.
A self-portrait or photo related to your story may be uploaded along.
All entries will become the property of the Chinese-American Planning Council. We reserve the right to post, edit, and publicize all submissions.
*Based on monthly submissions, there may be multiple winners each month. Winners must be able to pick up gift cards at New York, NY 10002.