CPC Policy and Advocacy Team Pushes for Investing in Our Communities
Main Content
CPC Policy and Advocacy Team Pushes for Investing in Our Communities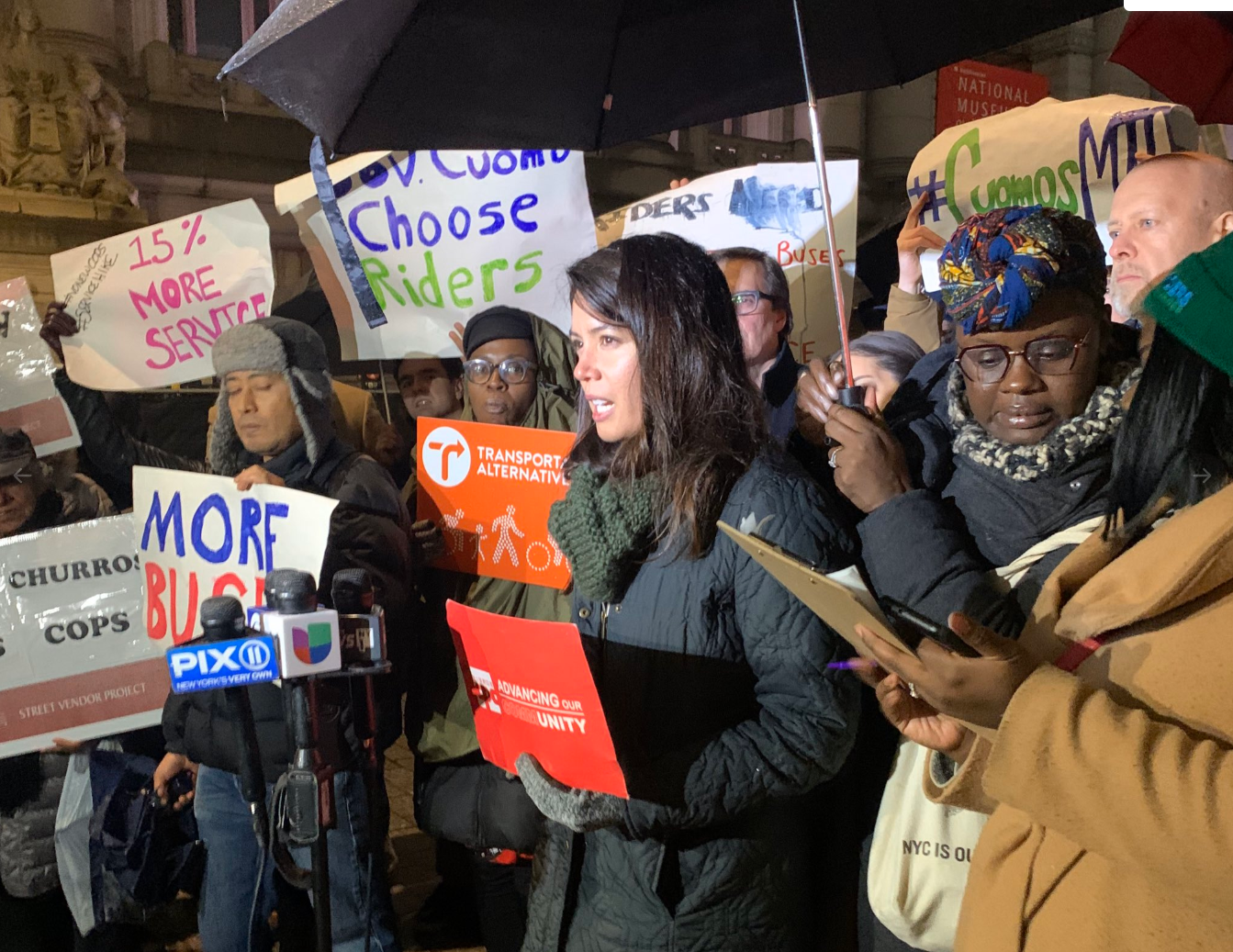 During the last two months of 2019, CPC has been part of a successful effort to mandate training for local law enforcement in the wake of hate crimes. Chief Policy and Public Affairs Officer Carlyn Cowen called for New York State to take action in the wake of hate crimes and congratulated Assemblymember Rozic and Senator Kaminsky who introduced the bill. See coverage by QNS.com here.
Director of Policy and Advocacy Amy Torres was quoted in Black Star News and called for the Governor to end policing in the subway and invest in better transit and social services for our communities.
Our team has also been working to add essential language options to 311 and correct existing issues in finding in-language assistance. Callers to the city's information and complaints helpline are given the option of one of six languages in addition to English — not the full set required by Local Law 30 since 2017. See coverage of the issue in THE CITY here.
CPC supported four bills that have unfortunately been vetoed by Governor Cuomo in December as well: Asian Pacific American Disaggregated Data, LGBTQ Disaggregated Data, Statewide Central Register Reform, and Charitable Bail Reform.
CPC has urged Governor Cuomo and state agencies to collect richer, disaggregated data to better understand and address inequities. Unfortunately, on December 6th, the Governor vetoed the Asian Pacific American Data Disaggregation Bill, which was sponsored by Assembly Member Yuh-Line Niou and Senator Julia Salazar. After ten years of advocacy, which included sponsorship from Congresswoman Grace Meng and Assemblymember Ron Kim, this bill was passed by the New York State Legislature earlier this spring. The bill would have had State agencies collect and report 1) data on Asian Americans and Pacific Islanders (AAPI) as racial groups and 2) disaggregated data on AAPI ethnic subgroups (e.g., Chinese, Korean, Filipinx, Vietnamese, Indian, etc.).
This bill is important because:
1) New York State often renders AAPIs invisible in their policies and programs. For example, OCFS reports often list White, Black, Hispanic, and Other. The recent State Census funding was based on an index that used 10 categories (including Black and Hispanic), but Asian was not one of those categories.
2) When the State does include AAPIs, the information is not disaggregated to show uniqueness in our ethnic subgroups. For example, AAPIs ae reported to have the highest median household income in the State, but our community has the greatest wealth disparity. Bangladeshis have a median household income of $47,000 while Indians have a median household income of $95,000. The top 10 causes of death in the Chinese community is different than the top 10 causes of death in the Korean community.
The Governor's Office vetoed the bill because of the cost and implementation timeline. This sends the wrong message to the State's fastest growing racial group (of residents, taxpayers, employers, workers, students, seniors, and voters) that they are not worth investing in. While the AAPI community makes up 10% of New York State, our community receives less than 1% of public social services contract dollars. The cost to implement this legislation is 1) much less than the State funding which our community already does not get a fair share of and 2) much less than the resources being wasted by State agencies which target the incorrect AAPI ethnic group in some programs (e.g., translating materials into Chinese when the targeted neighborhood is Korean). This bill would have revealed disparities among the AAPI community and would helped to guide State resources toward AAPI ethnic subgroups. You can read more about data disaggregation at NBCNews.com here.
Also on December 6th, the Governor vetoed the LGBTQ Disaggregated Data Bill, and he did so for the same reasons of cost and implementation timeline. Similarly, the LGBTQ community is often rendered invisible by State agencies and would have benefited from this bill that would reveal disparities and would help guide State resources. After some negotiation in 2017, New York City passed legislation that would mandate disaggregated data collection on Asian, Black, Latinx, and LGBTQ communities. The Governor's Office did not engage with the AAPI community and LGBTQ community to see if we could create a package of bills to disaggregate data for all of our communities, which AAPI advocates were supportive of.
The Governor has also vetoed the Statewide Central Register (SCR) Reform Bill. The SCR is a database that 1) collects reports of child abuse and neglect and 2) maintains information on all parents/caregivers indicated for child abuse or neglect. After a few years of advocacy, this bill would have mandated that the State to seal the records of indicated parents/caregivers once the case is resolved favorably by Family Court, reducing unfair employment barriers of indicated parents/caregivers, and raise the standard of evidence to have an indicated case of child abuse and neglect. As we know from the families we serve through CPC Asian Family Services, Chinese parents often use child disciplining methods that may be interpreted as child abuse. Chinese parents who have to work multiple jobs may get reported for child neglect when they leave children home alone. Families of color and immigrant families are 3 to 4 times more likely to be reported for child abuse and neglect than White counterparts. This bill would have created more fairness for our community, but unfortunately, the Governor vetoed the bill because of the cost of updating the SCR database and training State employees on the new standards.
Finally, the Governor vetoed the Charitable Bail Reform Bill. This bill would have expanded existing State law by enabling charitable bail organizations to provide greater financial assistance to low-income New Yorkers who cannot afford bail. For example, the certification fee would be reduced from $1,000 to $500, and the amount of bail provided by a charitable organization would increase from $2,000 to $10,000 per defendant. About 80% of those held at Rikers Island are awaiting trial, and a significant proportion cannot afford bail. Because the State passed many criminal justice reforms this year, much of the advocacy for having smaller borough-based jails (including the Manhattan Detention Center in Chinatown) was based on the assumption that all of the criminal justice reforms laws would be enacted, leading to a smaller jail population. This bill would have helped to decrease the criminalization of poverty. You can read more about charitable bail reform at New York Law Journal here.