Adult Literacy Students Visit MOCA
Main Content
Adult Literacy Students Visit MOCA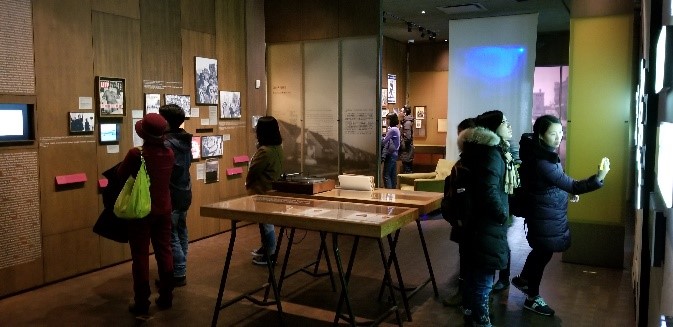 On February 1, 2018, ten students from the Adult Literacy Program's advanced-level ESOL/Civics class of the Education and Career Services Division had the opportunity to visit the Museum of Chinese in America (MOCA). MOCA was founded in 1980, and is dedicated to preserving and presenting the history, heritage, culture and diverse experiences of people of Chinese descent in the United States. The museum prides itself as the national home for the precious narratives of diverse Chinese American communities, and strives to be a model among interactive museums. MOCA offers an interactive experience through which its exhibits invited students to explore and discuss related to immigration and liberty.
Prior to the visit, students learned about the history of Chinese people in the United States. This included the work life of past Chinese immigrants, Chinatown, U.S. policies towards people of Chinese decent – including the Chinese Exclusion Act, and the portrayal of Chinese people in American popular culture of the past and present. Students were informed of some of the exhibits they would encounter at the museum when they arrived.
At the museum, students were able to get a more hands-on experience of what life was like for previous generations of Chinese people in the United States. Students learned about famous Chinese Americans of the last 200 years. These people included scientists, musicians, artists, athletes, and the first Chinese-American astronaut who were displayed on the walls throughout the museum. Students enjoyed finding names they recognized. Students were also able to see some of the difficulties Chinese immigrants endured which included interrogation practices on Angel Island and the caricatures of Chinese immigrants portrayed on TV and films. Students viewed exhibits about Chinese run businesses such as restaurants and laundry services and enjoyed looking at pictures of what Chinatown used to look like.
After the museum, students became more inquisitive of the history of Chinese people in the United States. Students were surprised to learn how long Chinese Americans have been in this country. After the museum visit, students were encouraged to continue learning about the rich Chinese American history in the United States. Just before students finished for the day, there was a discussion of how the Chinese immigrant journey of the past compares with their journeys today.
Registration for ESOL/Civics classes is open. For more information about our open houses at Manhattan, Queens, and Brooklyn, please check our events page here.