CPC Welcomes Three New Chief Officers
Main Content
CPC Welcomes Three New Chief Officers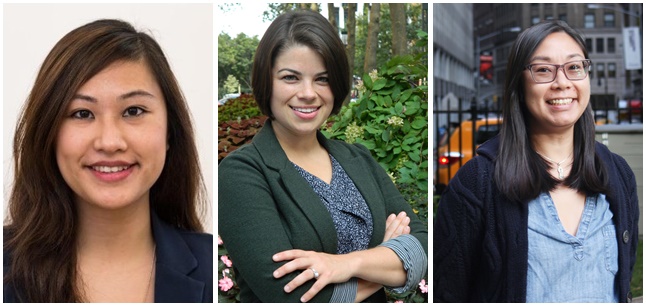 The Chinese-American Planning Council, Inc. (CPC) is excited to announce the appointments of Alice Wong, Carlyn Cowen, and Kim To as Chief Officers. All three are accomplished, well regarded leaders in New York who are bringing their talents and networks to the nation's largest Asian American social services organization. These new Chief Officers will help to implement Advancing Our CommUNITY, CPC's organization-wide strategy to promote social and economic empowerment of our community members.
ALICE WONG, CHIEF OF STAFF
Alice Wong is the Chief of Staff, responsible for ensuring the efficient and effective operation of executive affairs, management of all board of directors and governance matters, and oversight of affiliate relations and special projects. Most recently, Alice served as a Deputy Assistant Director for the Mayor's Office of Appointments. Previously, Alice was a Research and Public Policy Fellow at the Women's City Club, Deputy Senior Manager for the Family and Community Engagement Division at the New York City Department of Education, and Community Affairs Liaison at the Brooklyn Borough President's Office.
CARLYN COWEN, CHIEF POLICY & PUBLIC AFFAIRS OFFICER
Carlyn Cowen is the Chief Policy and Public Affairs Officer, responsible for developing a policy agenda, government affairs, and community engagement at CPC. Carlyn most recently served as a Senior Policy Analyst at the Federation of Protestant Welfare Agencies (FPWA). Previously, she worked as a Senior Research Analyst at the New York City Mayor's Office of Contract Services, Director of Strategic Partnerships at the Reducetarian Foundation, and Development Director for Nourish International.
KIM TO, CHIEF DEVELOPMENT OFFICER
Kim To is the Chief Development Officer, responsible for leading all fundraising and communications efforts in order to ensure increased, sustainable funding as well as improved impact and awareness of CPC. Additionally, Kim is the Deputy Director of Mekong NYC, working with the Southeast Asian community in the Bronx. Most recently, she was the Development Director of the Association for Neighborhood & Housing Development (ANHD), Director of Development and Communications at Internationals Network for Public Schools, and Development Director of the Coalition for Asian American Children and Families (CACF).