CPC Youth Participant Goes on an Upcoming Arctic Expedition
Main Content
CPC Youth Participant Goes on an Upcoming Arctic Expedition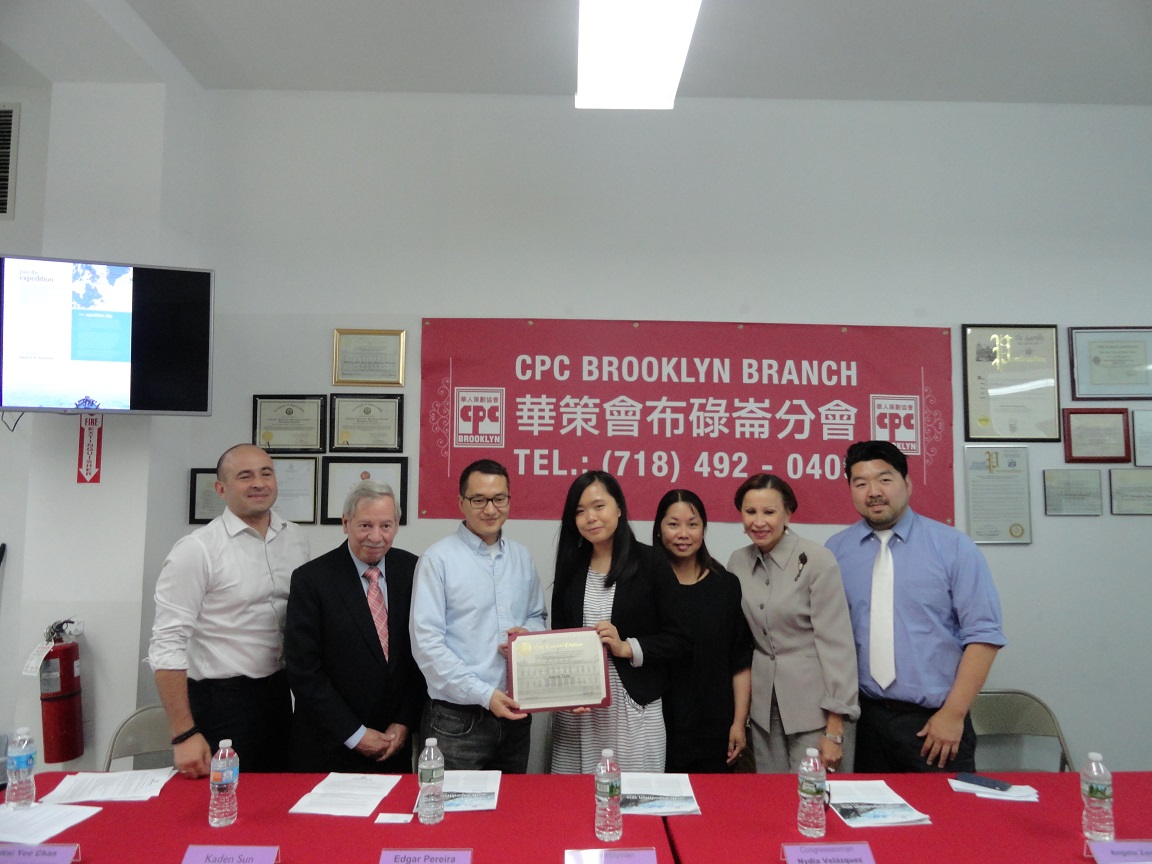 On June 21, 2016 CPC and Congresswoman Nydia Velázquez, along with support from NYS Assembly Member Peter Abbate, Jr. and Kaden Sun from NYC Council Member Carlos Menchaca's office, held a press conference at the CPC Brooklyn Community Center to provide a sendoff for youth participant Angela Zeng, who will be involved in a two-week Arctic expedition through the Students on Ice (SOI) program with a full scholarship from the Beatrice Snyder Foundation.
The Students on Ice program is a global initiative that aims to educate youth regarding the importance of the Polar Region and protecting the environment. The program connects youth with educators across the world through a two-week, ship-based expedition in the Arctic full of exploration, discovery, presentations, workshops, hands-on research, hikes, and adventure.
Angela has been a participant in CPC's Service Learning Initiative for the past three years, where she was able to develop and exhibit great leadership ability. With the assistance of Congresswoman Velázquez, Angela was able to secure a scholarship for SOI through the Beatrice Synder Foundation. "Thanks to the Beatrice Snyder Foundation; we need important partnerships that promote young people to be more involved in the learning and decision making process that affects our lives. Thank you to CPC as well. This is a celebration of our young people, the community and the changes we hope our youth will make." said Congresswoman Velázquez.
Angela is one of 120 international high school and college students chosen to participate in this expedition to the Arctic region with inspiring scientists and innovators. She will be joined by four other students from New York. Additionally, Angela is the first Asian-American to receive a full scholarship through the Beatrice Snyder Foundation. "It is a privilege to have Angela be selected for this tremendous opportunity. We are glad that she will be able to explore her interests and career opportunities on a global level. CPC Youth Services provides youth with the opportunity to explore and make a difference in their community. Angela is a great example of this as she goes on this great adventure and brings back a wealth of knowledge to share with her peers." says Edgar Pereira, CPC Director of Programs.
On CPC's decision to support Angela, Steve Mei, Assistant Director of Youth Services remarked, "Her [Angela's] commitment to the local community and her interest in science makes her a natural fit for this wonderful opportunity. We are extremely proud of her accomplishments."
Angela's story was profiled in a recent NTDTV news report, and she plans to blog about her experience as well.
---
Angela's Blog Posts via Students on Ice
Expedition Day 5: July 25, 2016
Today was absolutely amazing! Today is the day we finally get on land (Torngat Mountains). We also got to ride the zodiac! Ever since my first zodiac experience going to the ship at midnight, I really wanted to ride a zodiac again! This time it was less bumpy (but still just as great). It was awesome feeling the splash of the water on my face while the zodiac was going towards the land. Since I was part of the first group, we got to go hiking! The moment we got on land, there were so many flies! Flies in New York City during the summer is NOTHING compared to what I witnessed on land. After we had a brief meeting, we started to go up the mountain! The journey was really tiring, mostly because of the bumpiness of the ground and the fact that I was wearing rubber boots made it even worse. However, it was all worth it when I saw the beautiful waterfall at the end of our journey. I took loads of pictures! Soon it was time to head back down to go on our second adventure…ZODIAC CRUISING. Just the thought of that made me happy! I got on the zodiac with Geoff's daughter and wife (haha); they were adorable! We toured around the area and I got amazing shots of the cliffs! It was amazing breathing in the fresh crisp air of the area. Finally it was time to head back to land. I didn't want to leave the zodiac….so I was really sad. Then we split up into groups to have workshops. I went to this workshop that looked at marine life, so I was really interested. Then the workshop leader told us that we would be ABLE TO RIDE THE ZODIAC AGAIN! I WAS SUPER STOKED. We went out to the middle of the ocean and collected samples of zooplankton. It was nice learning about plankton planet. Afterward we were done, we headed straight to the ship. I got off and realized how amazing today was!
Click here to read other blogs from Angela's teammates
To learn more about CPC's Youth Services click here.