CPC Adult Literacy Program Rallies at City Hall
Main Content
CPC Adult Literacy Program Rallies at City Hall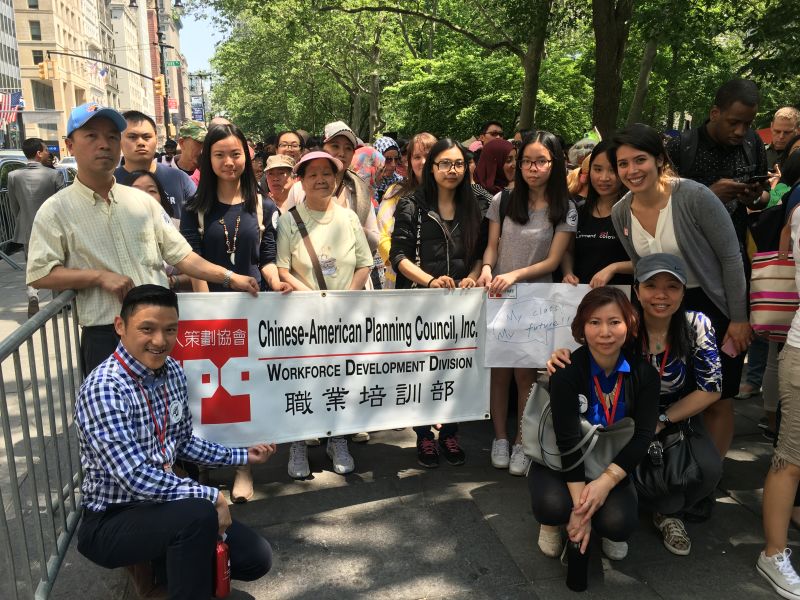 Over 70 CPC Adult Literacy Program students rallied alongside nearly 700 other students, teachers, allies, and elected officials at City Hall park in support of increased funding for adult literacy in the city's final budget, which will be adopted by Mayor Bill de Blasio in a few weeks' time.

This fiscal year, over 6,300 seats were lost in the city's Adult Literacy system which includes free English for Speakers of Other Languages (ESOL) classes, High School Equivalency, and Adult Basic Education Classes. An estimated 2.2 million people in New York City lack basic English proficiency or a high school diploma.
The rally was organized by the New York City Coalition for Adult Literacy (NYCCAL), a network of agencies, educators, students, and advocates who work to expand and support adult education opportunities in New York City.
Council Member Carlos Menchaca, Chair of the City Council's Committee on Immigration, kicked off the rally. Janice Won, CPC's Interim President and CEO, followed Council Member Menchaca speaking on behalf of CPC's Adult Literacy Program, which lost 150 of its city-funded seats this year. She stated that the loss of funding has limited CPC's ability to have more adult literacy classes in Brooklyn as well as other boroughs.
Council Members Mathieu Eugene (District 40), Carlos Menchaca (District 38), and Ydanis Rodriguez (District 10) also spoke in support of New York City's adult learners.
CPC students and teachers wrote and designed signs and had the opportunity to meet hundreds of other students who depend on this city service for accessible, affordable, adult education.