CPC and Partners Host AAPI Reception at SOMOS Conference in Puerto Rico
Main Content
CPC and Partners Host AAPI Reception at SOMOS Conference in Puerto Rico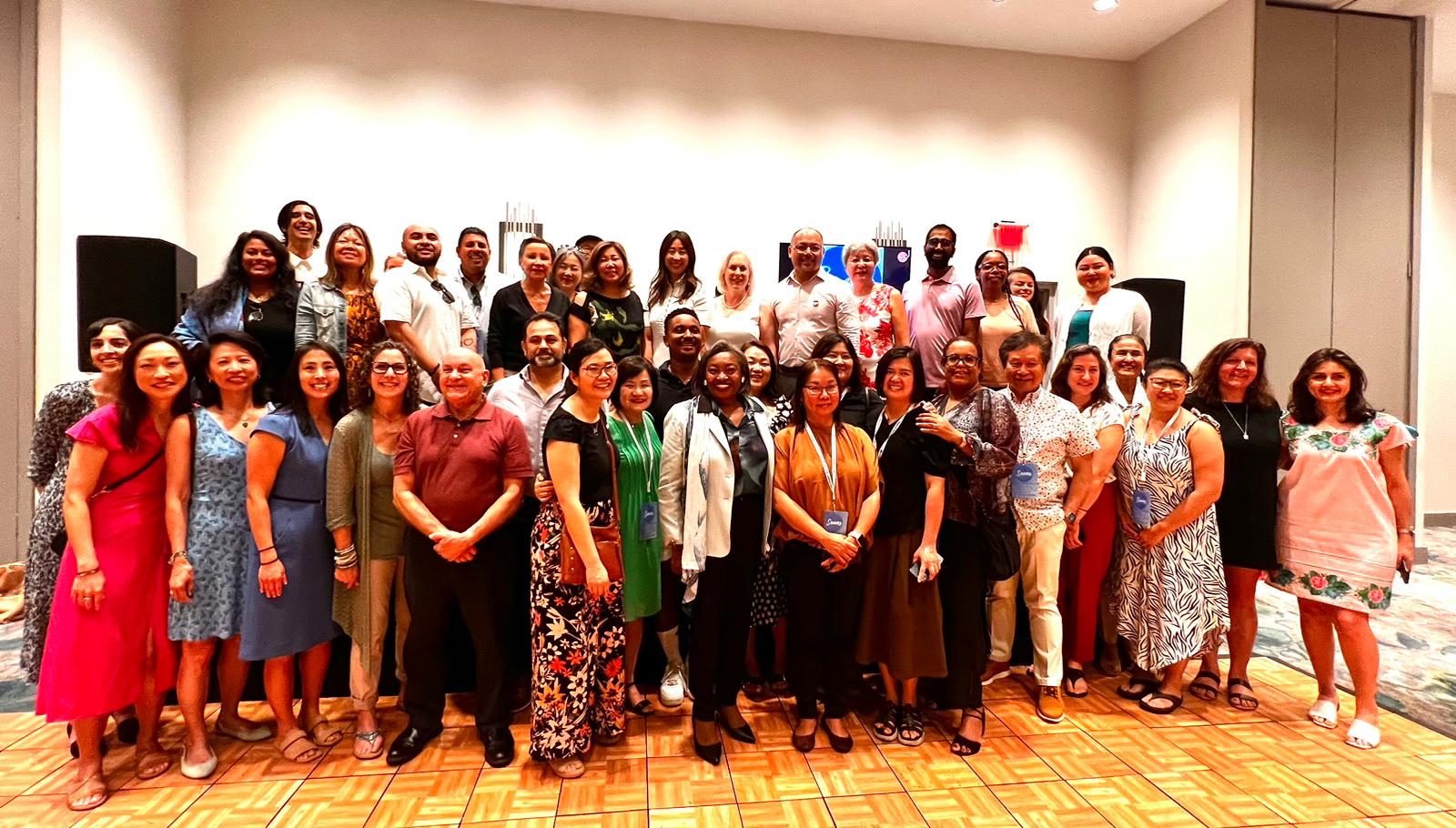 On November 11th, CPC, alongside the New York State Assembly APA Taskforce and nearly 30 organizations, hosted the Asian American and Pacific Islander (AAPI) Reception at the Somos Conference in Puerto Rico. The conference aims to unite Latinx communities and raise social and public policy awareness across New York State and beyond. The AAPI Reception shows solidarity between AAPI and Latinx communities, and builds deeper collaboration around common issues. This was the first time that the AAPI Reception was included in the formal conference agenda.
"The SOMOS Conference marks the kickoff for the State and City budget advocacy season, starting in January," said Wayne Ho, President and CEO of CPC. "Our active engagement allowed us to connect with federal, state, and city officials and contribute insights on senior services and workforce development through panel discussions. We also shared our policy priorities, including the State's AAPI Equity Budget, City Council's AAPI Community Recovery Initiative, Just Pay for Human Services Workers, and Fair Pay for Home Care Workers."
It brought together over 400 community, labor, legislative, and business leaders, including U.S. Senator Kirsten Gillibrand; Representatives Grace Meng and Nydia Velazquez; State Senate Majority Leader Andrea Stewart-Cousins; State Senators Jamaal Bailey, Cordell Cleare, Jeremy Cooney, Nathalia Fernandez, Andrew Gounardes, Brian Kavanagh, and Kevin Parker, Assemblymembers Chris Burdick, Catalina Cruz, Harvey Epstein, Charles Fall, Jessica Gonzáles Rojas, Anna Kelles, Grace Lee, Dana Levenberg, Steven Raga, Karines Reyes, Jonathan Rivera, Jo Anne Simon, Tony Simone, Michaelle Solages (Black, Puerto Rican, Hispanic, and Asian Caucus Chair), and Yudelka Tapia; New York City Comptroller Brad Lander; Manhattan Borough President Mark Levine; Brooklyn District Attorney Eric Gonzales; Councilmembers Erik Bottcher, Tiffany Cabán, Carmen de la Rosa, Eric Dinowitz. Amanda Farias, Rita Joseph, Shekar Krishnan, Linda Lee, Farah Lewis, Julie Menin, Darlene Mealy, Chi Osse, Carmen de la Rosa, Lynn Schulman, and Council Member-elect Susan Zhuang. Jenny Low from Governor Hochul's office, as well as Maria Imperial, Commissioner of NYS Division of Human Rights and Jeanette Moy, Commissioner of NYS Office of General Services, also joined.
CPC and its partners remain committed to advancing collaboration and awareness, actively working towards a more inclusive and equitable future for the AAPI community. Key community partners include Asian Americans for Equality, Apicha Community Health Center, Caribbean Equality Project, Coalition for Asian American Children and Families, Chhaya CDC, Council of Peoples Organization, Chinatown YMCA, Educational Alliance, Flushing YMCA, Grand Street Settlement, Hamilton-Madison House, Henry Street Settlement, Homecrest Community Services, Korean American Family Service Center, Korean Community Services, Mekong NYC, MinKwon Center for Community Action, Parent-Child Relationship Association, Raising Health, Sakhi for South Asian Women, Sapna NYC, Turning Point for Women and Families, and University Settlement.
The success of the AAPI Reception was made possible through the generous support of our presenting sponsor, The Asian American Foundation, along with co-sponsoring organizations including Council of Family and Child Caring Agencies, DoorDash, Federation of Protestant Welfare Agencies, Human Services Council, Korean American Community Foundation, LiveOn NY, NYC Employment and Training Coalition, UJA-Federation, and United Neighborhood Houses.
Pres Coverage: NYN Media