CPC Partners with Promise NYC to Provide Child Care Support to Undocumented Children in Queens
Main Content
CPC Partners with Promise NYC to Provide Child Care Support to Undocumented Children in Queens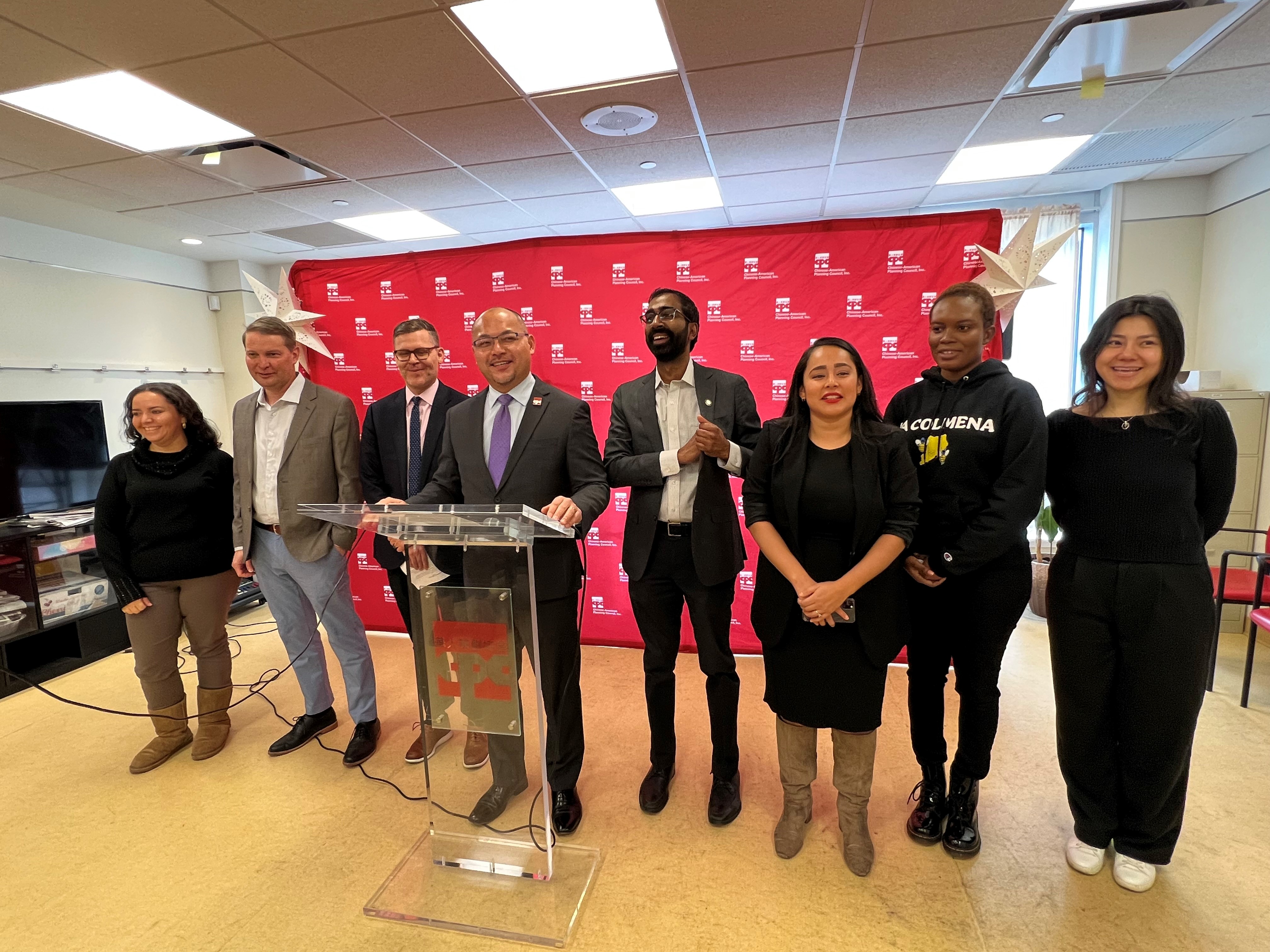 Photo (From Left to Right): Zenayda Bonilla, Peer Advocate and Consultant from the Center for Family Life; Shane Miller, Communications Director for Council Member Sandra Ung; Jess Dannhauser, NYC Administration for Children's Services Commissioner; Wayne Ho, President and CEO of CPC; Shekar Krishnan, Council Member; Yesenia Mata, Executive Director of La Colmena; Abigail Dorcin, Organizing Coordinator of La Colmena; Evelyn Li, Representative for U.S. Representative Grace Meng
***FOR IMMEDIATE RELEASE***
Date: January 17, 2023
Press Contacts:
Wayne Ho, President & CEO | (212) 941-0920 x 143 | who@cpc-nyc.org
Alice Du, Director of Communications | (212) 792-4585 | adu@cpc-nyc.org
CPC Partners with Promise NYC to Provide
Child Care Support to Undocumented Children in Queens
New York, NY – The Chinese-American Planning Council (CPC) announced today that it is now accepting applications for "Promise NYC", a city-initiated program to provide child care assistance to low-income, undocumented families who are otherwise ineligible for federal subsidies due to their immigration status. Eligible applicants residing in Queens can contact CPC to get connected to child care services.
Promise NYC is run in collaboration with the New York City Administration for Children's Services and four community-based organizations (CBOs) that have strong ties to immigrant populations in their respective boroughs. As one of the CBOs, CPC focuses on serving Queens-based applicants and selecting eligible families based on their income, children's ages, and immigration status. Undocumented families in Queens with children ages 6 weeks to 13 years old and earn less than 300 percent of the federal poverty level are eligible to apply to this program through CPC.
"Asian American and Pacific Islanders have the highest rates of undocumented status of all racial groups, and this disproportionately impacts undocumented children who are often shut out of critical educational and support services," said Wayne Ho, President and CEO of CPC. "We are honored to be the Promise NYC community partner in Queens, providing child care vouchers to increase access to academic and social-emotional development programs for children and quality childcare for working immigrant parents."
"Promise NYC is the Adams Administration reaffirming its commitment to ensuring that all New Yorkers, regardless of immigration status, have a fair shot at our child care system," said First Deputy Mayor Sheena Wright. "I applaud the CBOs who have stepped up in this moment of need to serve families across all the five boroughs. I look forward to continuing our ongoing partnership and providing high-quality, affordable, and accessible early childhood education to all New Yorkers."
"The Adams administration has made significant efforts to help families connect with affordable and reliable childcare," said Deputy Mayor for Health and Human Services Anne Williams-Isom. "Promise NYC is an important part of that strategy and I am glad to see that it is being utilized through so many community organizations such as the Chinese American Planning Council. Importantly, this program is available to families regardless of their immigration status. Thank you to Wayne Ho, President & CEO of CPC, and to all the community groups working with ACS/Promise NYC across the city."
"This is a history-making moment for New York City as we launch Promise NYC with our community-based providers," said NYC Administration for Children's Services Commissioner Jess Dannhauser. "For the first time, New York City will offer child care assistance to hundreds of low-income families who were previously and unfairly ineligible due to their immigration status. I want to thank Mayor Adams for prioritizing families' access to child care and to our community-based providers, like CPC, who are launching the programs."
Promise NYC is a $10 million program that is intended to help 600 children over the next six months. It is open to all immigrant families, including newly arrived immigrants, asylum seekers, and those who have lived in the city for years.
Along with CPC, this program is run by three additional CBOs: Northern Manhattan Improvement Corporation which operates the program in Manhattan and The Bronx, La Colmena which supports Staten Island families, and the Center for Family Life which serves Brooklyn families.
"As a working mom, I know firsthand how critical affordable and high quality childcare is for parents," said U.S. Representative Grace Meng (D-Queens). "The pandemic highlighted how crucial childcare is for parents to remain in the workforce to provide for their families, and it should be accessible to all regardless of income and immigration status. I thank all the organizations who have come together to help increase access for those who have found childcare to be out of reach."
"Acquiring access to child care is a challenge for any family, but undocumented children often face insurmountable obstacles that prevent them from receiving the care they need. Promise NYC is the right program to help families connect to essential child care services so that parents do not have to sacrifice their pursuit of a job or education, and can continue to fulfill their duties as providers and caregivers. Many thanks to CPC for stepping up as a frontline service provider connecting families in need to these important child care services," said NYS Senator John Liu.
"All families deserve quality, affordable childcare and I applaud CPC for their Promise NYC program which will provide for families who do not qualify for other forms of aid," said Assemblywoman Nily Rozic (D, WF-Fresh Meadows). "Through Promise NYC, CPC will help ensure all New York families have the resources and care they need to thrive."
"All New Yorkers with young children deserve affordable, quality childcare, including our undocumented neighbors. This is an issue I've fought hard to address in Albany, and one that I will continue to fight for this session. Promise NYC will help so many struggling families access the childcare services they need. I'm proud that this program will launch here in Queens and can't wait to see the impact it will have on so many families' lives," said Assemblymember Jessica González-Rojas.
"Families deserve high-quality, affordable child care no matter their income level or immigration status, which is why I partnered with my colleagues Councilmembers Cabán and Hanif to secure $10 million to cover that gap. Promise NYC will break down these barriers to provide care for hundreds of children and is made possible with the dedication of staff at Chinese-American Planning Council, La Colmena, Northern Manhattan Improvement Corp, and the Center for Family Life," said NYC Comptroller Brad Lander.
"Promise NYC is a groundbreaking initiative that will dramatically improve the lives of so many families in Queens and throughout our City," said Queens Borough President Donovan Richards Jr. "I am so pleased the Chinese-American Planning Council is partnering with Promise NYC to provide child care vouchers to undocumented children in Queens. All of our City's kids, regardless of their immigration status, deserve to enjoy the many developmental benefits of a nurturing environment."
"Expanding child care assistance to undocumented children in New York City is critical to supporting our families and promoting equitable opportunities," said Speaker Adrienne Adams. "The Council has prioritized the expansion of child care options and making them more affordable and accessible to all New Yorkers, regardless of immigration status. I am excited about the launch of Promise NYC in partnership with community-based organizations like the Chinese-American Planning Council, and I look forward to working with all stakeholders to ensure its success for immigrant New Yorkers."
"I am thrilled to join the Chinese-American Planning Council in celebrating the launch of Promise NYC, a new program to increase access to publicly-subsidized early childhood education and care," said Council Member Tiffany Cabán. "The demand for this program and related funding originated from a coalition of education, child care, and immigration advocates who came together to fight for a truly equitable early childhood education system that left no one behind. I am grateful to the Mayor for embracing their call and for CPC for both being part of that original coalition and for moving quickly to implement this critical program. All children need safe and enriching early childhood experiences to learn and thrive and New York City's working families depend on publicly-subsidized early childhood programs to access care for their children. With the launch of Promise NYC, New York City is finally ending the unjust exclusion of undocumented children from our early childhood programs and proving that all New Yorkers, no matter their documentation status, are deserving of care."
"This summer, in coalition with undocumented families, immigrant rights organizations, progressive Council Members, and the Comptroller, our City committed a historic $10 million to fund childcare for undocumented New Yorkers. Now, we see our advocacy finally come to fruition," said Immigration Committee Chair, Council Member Shahana Hanif. "'Promise NYC' is a historic investment in our immigrant communities with transformative potential. Providing free childcare to working-class immigrant families in our City is truly building social infrastructure rooted in care and compassion. I am so grateful to all of the advocates, my colleagues in the Council, and the Administration for making this promise a reality."
"New York City was built on the backs of working-class, immigrant families. We led the nation in providing free, universal pre-K to New Yorkers. With Promise NYC, we are leading the nation again by including undocumented families in our city's subsidized childcare system. I'm proud to join the Chinese-American Planning Council, selected to provide this care in Queens, in celebrating this groundbreaking program," said Council Member Shekar Krishnan.
"The Promise NYC program is going to provide a critical service for an oft-marginalized and overlooked segment of our community, namely the children of undocumented families who often don't qualify for the services they desperately need because of their immigration status," said Council Member Sandra Ung. "This will not only benefit the children, but their parents as well, who will now have more opportunities to provide for their families. I want to thank CPC for taking the lead and partnering with ACS to bring Promise NYC to Queens."
For Queens families who wish to apply for Promise NYC, please fill in the form at: https://forms.office.com/r/Sd8WjLj7wQ. A CPC representative will contact you for the screening process.
For more questions regarding your eligibility, please contact CPC Child Care Assistance Program Supervisor Robert Calabretta at rcalabretta@cpc-nyc.org.
About the Chinese-American Planning Council (CPC):
Chinese-American Planning Council (CPC) is a social services organization that creates positive social change. Founded in 1965, CPC is the nation's largest Asian American social services organization and aims to promote the social and economic empowerment of Chinese American, immigrant, and low-income communities of New York City. CPC is the trusted partner to individuals and families striving to achieve goals in their education, family, community, and career.
關於華人策劃協會 (華策會):
華人策劃協會(簡稱"華策會")是一個致力於創造正向社會變革的社會服務機構。華策會成立於1965年,是美國最大的亞裔美國人社會服務機構,旨在促進紐約市華裔美國人,移民,及低收入社區的社會權益和經濟賦權。華策會是為實現其教育,家庭,社區及職業目標而努力的個人和家庭可信賴的機構。
ACERCA DE CPC
El Chinese-American Planning Council (CPC) es una organización de servicios sociales que crea un cambio social positivo. Fundada en 1965, CPC es la mayor organización de servicios sociales asiático-americanos del país y su objetivo es promover la capacitación social y económica de las comunidades chino-americanas, inmigrantes y de bajos ingresos de la ciudad de Nueva York. CPC es el socio de confianza de más de 60.000 personas y familias que se esfuerzan por alcanzar objetivos en su educación, familia, comunidad y carrera.
Press Coverage: World Journal, Epoch Times, Yahoo News, NYN Media, Documented