CPC and Allies Testify at Transforming Foundations: Overcoming Racial Disparities in Health and Mental Health
Main Content
CPC and Allies Testify at Transforming Foundations: Overcoming Racial Disparities in Health and Mental Health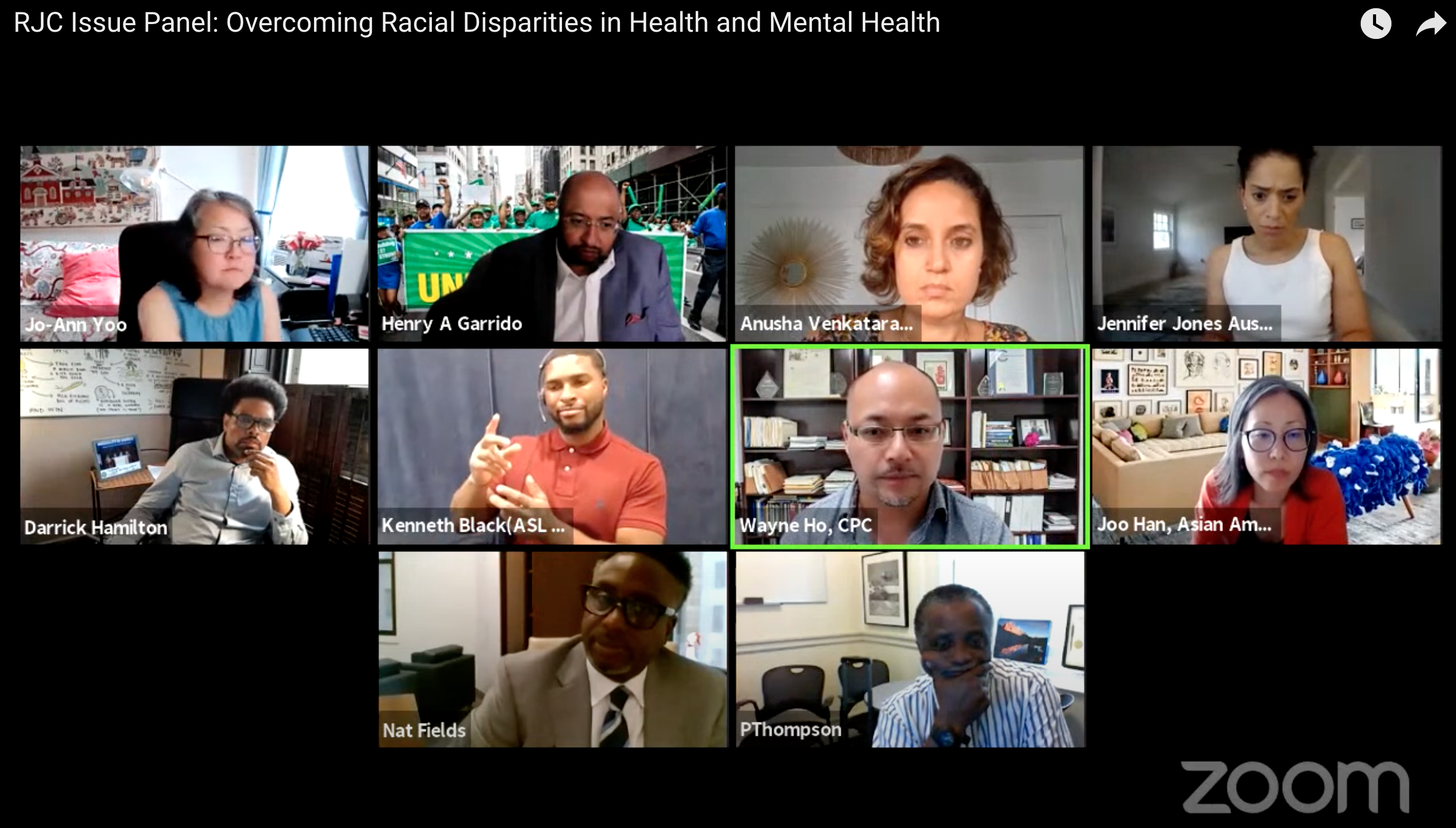 On July 20th, CPC President and CEO Wayne Ho joined allies in testifying at Transforming Foundations: Overcoming Racial Disparities in Health and Mental Health, a public hearing hosted by the NYC Racial Justice Commission. They testified on how to transform NYC government to overcome inequality for BIPOC New Yorkers, families, and communities in areas of health and mental health.
The testimony focused on three issues facing the Asian American and Pacific Islander (AAPI) communities CPC serves: data justice, language justice, and budget justice. See recommendations outlined below and read the full testimony presented here. See coverage in Norwood News here.
1) Data Justice Recommendations:
City agencies need to utilize a standard approach to data collection, disaggregation, and reporting on Asian Americans and Pacific Islanders. Any policy should mandate a standard approach to the collection, disaggregation, and reporting of demographic data on New York's diverse AAPI community. This includes disaggregation of AAPI ethnic categories to at least 22 categories, information on country of origin and years in the United States, and information on the top 20 most frequently spoken Asian languages. The policy must also ensure data is made publicly available at regular intervals.
2) Language Justice Recommendations:
The City should expand Executive Order 120 and Local Law 30 by increasing the number of languages that City agencies are mandated to translate from six to nine. This change would then mirror the Department of Education's policy that mandates nine covered languages. These nine languages plus English addresses the language needs of nearly 96% of New Yorkers served. Four of these languages are Asian languages (Chinese, Bengali, Urdu, and Korean). By expanding Executive Order 120, there will be more translation and interpretation services in order to cover additional Asian languages. City agencies must also be fully funded to offer language accessible services. The NYC Commission of Human Rights should explore the review of language access plans and conduct "secret shopper" efforts.
3) Budget Justice Recommendations:
Organizations
The City should change contract procurement policies to give more credit to community service providers with language and cultural competency and to build capacity among Asian-focused service providers so that they may better compete for City service contracts.
For-profit organizations can be classified as Minority and Women Business Enterprises. Nonprofit organizations do not have owners and cannot be classified as MWBE. The City should create a new classification for nonprofit organizations that are people of color, women, immigrant, and LGBTQI led. This means the mission, leadership, and community served are people of color, women, immigrant, and LGBTQI.
Local Law 1 must be amended for the City to better achieve social justice through procurement.
Workers
The City must commit to paying equitable wages to contracted human services workers. Government is the main driver of human services salaries, and often sets salary rates on contracts. Setting low rates results in tax dollars being used to fund poverty level wages, where 15 percent of human services workers qualify for food stamps.16 Government must enact a comprehensive plan to raise the wages of the sector to be commensurate with wages of government employees. Every contract must have annual Cost of Living Adjustments (COLA) with increased funding.

The City must ensure that all contracted services to nonprofit organizations pay living wage, address
compression, have COLA, and cover the full cost of providing services. In addition to human services, this
includes education, housing, criminal justice, health care, home care, and other services. For example,
home care workers are paid minimum wage but take care of homebound seniors and individuals with
development disabilities. The NYC Human Resources Administration (HRA) should work with the NYS
Department of Health to increase Medicaid funding for home care worker compensation, including home
care workers with 24-hour shifts. Of the 250,000 home care workers in New York, about 33,000 home
care workers have 24-hour shifts but are paid 13 hours according to Medicaid, contractual, and union
agreements.

Services
The City should ensure that the development, implementation, and evaluation of human services is racially just. The City should:
Get people with lived experience at the decision-making table – from City Hall to city agencies, especially those overseeing child welfare and juvenile justice
Reform the NYC Department of Education's K-12 curriculum by ending White Supremacist narratives so that children of color are educated in a more affirming and reflective environment
Address the root causes of NYC's highly racially segregated neighborhoods and schools
Target services specifically for young men of color
Target workforce development programs for immigrant New Yorkers
Expand Family Enrichment Centers administered by the NYC Administration for Children's Services
Fund community led violence interruption and reduction programs overseen by the Mayor's Office of Criminal Justice, such as using credible messengers from the community to reduce dependency on policing and assist the community to self-resolve gun violence

Watch the full hearing on YouTube here: bit.ly/TransformingFoundations