Essential Workers Highlight: Priscilla Fok and Margaret Wang of CPC's Hong Ning Housing for the Elderly
Main Content
Essential Workers Highlight: Priscilla Fok and Margaret Wang of CPC's Hong Ning Housing for the Elderly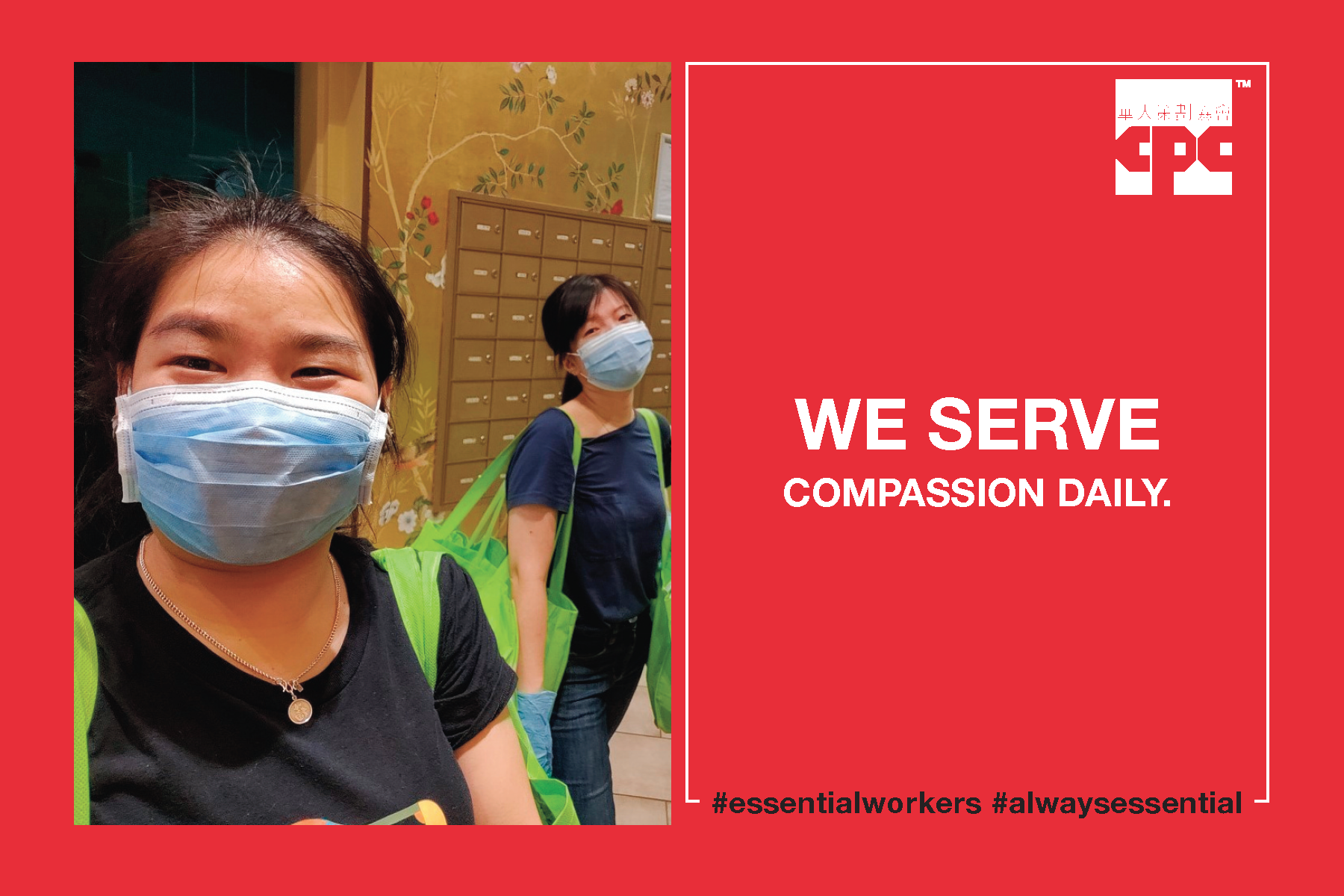 While medical personnel treat the coronavirus in our hospitals, other human service providers and essential workers are ensuring New Yorkers have the resources they need to not only remain safe but also continue to have opportunities to thrive. These individuals, whether working from home or within our neighborhoods, are supporting a strong recovery for those who are too often overlooked, underrepresented, or underinvested in.
The following Q&A took place between Chris Kuo of CPC Leadership Council and the team of Priscilla Fok, CPC's Resident Wellness Coordinator, and Margaret Wang, TUC's Administrative Assistant. Priscilla and Margaret work in partnership to provide on-site services for the residents of Hong Ning Housing for the Elderly, a CPC subsidiary.
The CPC Leadership Council is a tight-knit community of business and nonprofit leaders who seek to advance CPC's mission to promote social and economic empowerment of Chinese American, immigrant, and low-income communities.
Join CPC in sharing stories of essential workers using the tag #AlwaysEssential and #EssentialWorkers.
Essential Workers Highlight: Priscilla Fok, CPC's Resident Wellness Coordinator, and Margaret Wang, TUC's Administrative Assistant.
Chris Kuo, Leadership Council: Could you both introduce yourselves?
Priscilla Fok, Resident Wellness Coordinator: I operate Hong Ning's wellness program, which provides our senior residents with on-site social services and activities. For example, I help them read and interpret letters and apply for benefits and entitlements. I coordinate English classes, cooking demonstrations, karaoke, group exercises, open-mic events, and arts and crafts activities for them. Before coming here, I helped CPC support families with special needs. That was my first job. Then I went on to provide mental health services to seniors. I've been with CPC for four years now.
Margaret Wang, Administrative Assistant: I'm an administrative assistant at Hong Ning's management office, which works alongside the resident wellness program. I started my career with CPC two years ago as an intern in the operations department and stayed on to work with the seniors in our community. Currently I'm studying to become a social worker at Queens College. Working at Hong Ning has been a very hands-on experience for me as every day I try to address the many needs of our residents. Priscilla's work and mine go hand in hand because we not only want our residents to have a comfortable and affordable place to live, we also want them to be happy living here.
Chris Kuo, Leadership Council: Tell us about your residents.
Margaret Wang, Administrative Assistant: Our building is located in the Lower East Side, just a 10-minute walk from Chinatown. It has 155 units for rent and about 200 residents, whose ages range from 62 to 106. All of our seniors are low-income, and 99% are of Chinese descent. About 75% speak Cantonese, 10% Taishanese, and the rest Mandarin. Since many may not read written Chinese or English well, we have a bit of a language barrier. My family came from Taiwan, and we speak Mandarin but not Cantonese. One of the major challenges that I've had to overcome while working with our residents is learning their language in order to be able to communicate.
Chris Kuo, Leadership Council: How has your work changed because of COVID-19?
Priscilla Fok, Resident Wellness Coordinator: When COVID-19 started, we suspended all activities and gatherings to protect our seniors' health and safety. We started doing wellness check-ins by phone to stay connected to them and make them feel at home. Most of our seniors don't own a smartphone and lack Internet access, so we call them on their landline and ask how they are doing, if they have experienced any symptoms like fever or cough, and whether they have any needs or concerns. One issue they've faced is food insecurity. Since we're on lockdown, seniors can't really leave their apartment, and many of their homecare attendants stopped coming to work, leaving them on their own. We tried to order foods provided by the city, but the items delivered were not recognizable or very appealing to our seniors. CPC now partners with local organizations who graciously prepare culturally sensitive hot meals and produce bags for them. Another thing we've done is make cards with wellness tips for the seniors to follow at home. We hope these can offer them a little peace of mind.
Chris Kuo, Leadership Council: What traits do you need to do this job well?
Priscilla Fok, Resident Wellness Coordinator: You need energy and enthusiasm. It can take a long time to build trust with our seniors and convince them that we really do care about them. I think Margaret has done so well with this, persevering through her work and the language barrier. I've seen her taking Cantonese classes after work and constantly trying to speak with the residents in Cantonese. Even when they've at times completely brushed her off, she hasn't felt frustrated. She takes that as a great learning experience instead.
Margaret Wang, Administrative Assistant: You need a lot of love, patience, and understanding to do this job well. The seniors are trying to figure you out just as you're trying to figure them out. You have to really view them as more than just tenants or clients. I see them as family now. Wanting to stay with the seniors is what makes me come back to work day after day.
Chris Kuo, Leadership Council: What's been your favorite memory from your time at Hong Ning?
Priscilla Fok, Resident Wellness Coordinator: My favorite memory is from the first ever arts and crafts activity that I hosted at Hong Ning. It was in December around Christmas, and I wanted to bring the residents some holiday cheer. The project involved making paper Christmas trees with a holiday greeting in Chinese. I was really surprised to see how into the activity the seniors got. They were decorating their trees so carefully and interacting with one another. Some of them didn't know each other then, so the way they were communicating and sharing that space together was very touching for me.
Margaret Wang, Administrative Assistant: My favorite memory has actually been making our wellness check-in phone calls during the pandemic. Even with my very limited Cantonese, I've still been able to communicate with the seniors and check up on them throughout this time. Strangely enough, the calls have allowed me to connect with them on a level that I wasn't able to before. I can hear in their voices that they appreciate what we're doing for them and that they really feel cared for. That, I think, has been the best reward for me.