Essential Worker Highlight: Jeff Lau, CPC Adult Literacy Director
Main Content
Essential Worker Highlight: Jeff Lau, CPC Adult Literacy Director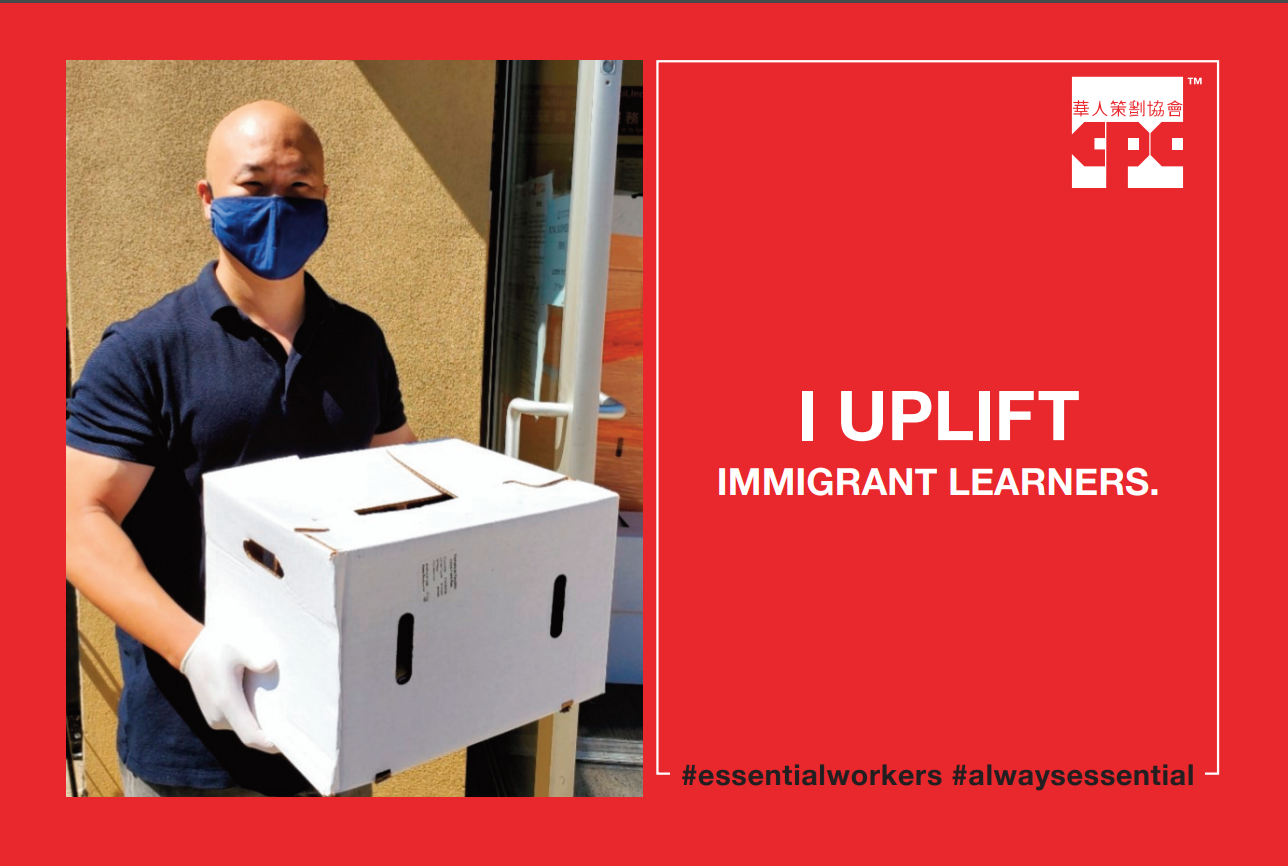 While medical personnel treat the effects of coronavirus in our hospitals, human service providers and essential workers are ensuring New Yorkers have the resources they need to not only remain safe but continue to have opportunities to thrive. These workers, whether from home or within our neighborhoods, are supporting a strong recovery for those who are too often overlooked, underrepresented, or underinvested in.
The following Q&A between Chris Kuo of CPC's Leadership Council and Jeff Lau, who runs six levels of English literacy courses at CPC, highlights just one story. Jeff Lau became the Adult Literacy Director at CPC a year ago after spending six years working in the classroom as an instructor. Jeff has been volunteering his Saturdays to assist in GrowNYC grocery distribution at CPC Brooklyn Community Center.
Each week throughout August and September, we will highlight an essential worker. Join CPC in sharing stories of essential workers using the tag #AlwaysEssential.
Essential Worker Highlight: Jeff Lau, CPC Adult Literacy Director
Chris Kuo, Leadership Council: Tell us about your background. How did you end up at CPC?
Jeff Lau, Adult Literacy Director: Before joining CPC, I was an English instructor at a for-profit company, but I was really interested in working at a nonprofit. I wanted to help the community I live in and our city as a whole, to become a part of the machine that makes our neighborhoods a little better. That was my goal coming into CPC. I've been here for seven years now.
Chris Kuo, Leadership Council: Where do your students come from?
Jeff Lau, Adult Literacy Director: Most of our students are Chinese immigrants, but we've had people from other countries like Venezuela, Costa Rica, Panama, Portugal, Ukraine, Vietnam, Bangladesh, Malaysia, and Thailand. It's really word of mouth that brings people in through the door. Students have a great experience with us and tell their family and friends. They hear that CPC offers good English classes and that our teachers really care.
Chris Kuo, Leadership Council: How does someone get started in your program?
Jeff Lau, Adult Literacy Director: The only criteria are that they be an immigrant and take a placement test. We interview every student who comes in and ask them basic questions like where they live and if they need any type of assistance with things like housing, insurance, child care, or senior care. Since CPC provides these services, it's easy for us to help them get support.
Chris Kuo, Leadership Council: How has Covid-19 changed the way you reach your students?
Jeff Lau, Adult Literacy Director: When PAUSE was announced, we began using WeChat to maintain a network of our students. Every class has its own WeChat group, which our teachers manage and use to gauge students' needs. We've learned that childcare is a top priority for our students. Many are also taking care of sick family members and struggling with unemployment. We've had to teach students how to submit pictures and sound recordings as homework and use Zoom for lessons. Unfortunately, we lost about 100 students who were unable to access the technology or did not have the digital literacy skills needed for class.
Chris Kuo, Leadership Council: What would you like to improve about your program?
Jeff Lau, Adult Literacy Director: I'd like to have more classes. About 1,600 people come in through our doors every year, but because of funding limitations, we can only enroll about 600 of them. That leaves 1,000 people on waiting lists whose lives are put on hold. These are people who need this program because they want to earn a GED. They want to get a job. They need to take care of their family. They want to become a citizen. Many have to wait another year before they start learning the language. When they enter my class, they say things like, "I am finally able to speak to the nurse for my aging parents."
Chris Kuo, Leadership Council: What's your fondest memory from your years at CPC?
Jeff Lau, Adult Literacy Director: I had a student tell me he was learning English so that he could set an example for his young son. The family had just immigrated to this country and was discouraged by the whole process of learning English, so he decided to learn alongside them to show them it could be done. Later, they went on to support us in advocacy and met with elected officials, including a City Council Member, which showed the son that there's power in learning a language.
Chris Kuo, Leadership Council: Is there anything else you'd like to add?
Jeff Lau, Adult Literacy Director: One of the interview questions that we ask students is, "Why did you come to the US?" A common response is "freedom." Well, what does freedom really mean? After students finish the program and tell me, "I finally learned English. I became a US citizen. Now I can vote," I realize as someone who grew up here that we really take so much in our lives for granted.
Chris Kuo is co-lead of CPC's Leadership Council, a tight-knit community of business and nonprofit leaders who seek to advance CPC's mission to promote social and economic empowerment of Chinese American, immigrant, and low-income communities.