CPC SYEP Cohort Focuses on Health Education and Advocacy Projects
Main Content
CPC SYEP Cohort Focuses on Health Education and Advocacy Projects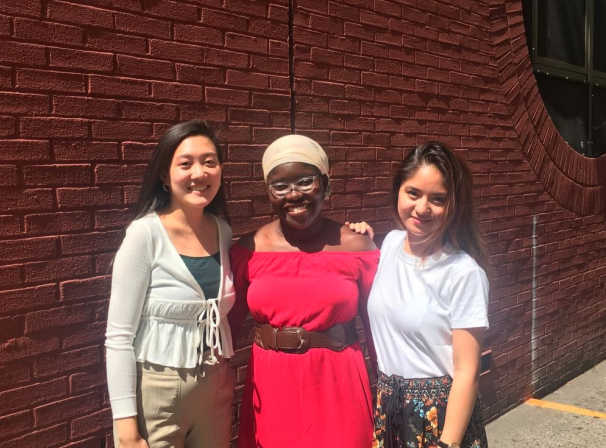 Pictured (left to right): Peer Educators Joy Ling, Amanda Sowah, and Yeda Dayao
This summer, Community Health Services (CHS), formerly known as HIV/AIDS Services, hosted our second Summer Youth Employment Program (SYEP) cohort. This year's cohort consisted of eleven youth participants: Andy Chen, Jason Liu, Na Na Chi, Andy Yang, Istehad Uddin, Giovanni Hueyopan, Nabil Shamee, Kiara Caruth, Jet Luo, Jenna Song, and Angela Phoung. The SYEP youth completed the Personal Responsibility Education Program (PREP) and an advocacy project led by three Peer Educators: Joy Ling, Yeda Dayao, and Amanda Sowah. Following last summer's successful pilot advocacy project and curriculum, we further developed and expanded upon the advocacy project. In addition to completing PREP and the project, we were also able to bring in multiple guest speakers, have many field trips, and host a variety of different workshops to make this program a comprehensive learning experience for the youth.
For the project this year, the youth participants were separated into three groups, each directed by a Peer Educator. Each group chose a unique health issue to build their advocacy project around. The groups' topics consisted of:
"Juuling and E-cigarette Use in Teenagers," whose mission was to "educate 250 high school freshmen about the dangers of E-cigarettes in order to have a healthier and smarter lifestyle."
"Stress Awareness in AAPI Youth in the Lower East Side of NYC," which aimed to "promote the performance and well being of our community by educating them about how academic stress can lead to anxiety, depression, and eating disorders."
"Suicide Prevention Awareness to AAPI Parents," had a mission to be "dedicated to recognizing and reducing the cultural stigma associated with suicide among AAPI families," to educate two thousand families.
Each group decided to create a mock organization focused on fighting stigma and advocating for their health issue of choice. The youth participants envisioned starting movements, collaborating with existing coalitions, applying for grants, reaching sponsors, meeting with government officials, and spreading awareness to the public through the use of social media campaigns, workshops, and public events.
The youth participants had the opportunity to develop and gain various professional skills such as group collaboration, public speaking, budgeting, grant-writing, advocacy tactics, creating fliers, and lesson planning. Jenna Song reflects, "I think the most challenging part of developing the project was trying to figure out how to write a grant letter and how to put together a presentation to showcase the work we did." Andy Chen adds, "I learned many important presenting skills and I will use what I learned in school."
"I'm going to miss the youth and the work they contribute. Not only were the youth passionate about their topics, but they worked extremely hard to make their content accessible. Everyone was motivated to create meaningful content and thought critically about how they can make a difference in our community. They stepped out of their comfort zone and challenged their current knowledge and expectations of advocacy," said Gilbert Wu, Health Educator Supervisor.
Peer Educator Joy Ling said, "I have learned how to better manage resources and identify learning gaps from my time working with the advocates. It was especially vital for us, the peer educators, to understand how to effectively facilitate a class by supporting each lesson with our individual strengths. In our time with the advocates, from getting to know them to working alongside them, we taught them how teamwork can be utilized to develop a sense of responsibility and pride in their work."
"Spending my summer leading youth about advocacy and facilitating EBP-based workshops with the team was intimidating at first because I wished to provide an inclusive environment for the youth, where they felt safe, respected, and empowered. I faced some challenges trying to juggle these desires alongside making progress on the mock advocacy campaigns, but it was gratifying to see the ultimate projects that the youth proudly presented. Considering some of the obstacles accompanying this journey, I am pleased to notice the uplift in my team-cooperation skills and self-confidence," said Peer Educator Yeda Dayao.
Peer Educator Amanda Sowah finishes with, "[This project] gave me insight into how intersectionality helps to build empathy for those we may not share a commonality with. My professional skills were also further developed as I worked on my leadership and public speaking skills. My youth advocates presented their own issues that I learned how to navigate through."
The project concluded on August 14th with final presentations of the youth participant's workshops and advocacy tactics. In attendance for the final presentations were CPC's Director of Policy and Advocacy Amy Torres, CPC's Policy Associate Frances Huang, NYU Research Coordinator Binh Vinh Luu, the CHS PREP team, as well as drop ins by CPC's Adult Literacy Director Jeffrey Lau, and CPC's LEAD Program Director Bryan Lucero.