CPC's ESL Students Attend Adult Literacy Rally on May 29
Main Content
CPC's ESL Students Attend Adult Literacy Rally on May 29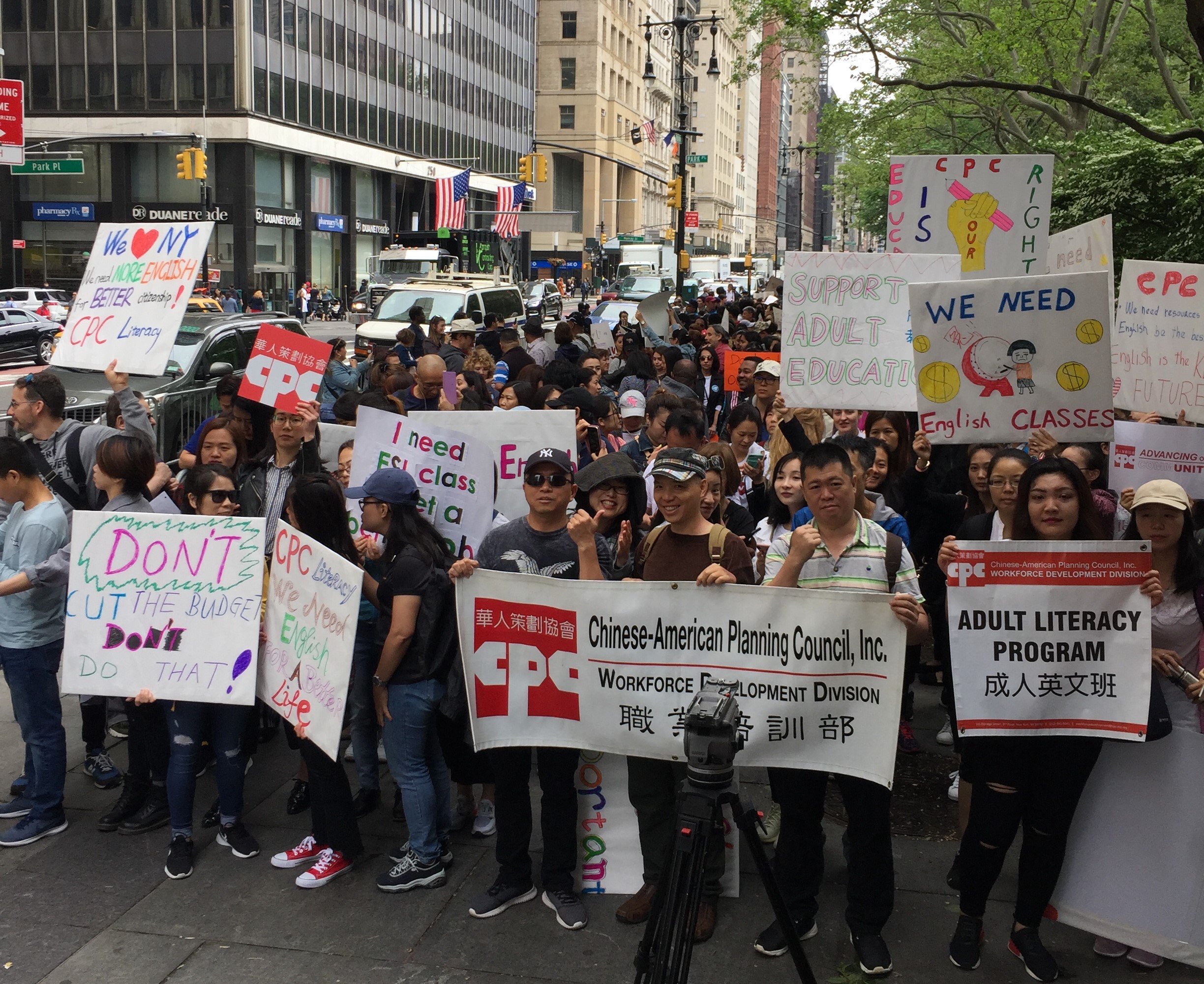 On Wednesday, May 29th, nearly eighty students and staff from CPC's Adult Literacy Program rallied at City Hall in solidarity with over 1,000 fellow New Yorkers to urge the Mayor to baseline $12 million towards Adult Education programs.
In New York City alone, 2.2 million people lack either a high school diploma or basic literacy skills. At CPC, Limited English Proficiency remains one of the top barriers for our community members. CPC's Adult Literacy program serves as a gateway for our community members to learn about other services within the organization. In addition, it is through ESL classes that students learn about labor protections, their rights with immigration and law enforcement, and critical issues like the Census or upcoming elections.
The rally was organized by the New York City Coalition for Adult Literacy (NYCCAL), a network of agencies, educators, students, and advocates who work to expand and support adult education opportunities across New York City. CPC students created poster signs and had an opportunity to meet fellow language learners from across the city who also depend on this city service for accessible, affordable, high-quality adult education.
Council Members Carlos Menchaca, Margaret Chin, and Mathieu Eugene spoke in support of continued funding for adult learners. CPC Adult Literacy Program Director Lynn Nakazawa co-emceed the event. Joining Lynn on stage were Shou Fang Zheng, Wan Ling Huang, and Li Fen Wu, three CPC literacy students who spoke about the need for continuing free English classes so they can further support their families, find work, and improve their quality of life. Rounding out CPC's involvement, Adult Literacy instructor Jeff Lau led the crowd in chants to rally for more classes across the city.