CPC Supports Automatic Voter Registration
Main Content
CPC Supports Automatic Voter Registration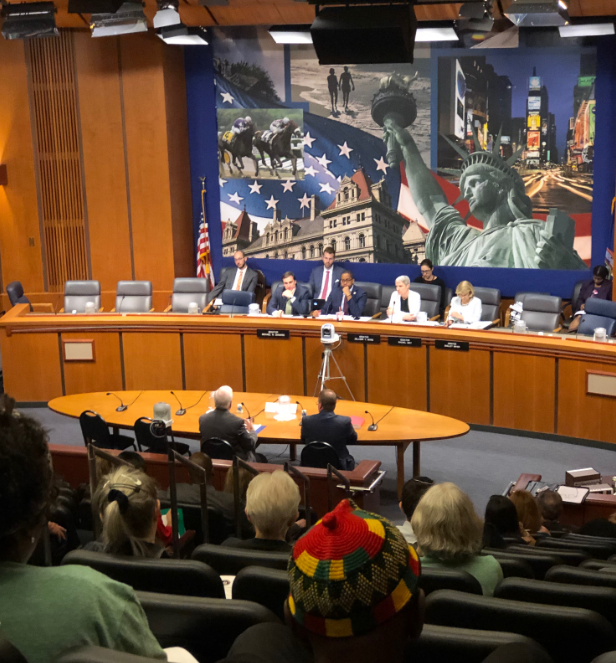 On May 30, 2019, CPC's Policy & Public Affairs Team testified at the NY State Senate Elections Committee hearing on Automatic Voter Registration.
The proposed policy will allow eligible citizens to register and update registration through a paperless system. Any person doing business at a state agency who is eligible to vote would be registered unless they affirmatively decline. CPC testified in support of this policy, which would significantly expand access to democracy to more voters.
Click here for video of the Senate Elections Committee hearing
Click here for Gotham Gazette coverage of the hearing
Director of Policy & Advocacy, Amy Torres, co-wrote an op-ed with Sean Morales-Doyle of The Brennan Center, voicing support for automatic voter registration. "The results of these subtle improvements can be dramatic. Fifteen states and the District of Columbia have automatic voter registration. A recent Brennan Center study found growth in registration rates between 9% and 94% in those states. The Chinese-American Planning Council, the nation's largest social services nonprofit for Asian American and Pacific Islanders, advocates for AVR because it can significantly amplify the voices of low-income, immigrant New Yorkers, many of whom receive little if any attention from political campaigns. AVR should be an easy decision for our legislators."
Click here to read the full op-ed "N.Y. needs automatic voter registration now"
Want to get involved? Call your legislators today for #AVR4NY