We Did It!
Main Content
We Did It!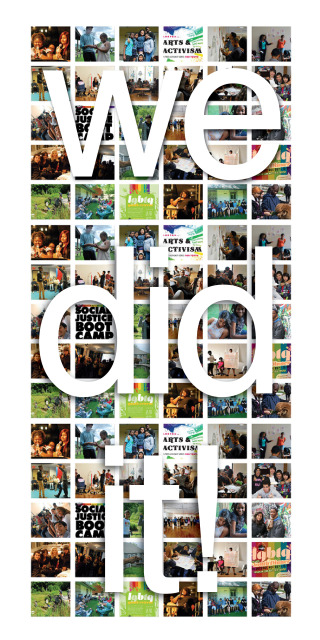 Thank you for helping us make our Give OUT Day fundraiser a success!
Dear Project Reach Supporters,
Thanks to your generous donations and support we were able to surpass our $15,000 goal by an additional $2,000! We also placed third on the New York City Leaderboard with 302 unique donations and will be awarded an additional $1,000!
The money we raised will help support our city-wide LGBTQ Youth Dinners and LGBTQ Youth Retreats benefitting over 260 isolated LGBTQ youth who would otherwise never meet; allow us to continue our city-wide Anti-Discrimination clinics training over 1,300 young people and 350 adults annually in immigrant-serving organizations, middle and high schools, outer borough LGBTQ centers and progressive youth leadership programs; increase our capacity to provide ongoing crisis intervention, direct service and technical assistance to those communities most marginalized and invisible (e.g. homeless and runaway transgender youth of color; Russian-speaking LGBT asylum seekers); allow us to host city-wide Round Table Brunches addressing issues that no one will touch (e.g. Round Table Brunch on "Religion and Homosexuality" at which Project Reach provided technical assistance to the Arab American Family Support Center by convening a community of religious leaders who were Catholic, Muslim, Jewish and Protestant, many of whom were lesbian, gay, bisexual and transgender)...
Once again, thank you for helping support our commitment to challenging the invisibility and marginalization of undocumented, immigrant and in-the-closet LGBT youth. Your continued support is invaluable to us and we hope to lean on you again in the future to keep our community and social justice work alive! If you would like to step up your involvement by volunteering time or joining our community board, please send me an email at gonzalo@projectreachnyc.org.
Special thanks to our Give OUT Day supporters:
Adam Ballantyne, Adrian Leung, Alexandra Murray-Duffy, Amanda Schneider, Amelie Zurn, Anthony T DiVittis, Bess Oransky, Camille Beck, Candice Kelly, Candyce, Sturtz Karlen, Catherine McCormack, Charles Oransky, Chris Cattani, Craig H deLaurier, Dale Batz, Daniel J. Hein, Danny Fung, Dennis Chin, Donald T Kao, Eliza Rhee, Elizabeth Ventriglia, Ella Fung, Emily Zackin, Enzo Dinatale, Eric C Sturtz, Eva Tang, Frank Cohn, Gonzalo Kitayama, Heidi H. Hellring, Ian L Miller, Indrani Baijnauth, Jason Kwong, Jennifer Hatch, Jesse Pavel, Jonas Oransky, Joy-Alonica Bautista, Julie L Cohen, Karen Lee, Kevin A. Ray, Kevin J Marek, Lauren B Schmidt, Lincoln Lee, Lollion Chong, Louis Mark, M Chapado, Marcelle Bonaparte, Margaret Hellring, Maria Sjodin, Mark Schmidt, Matthew T Willard, May Tang, Meejin Richart, Mei Fung, Michael H Ward, Michael Johnson, Millicent Nathan, Nathan Arnell, Nicholas H Chesla, Nicholas P Alt, Olympia L Moy, Pamela Esser, Pegeen Shen, Pete Yoder, Rej Joo, Richard Clodfelter, Rick L. Sturtz, Robert H Kramer, Roxanne Rios, Ruben An, Sarah Marie Johnson, Sel Hwahng, Shaqona Blake, Sherri Kliczak, So Ying Chan, Stephanie Gee, Susie Kim, Tabitha Tavolaro, Terrence Lai, Toni J. Sturtz, Vincent T Sullivan, Wendy Louie-lam, Yiman Chen