Come Out & Give Out Day Fundraiser!
Main Content
Come Out & Give Out Day Fundraiser!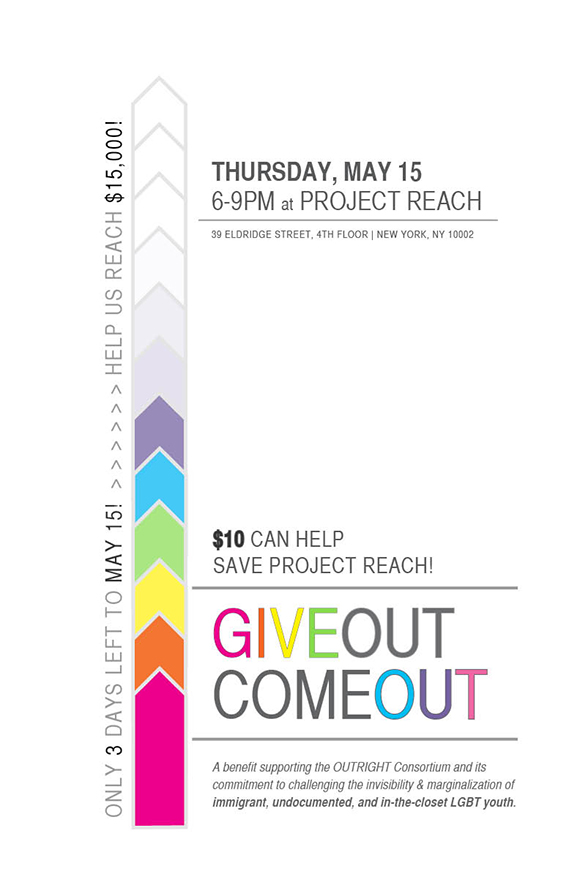 Dear Project Reach Supporters,
Thanks for helping us spread the word about Project Reach's Give OUT Day fundraiser! Please join us this Thursday, May 15th for an evening of art, friends and fundraising. To help us reach our goal of $15,000, ceramicist Paul Kaulfers and jewelry designer Audrey Sacred Raven will generously donate a portion of the proceeds from the sale of their works to Project Reach.
Come OUT and show your support for Project Reach this Thursday!
Date: Thursday, May 15 from 6:00 PM to 9:00 PM
Location: Project Reach (39 Eldridge St, 4th FL)
Beverages and light refreshments will be provided. Wine will also be available for a $4 donation.
ABOUT THE ARTISTS:
PAUL KAULFERS is a gay man living with AIDS from Scranton, PA who taught ceramics to young people at Project Reach's Social Justice Boot Camp. An experienced clay artist of 18 years, Kaulfers almost exclusively works with reclaimed clay from the studio and hand alters his wheel thrown forms. His high fired stoneware and porcelain works feature hand mixed studio glazes. Kaulfers is an apprentice at Burti Ceramics, a large community studio in northeastern PA, has volunteered at youth camps, Project Reach, and assisted with public school programs and college courses.
AUDREY SACRED RAVEN is an artist and designer from the Crow Nation in Montana. She is the granddaughter of the last traditional Crow War Chief and noted tribal historian/anthropologist Joe Medicine Crow. Inspired by the legendary tales of her tribe she began creating clothing and regalia by the age of 16. Her beadwork designs are worn by some of the top Native American powwow dancers in the country, making her one of the most sought after designers in the area. While her pieces are inspired by the distinctive style of her tribe, she has developed her own recognizable style, what she calls High Plains Haute Couture. Unique jewelry and accessories boldy decorated with classic Crow geometric symbols and lush jewel colored beads and rhinestones.
We still need you to help us with these three things:
1) Visit our Give OUT Day page and make your donation by 11:59 pm on May 15th, 2014. (http://giveout.razoo.com/story/Projectreach)
2) Follow us on Facebook (click the link or search "Project Reach NYC"), join our Facebook Event Page and help build the buzz.
3) Spread the word! Forward this email to your family and friends along with a personal note as to why YOU believe in our work, and why they should give on May 15th, 2014.
Spread the excitement! Tell your friends and family why you think they should help us with their donation. Please be our champion, and help us get to the top! We can't wait to celebrate the difference your generosity will make on May 15th, 2014!