Join CPC's Intern and Earn Program!
Main Content
Join CPC's Intern and Earn Program!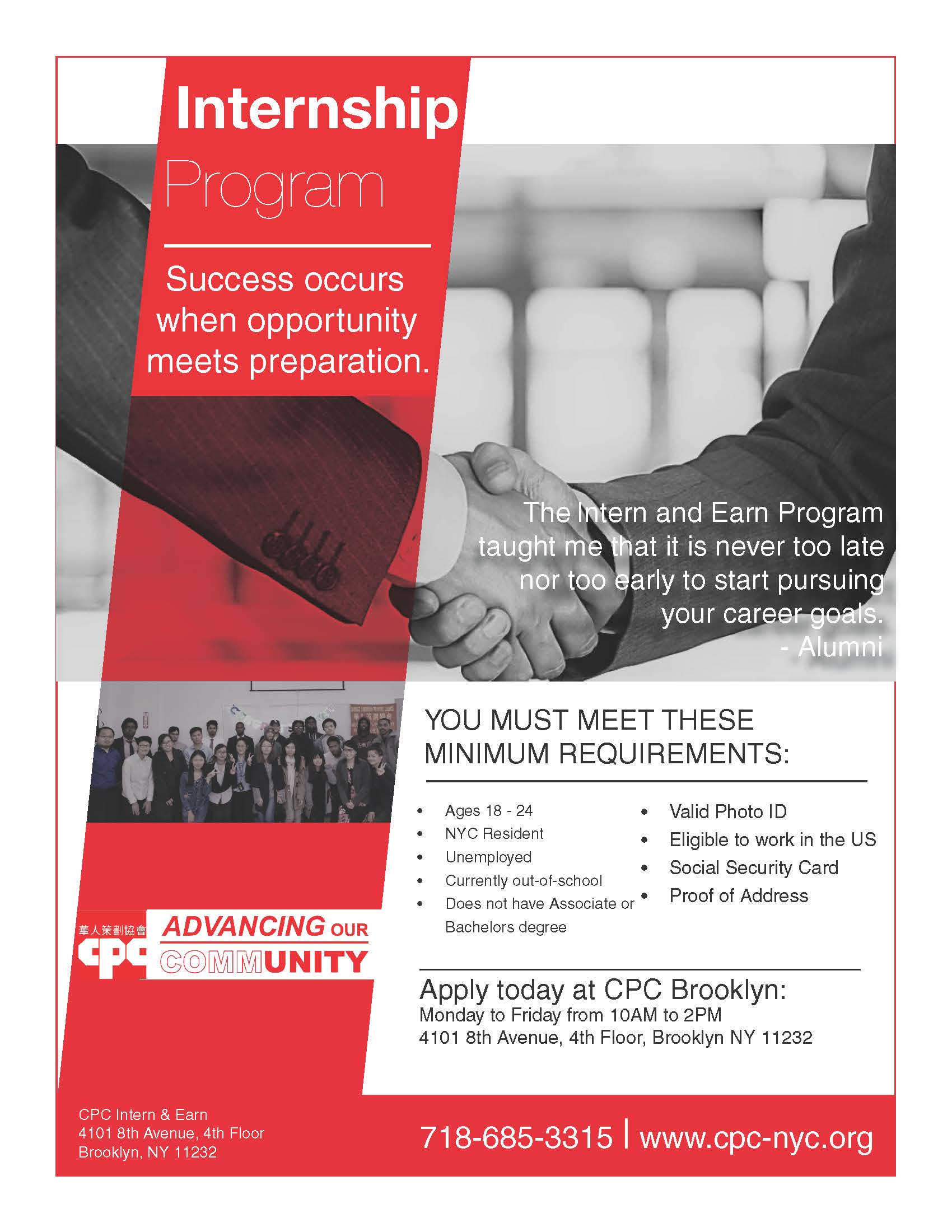 Join Intern and Earn in November for our next cohort! Get paid to learn work-readiness skills, such as creating resumes and writing cover letters! Intern and Earn is a program that provides opportunities for youth ages 18-24 who are currently not in school (not enrolled in college and have not received college degrees) and not employed. This is a PAID 12-week work-readiness training program. Through 2 weeks of workshops and 10 weeks of internship experience at various companies and organizations throughout NYC, Intern and Earn provides young adults with the training and skills needed to make a successful transition into adulthood and gain economic independence. Spots are limited so start your application today!
Please make sure to bring:
1. Valid photo ID
2. Social Security Card
3. Birth certificate
4. Proof of address
Call (718)685-3315 to schedule an appointment. We are open Monday – Friday from 10 AM – 3 PM to start our application!
Chinese-American Planning Council
4101 8th Avenue, 4th Floor
Brooklyn, NY 11232
青年实习计划(17-24岁)是一个连续12周的有薪计划,其目的在于通过为青年人提供实习机会和相应的工作技巧培训来帮助青年人为未来的就业做准备。
华创会青年实习计划最终目的是为了辅助你成功地转变,成为经济独立的成年人。
咨询电话:718-685-3315
办公时间:星期一至星期五:早上10点-下午3点
地址:4101 8th Ave.
Brooklyn, NY 11232
申请截止日期: 11/21/2018
所需材料:身份证明(NY驾照/身份证,护照,出生证明)社工卡(SSD), 及地址证明
备注:18岁以下的申请者需要提供:父母同意书及学校提供的工作许可证明
面试合格者将于11/26/2018参加为期两周的实习培训;而后青年计划项目将为您安排合适的实习机会。