CPC Demands Mayor Stop the Clock on new Chinatown Jail, Invest in Communities, Reform Criminal Justice
Main Content
CPC Demands Mayor Stop the Clock on new Chinatown Jail, Invest in Communities, Reform Criminal Justice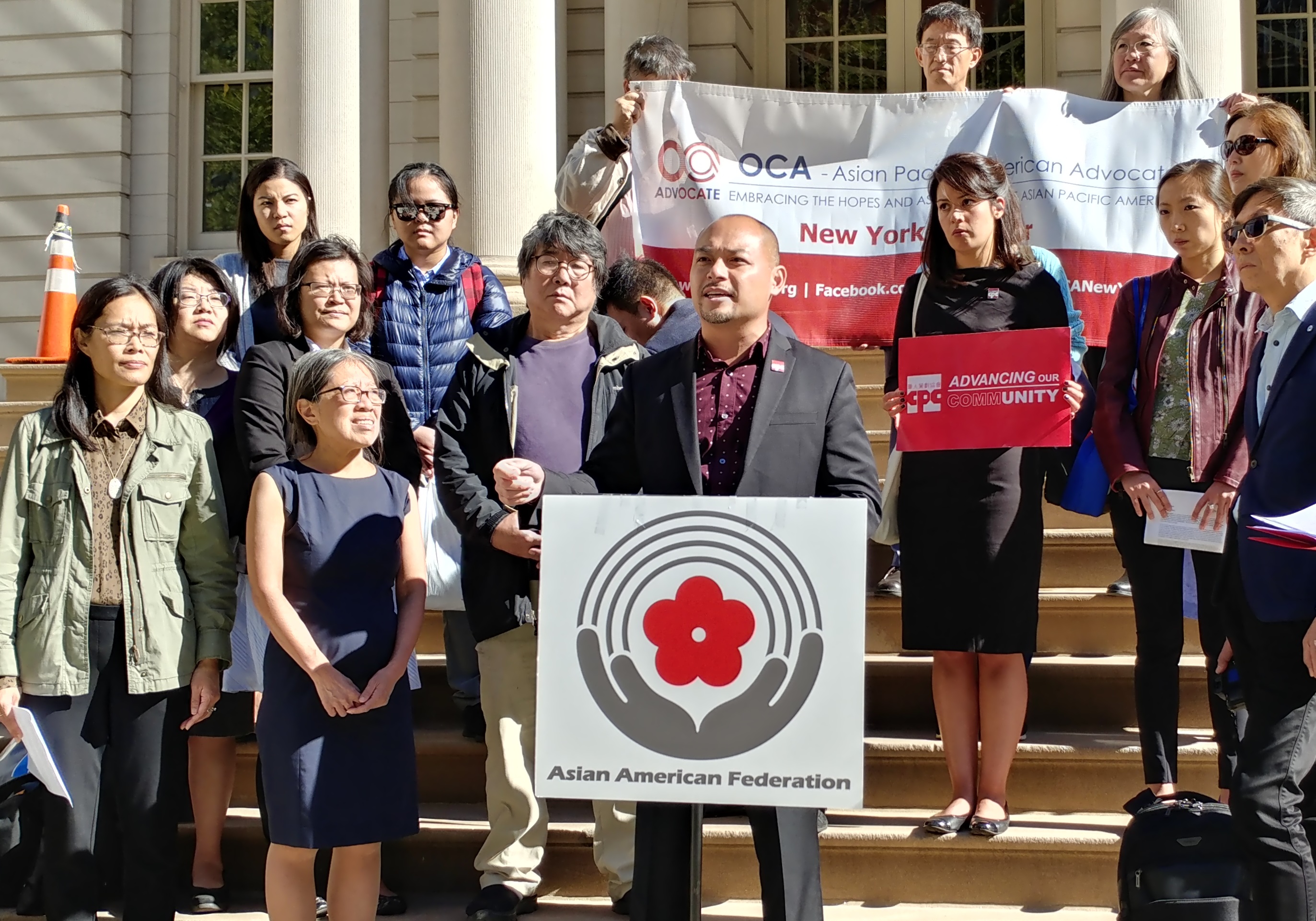 On September 27, 2018, CPC delivered statements at two public events to demand criminal justice reforms and community investments that expedite the closure of Rikers Island and that reduce the jailed population.
In the morning, CPC stood on the steps of City Hall alongside nonprofit leaders who also serve low-income and working class families in Chinatown. The coalition testified to the critical housing, health and mental health care, education, and social services and programs that contribute to a safer, more just, and equitable City.
The coalition demanded that Mayor de Blasio stop the clock on the proposed relocation and expansion of the Manhattan Detention Complex (MDC) in Chinatown until a process is in place that addresses the concerns of criminal justice advocates, residents, and other community leaders.
"The Mayor has proposed a community jails plan. But without the community involved, then he only has a plan for more jails," said Wayne Ho, President and CEO of the Chinese-American Planning Council. "We support criminal justice reform because of the negative impact on Black and Latinx communities, and we recognize that Rikers Island must be closed as soon as possible. As a community-based organization that serves not only Asian Americans but also other communities of color, CPC believes that any criminal justice reform must include a range of human services and must be rooted in communities. Stopping the clock on the expansion of the Manhattan Detention Center will provide an opportunity for meaningful community engagement."
The gathered community-based organizations join Borough Presidents, City Council Members, State Senate and Assembly Members, and countless community members and residents in all four boroughs with proposed jail sites who have issued letters urging that City Hall:
Withdraw the current Draft Scope of Work for 18DOC001Y.
Unbundle the ULURP for all community jail sites.
Have meaningful community dialogue on the design and scope of new plans and reform.
Click here to read the full letter addressed to Mayor deBlasio.

Later that evening, Amy Torres, Director of Policy and Advocacy, attended the scoping session hearing for the proposed Manhattan Detention Center. Borough President Gale Brewer, Council Member Margaret Chin, and representatives from Assembly Member Yuh-Line Niou's office opened the meeting criticizing the limited engagement and input the Chinatown community had in the final drafting. Each expressed concern about late-stage changes to the location and renovation of existing sites and requested increased transparency with the community.
CPC's testimony affirmed the need to close Rikers Island and enact criminal justice reforms that will further reduce the city's jailed population. CPC's recommendations included expanding City Hall's own "Smaller, Safer, Fairer" plan to include cash bail reform to dramatically reduce the cost and size of the city's jailed population and to close the gap between the report's 7,000 goal and the proposed MDC's capacity of 5,000.
"A majority of New Yorkers held in our jails are there pre-trial. The individuals arrested and unable to make bail disproportionately come from communities of color, immigrant, low-income, or non-native English speaking communities," said Amy Torres, Director of Policy and Advocacy of the Chinese-American Planning Council. "We cannot talk about alleviating the physical impact that jails have on neighborhoods without first talking about the impacts the criminal justice system and over-incarceration has had on communities of color. We need investments that support existing communities and those returning home. Our conversations must happen together."
CPC again recommended a withdrawal of the Draft Scope of Work, and immediate engagement with residents, advocates, and allies on criminal justice reform and community investment.
CPC's full testimony is attached.