Summer Intern Participants Share Their Experiences at CPC
Main Content
Summer Intern Participants Share Their Experiences at CPC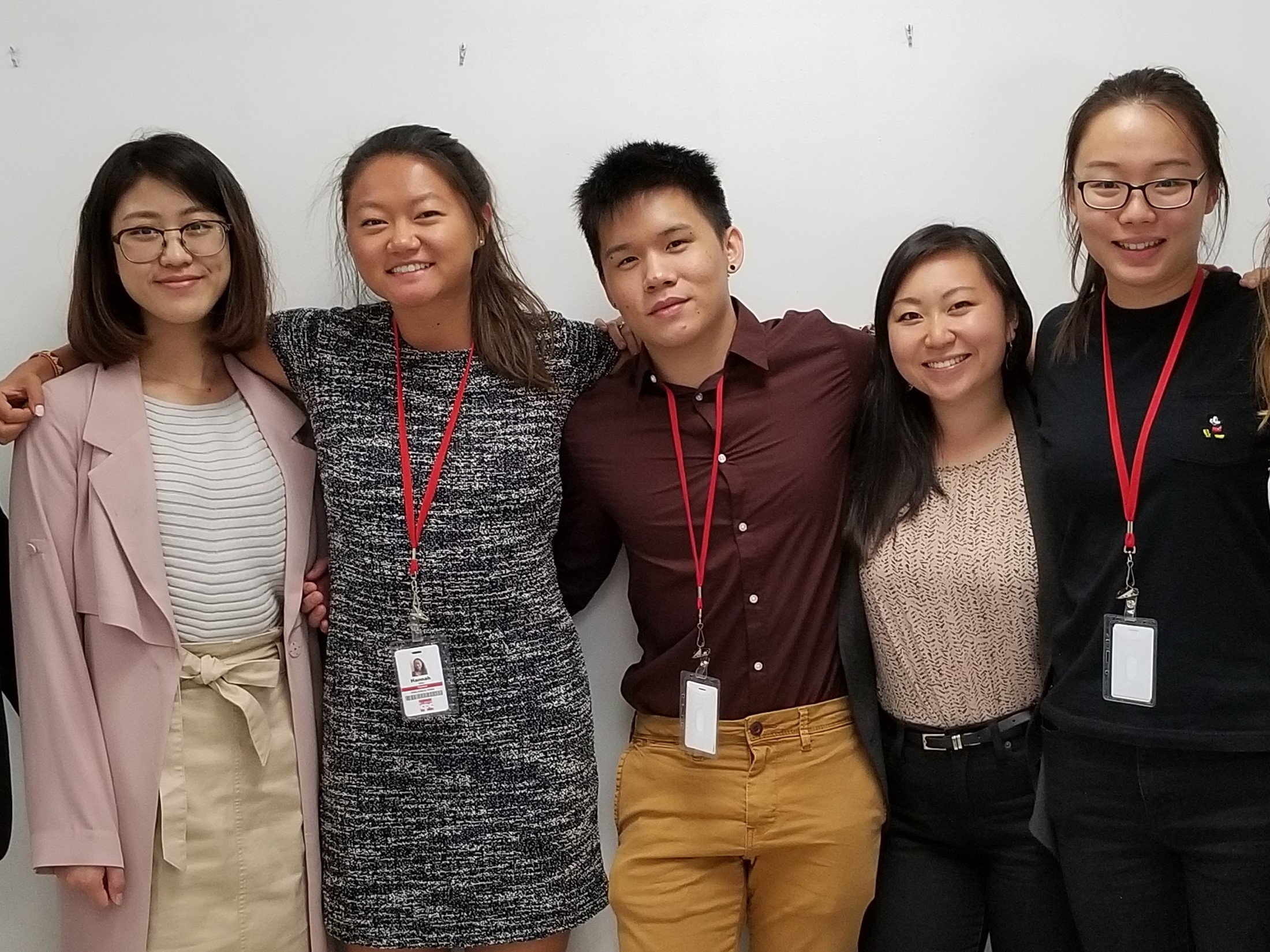 2018 Summer Internship Program a Success
Intern Participants Share Their Thoughts on the Summer
By Welton Huang with assistance from Amy Torres, Steve Yip and Elizabeth Hendler
As the summer's end draws near the interns want to reflect on their time with the CPC Summer Internship Program. When interns weren't going on walks during lunch to find the best bubble tea in the city, they were working hard for their departments.
Since early June, the interns worked in CPC's Central Administration on projects ranging from audits to organized demonstrations. In addition to gaining hands-on work experience, CPC supplemented their learning experience with our Annual Brown Bag Speakers Series. We invited several influential people in our community to impart their wisdom to our interns. Some of these speakers include our very own President and CEO, Wayne Ho; renowned Asian American community photo-documentarian Corky Lee; non-profit consultant Tanya Lewis; and Lynn Appelbaum, Deputy Director of the United Neighborhood Houses. According to the interns, the Speakers Series has been particularly enriching both personally and professionally. This collective experience was greatly enhanced with group tours at MoCA, the Lower East Side Tenement Museum, and to City Hall.
Outside of the office, the interns became a tight-knit group. They got to know one another by journeying together to help Hannah -- living in New York for the first time -- find the best food and bubble tea, and teaching each other snippets of Cantonese, Mandarin, and French. This culinary exploration was further supplemented in a joint luncheon to a upscale dim sum restaurant, Tim Ho Wan, sponsored by Dongju Chung, a long time CPC Summer Internship Program supporter.
Here are some of the most memorable moments according to some of our interns:
Welton Huang, Operations Intern: "The most memorable moment for me was getting to travel throughout the Lower East Side to different elementary schools and daycare programs to provide trainings to the staff. It was an amazing way to get myself acquainted with the Lower East Side. Also visiting the NYC [Office of] Emergency Management [command] facility was amazing."
Hannah Stiles, Development Intern: "Working with the Grant Writing & Development team this summer has been memorable in and of itself. I was able to learn so much about the intricacies and many steps between the release of an RFP (the request for proposals) to the submission of all of the required documents by organizations such as CPC. From my limited experience, a lot of these grants require materials that speak to a company's long-term presence in the community, skills for implementation of (existing) programming, and financial feasibility. The COMPASS grant for afterschool programming showed me the massive amount of work that has to go into submitting a quality application, and how strenuous it can be when your team is only so large, and you only have so many hours in the day. It feels very rewarding to know that you submitted something cohesive and well-written, with a real chance of winning funding, as well as realizing that that money you can obtain for the organization can truly make a difference in the lives of community members-- via the establishment or continuation of programming. I feel very lucky to have had the opportunity to work with and learn from everyone at CPC, especially Helen, Megan, and Elizabeth!"
Annie Chen, Development Intern: "My most memorable moment of this internship was when I volunteered to create the photo contest. The contest was to encourage staff from CPC programs to share photos of our community members. I wasn't sure if I could do it well but at least I wanted to try. It was a great opportunity for me to know more about CPC and CPC programs and develop skills in tailoring messages. The presentation was better than I expected. I would hope to reach out to different programs in-person if I have more time for this project."
Vicky Zhong, Legal Department Intern: "I am so glad that my first internship in America was with CPC. On the legal side of my experience, I was exposed to various legal issues that I had not expected before, including corporate governance, property related issues, and individual cases. I conducted legal research, and observed conferences, board meetings, and individual client meetings. I will say all of the work I did this summer was rewarding. On the other side, it was a valuable opportunity for me to know communities, community service, or how a non-profit organization works in America. It was impressive how CPC works and enhances the community by running various programs, projects, and holding the community together. One good program for our community cannot always improve everything, but it is always good to do what you can do to help."
Stephanie Chan, Policy & Public Affairs Intern: "I loved being able to attend the conferences, public protest, and rallies that took place throughout NYC this summer on behalf of CPC and to be a part of writing multiple policy briefs that were distributed to CPC members. While in this time, immigrant communities throughout the nation are enduring hardships brought on by this present administration, it is also empowering to see the tangible work and presence of immigrant groups and community members who support fighting against racist policies on a day-to-day basis. Carlyn and Amy have been wonderful mentors. In addition, working alongside AAPI individuals in the CPC office was a very touching and memorable experience for me."
Miller White, Policy & Public Affairs Intern: "Interning at CPC has been a more informative, interesting, and noble experience than I ever could have wished for. From my very first day, I found myself participating in meetings with multiple NYC social service nonprofits, fielding requests to assist in drafting policy, and working in step with the primary leadership to improve the state of Asian-American and Pacific Islander life in New York. In fact, my proximity to the decision-makers of CPC has been the most rewarding aspect of my time here; by watching these professionals work tirelessly to reach the goals of the organization, I've experienced first-hand the drive and skill needed to succeed in the nonprofit sector. I'll leave CPC with the profound sense that I have helped the people of New York City. I can't imagine a better feeling."
Sophia Zheng, Policy & General Assignment Intern: "In a non-native English community, language barriers can not only cause misunderstandings but can impede people's ability to voice issues that matter to them and limit the growth of the community. Translation enhances communication and allows people to discuss difficult topics. Knowing who your elected officials are and contacting them about important issues is the first step for your community to achieve positive changes, growth, and prosperity." [Special Note: Sophia Zheng joined us as a summer volunteer, and was quickly elevated into the Internship Team. A rising high school senior, she worked on an city, state, and federal directory of elected officials and translated important CPC public statements and voter engagement materials into Chinese, as well as helping to organize the legal department files.]
Top photo: Left to right: Vickie Zhong, Hannah Stiles, Welton Huang, Stephanie Chan, & Annie Chen
Bottom Photos:
1. Left to right: Policy interns Miller White and Sophia Zheng; with Carlyn Cowen, Chief Policy and Public Affairs Officer, and Amy Torres, Director of Policy and Advocacy.
2. Celebratory Intern Luncheon at Tim Ho Wan in the East Village with Summer Internship Program -- Supporter Dongju Chung (rear left) and Stakeholders
3. Interns on their break.