ECS Youth Participate in National Student Walkout Day
Main Content
ECS Youth Participate in National Student Walkout Day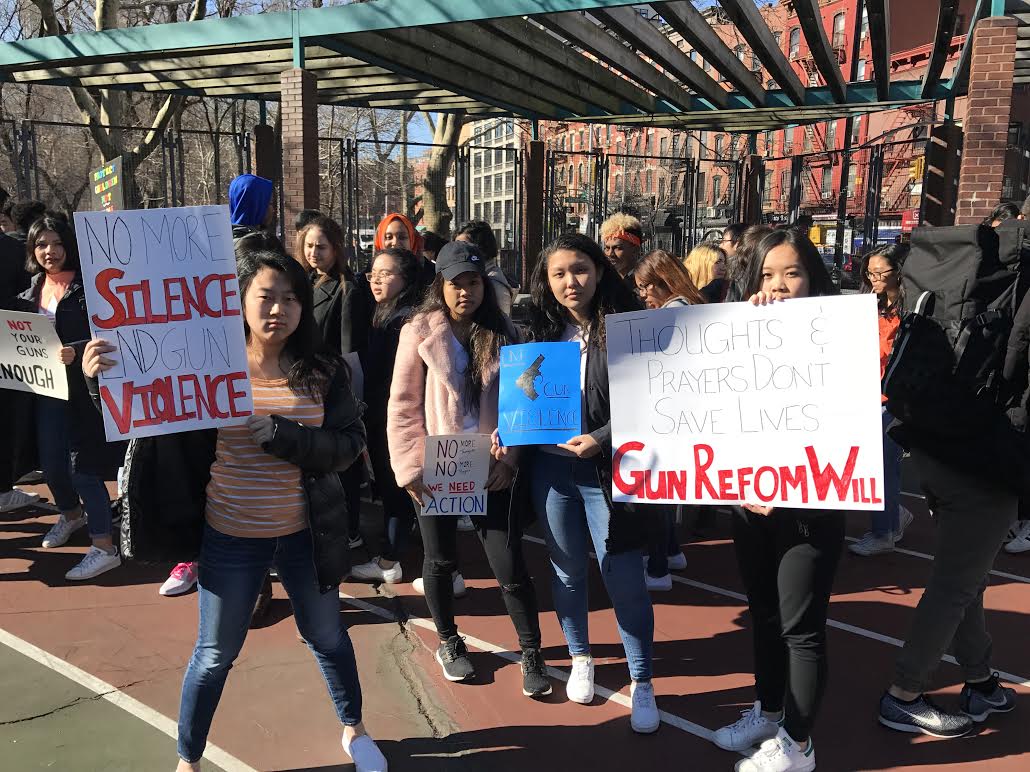 On March 14th, youth from CPC's Education and Career Services Division (ECS) joined nearly one million students around the country by participating in National School Walkout Day to remember the victims of the Stoneman Douglas High School tragedy and take a stand against all forms of gun violence.
Approximately 150 students from ECS's LEAD program at the High School for Dual Language and Asian Studies (HSDLAS) in the Lower East Side participated in the walkout, alongside school leadership and CPC staff. They marched to Seward Park, observed a moment of silence, and held banners that read "No more silence. End gun violence", "Thoughts and prayers don't save lives. Gun reform will", and "We are going to be the kids you read about in textbooks".
Students from ECS's ASAP program at the Queens High School for Language Studies (QHSLS) in Flushing also held a silent protest outside of the school for 17 minutes in honor of the 17 lives taken in the tragedy at Parkland, Florida. They wore orange as a symbol of solidarity in the movement to stop gun violence, and held #Enough signs in support of legislative action. Student representatives also read the names of students and teachers killed at Stoneman Douglas High School aloud.
Youth from ECS's Manhattan center-based In-School Youth Program (ISY) also participated in protests at their schools, which include the Bronx High School of Science, Brooklyn Technical High School, Edward R. Murrow High School, Millennium High School, and New Design High School. As a result of CPC-hosted Youth Forums to educate students prior to the walkout, one Manhattan ISY participant said of his decision to participate:
"Due to the overwhelming support for this walkout from my peers at ISY, I felt motivated to participate. I would like to give my sincerest thanks for convincing me to experience such a beautiful and inspiring sight."
Following the walkout, many who participated felt empowered and compelled to take additional action. The ECS team will continue to support our youth by using this experience as a teachable moment on fostering social change, while providing a safe space for them to express themselves.
A snapshot of images from National School Walkout Day through the lens of CPC's ECS youth participants can be found below.
For more information on the LEAD Program at HSDLAS, please click here.
For more information on the ASAP Program at QHSLS, please click here.
For more information on the ISY Program, please click here. Manhattan ISY's Monthly Newsletter, created and maintained by their Youth Council, can be found here.