CPC Joins Members of LESEN & NYC Comptroller Office for Release of Neighborhood Economic Analysis Report
Main Content
CPC Joins Members of LESEN & NYC Comptroller Office for Release of Neighborhood Economic Analysis Report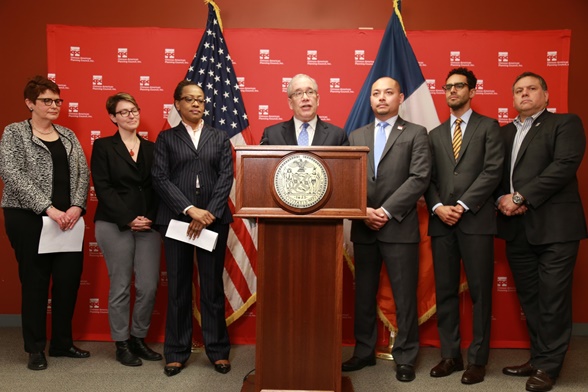 On April 25, 2017, CPC and members of the Lower East Side Employment Network (LESEN) joined NYC Comptroller Scott Stringer, for his release of the Comptroller Office's latest report - The New Geography of Jobs: A Blueprint for Strengthening NYC Neighborhoods. This first-of-its-kind report provides a comprehensive neighborhood-by-neighborhood analysis documenting the evolution of New York's economy from 2000 to 2015 and the changing business landscape in communities across the five boroughs.
Despite the economic growth that came with gentrification, the benefits of the increased economic activity in the gentrified neighborhoods had not been broadly distributed among residents of those communities. Members of LESEN work collaboratively to connect community members with the opportunities economic growth brings.
"CPC is dedicated to providing services, skills and resources for immigrant and low-income communities to achieve economic self-sufficiency. CPC is a proud member of the Lower East Side Employment Network and works collaboratively to promote hiring locally, and we are very pleased that Comptroller Stringer has recognized our approach as a model that could work for every neighborhood in the city. Additional funding for workforce development programs is needed to enhance the work we do," said Wayne Ho, CPC President & CEO.
To read the Comptroller's report click here
For coverage by JobsFirstNYC click here
For coverage by Gotham Gazette click here
Photo Credit: NYC Comptroller's Office