Essential Worker Highlight: Joanna Chan, Director, Brooklyn Enrichment Services
Main Content
Essential Worker Highlight: Joanna Chan, Director, Brooklyn Enrichment Services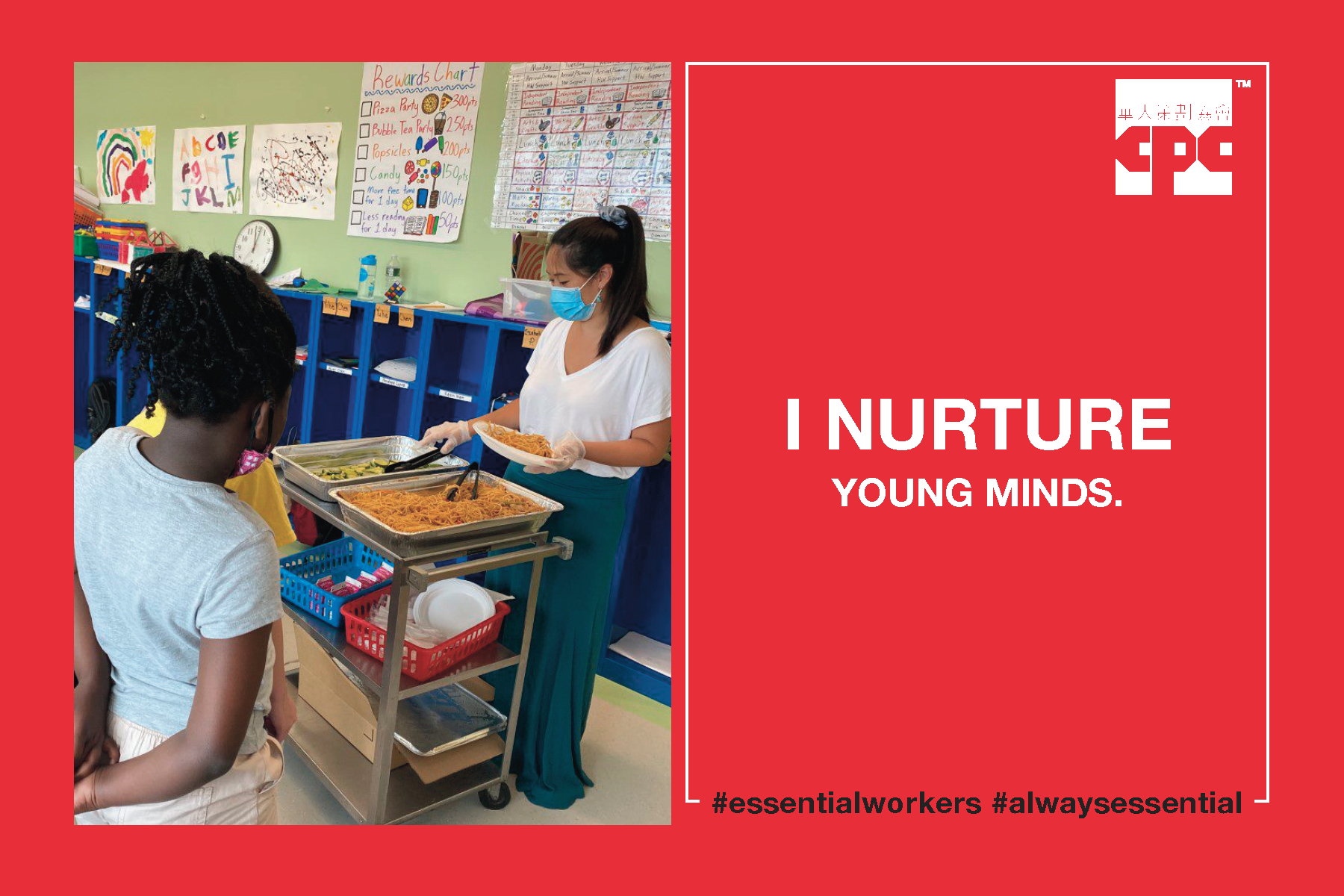 While medical personnel treat the coronavirus in our hospitals, other human service providers and essential workers are ensuring New Yorkers have the resources they need to not only remain safe but also continue to have opportunities to thrive. These individuals, whether working from home or within our neighborhoods, are supporting a strong recovery for those who are too often overlooked, underrepresented, or underinvested in.
The following Q&A took place between Lai Ling Li of CPC Leadership Council and Joanna Chan, Director, Brooklyn Enrichment Services. Joanna normally oversees five of our school-based afterschool programs in Brooklyn but moved into an emergency responder role at our Regional Enrichment Center in the wake of COVID-19. She is also one of the supervisors of CPC's Resource Navigators Program, a which supports those affected by COVID-19 with accessing assistance while quarantined.
The CPC Leadership Council is a tight-knit community of business and nonprofit leaders who seek to advance CPC's mission to promote social and economic empowerment of Chinese American, immigrant, and low-income communities.
Join CPC in sharing stories of essential workers using the tag #AlwaysEssential and #EssentialWorkers.
Essential Worker Highlight: Joanna Chan, Director, Brooklyn Enrichment Services
Lai Ling Li, Leadership Council: Can you tell us more about your background?
Joanna Chan, Director, Brooklyn Enrichment Services: I'm one of New York's "satellite babies." I was born here, but then sent to China for about four years before coming back to start school. As immigrants, my parents struggled to make a living here and at first didn't have a place for me to stay. "If we had kept you with us," they explained, "you'd have been sleeping at the restaurant. That wasn't the kind of life we wanted for you." So, I spent my early life in China while they worked here and saved money. When I came back, my parents had a house for us to live in. But we didn't really know each other, and that has had a big impact on how I look at the world. Knowing that many parents here also haven't established a connection with their child is what made me want to become an educator. I love working with children and their families and letting parents know how their child is developing. They are often thankful that I'm able to connect with their child when they aren't able to themselves.
Lai Ling Li, Leadership Council: How did you come to CPC?
Joanna Chan, Director, Brooklyn Enrichment Services: I learned about CPC in high school through Project Gateway. We went on college tours, which were amazing opportunities to meet new people. I did my bachelor's in elementary education and worked as a preschool teacher for six years before joining CPC School-Aged Child Care (SACC) program. My goal was to better understand the connection between children and parents. It's only been a year and a half, but I've learned so much here.
Lai Ling Li, Leadership Council: How has COVID-19 affected your work?
Joanna Chan, Director, Brooklyn Enrichment Services: When the pandemic started, CPC opened up a Regional Enrichment Center (REC) for the children of essential workers. We brought in staff from both our early childhood and SACC programs to serve about 30 kids, with the youngest aged two and the oldest in sixth grade. They're there from 7:30 am to 6:00 pm daily, and each age group's programming is structured differently. We provide activities for them and assist them with their schoolwork, which a lot of families have had trouble with. They don't understand how to use the remote learning technology. Many didn't even know that it was there and missed over a month of material. We try to help the children catch up and act as liaisons between their parents and schoolteachers. We want each child to be able to move on to the next grade.
Lai Ling Li, Leadership Council: What's it been like working with the children at the REC?
Joanna Chan, Director, Brooklyn Enrichment Services: It's actually been my favorite experience at CPC thus far. The REC has been like a home to me these past few months, and the kids like my family. They are there for almost 12 hours every day, so I want to make sure they're alright. I walk into the toddler room and get approached by them for hugs. I check in on the older kids and come up with games for us to play together. I've also formed close bonds with the staff. With the parents working, we have been the ones participating in the children's virtual learning activities and "moving up" ceremonies. All of our teachers come from such different backgrounds, and I wouldn't have met some of them if it wasn't for this. When I see them sitting around on the floor interacting with the children, the sight of that makes me really happy.
Lai Ling Li, Leadership Council: How do you talk to the children about COVID-19?
Joanna Chan, Director, Brooklyn Enrichment Services: We first ask them to explain to us what they know. When schools closed, one of the kids said, "It's because people in China were eating bats!" That hurt me a little, but it was just what she had heard. I had to explain to her that all over the world, people eat different things every day, and it just so happens that sometimes we get a bad batch of something. She understood then that it was a kind of accident, that no one was to blame. At the REC, we tell the children that we need to wash our hands and wear our masks to make sure we're clean. They're used to it, but they miss playing with their friends. We set up times for them to play games together to help bring back normalcy into their lives. We also talk about what their families do. They understand that mom and dad need to work more now to help people.
Lai Ling Li, Leadership Council: What more do you wish you could offer your kids?
Joanna Chan, Director, Brooklyn Enrichment Services: I wish we could bring back experiences like summer camp and music programs. Children from low-income and immigrant families lack opportunities to learn outside of the classroom. They should be able to explore their dreams, to hear professionals speak about their careers. They're missing out on cultural experiences like going to a concert, a baseball game, or the circus. I never did these things with my parents because they wouldn't have even known how to purchase tickets—and would have thought them a waste of money. Most immigrants know that a Broadway show is expensive, but they might not understand the meaning behind it. How can these families understand our city when they don't get the chance to experience it? I always tell our new hires: Never laugh at what the children don't know. Their experiences may have just been completely different from yours. Sometimes, they can even teach you.
Essential workers risk their health and their families' health to serve others through COVID-19. As New York begins to recover, organizations like CPC will be among the ones helping the hardest hit New Yorkers put their lives back together. Support them here! #AlwaysEssential