10 questions, 10 minutes, 10 years
Main Content
10 questions, 10 minutes, 10 years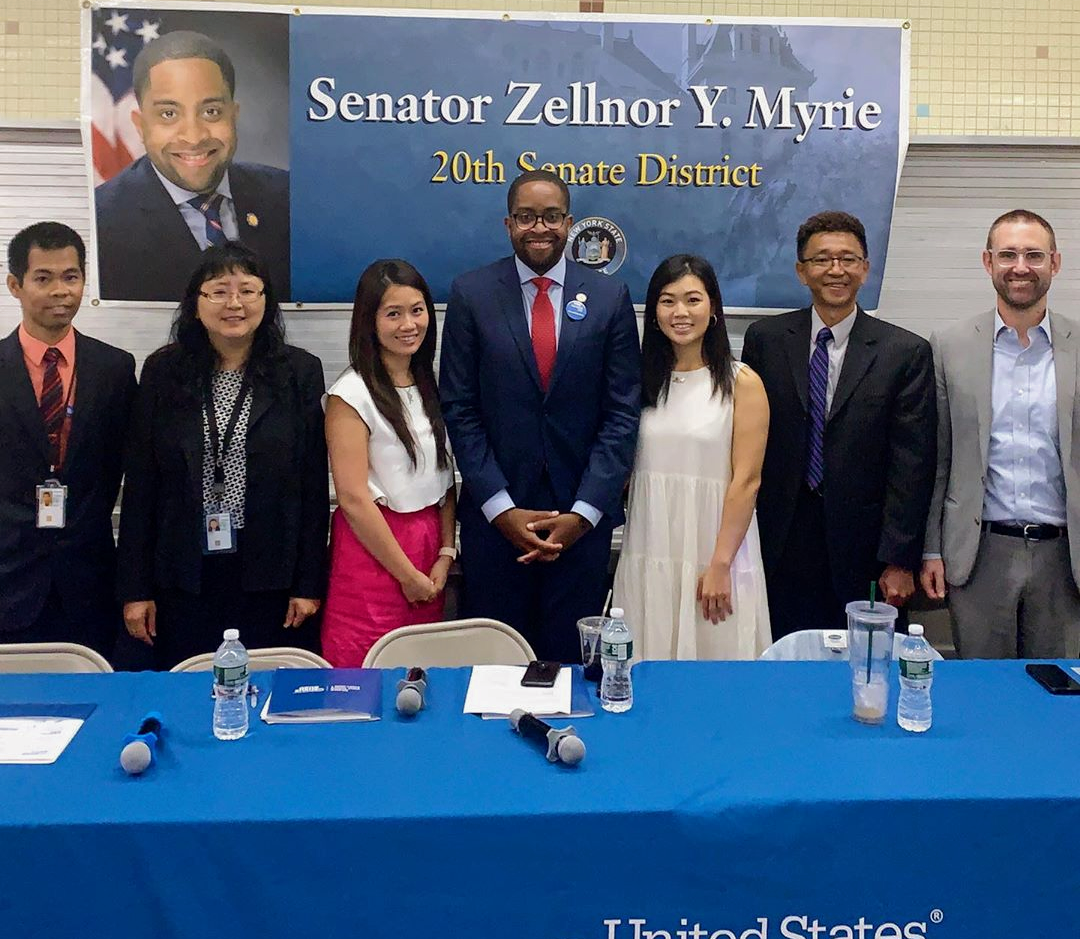 On September 26th, 2019, CPC joined NYS Senator Zellnor Myrie and fellow community based organizations to urge the Brooklyn community to participate in the 2020 Census. Joanna Chan, Director of CPC Enrichment Programs in Brooklyn (pictured above to the left of Sen. Myrie) spoke about the impacts the Census will have on the families in our community and what families can lose if they are not counted.
School zoning, funding, and student body size is determined by the Census. Many of the parents in CPC programs have expressed their concerns about overcrowded classrooms, lack of resources, knowing families who are on long waiting lists to move their child to a school that is closer to them. One of the steps we, as a community, can take to begin addressing these neighborhood-wide concerns is taking part in the Census.
"...in order to change, the first thing we need to do is to get counted. Once we are counted we will be able to know the number of people actually living in our neighborhoods. When we look at the school system we know how much room we need at the schools in order to provide the best education for the next 10 years. Not only should we be doing this for ourselves, to be represented, but do it for the little ones who will be attending school in the next 10 years. Do it for the children to give them a better chance at smaller classrooms and a better education," said Ms. Chan during the press conference.
Ms. Chan also urged seniors to participate in the Census as well. Seniors tend to be the most undercounted population in the Census, which affects our city's need for senior resources such as senior centers and access to entitlement benefits. Ms. Chan said, "We need to educate ourselves, our friends, our family on how important it is to be counted in the 2020 Census. Ten minutes will change the next 10 years of our lives. People may be scared to fill out the Census but there is absolutely nothing to be afraid of. No matter your status you should fill out your Census questionnaire. No information will be used for anything else but the Census count."
As a member of Senator Myrie and Assemblywoman Richardson's Complete Count Committee, CPC encourages community leaders and community members to actively participate in the 2020 Census. We will be helping our community fill out the census in all of our community centers as well as host jobs fairs for those who want to help community members fill out the census.
For more information on CPC's Census efforts please see the articles below:
Click here for more information on CPC's Community & Economic Empowerment Services