CPC 2019 Summer Internship Program Concludes on High Note
Main Content
CPC 2019 Summer Internship Program Concludes on High Note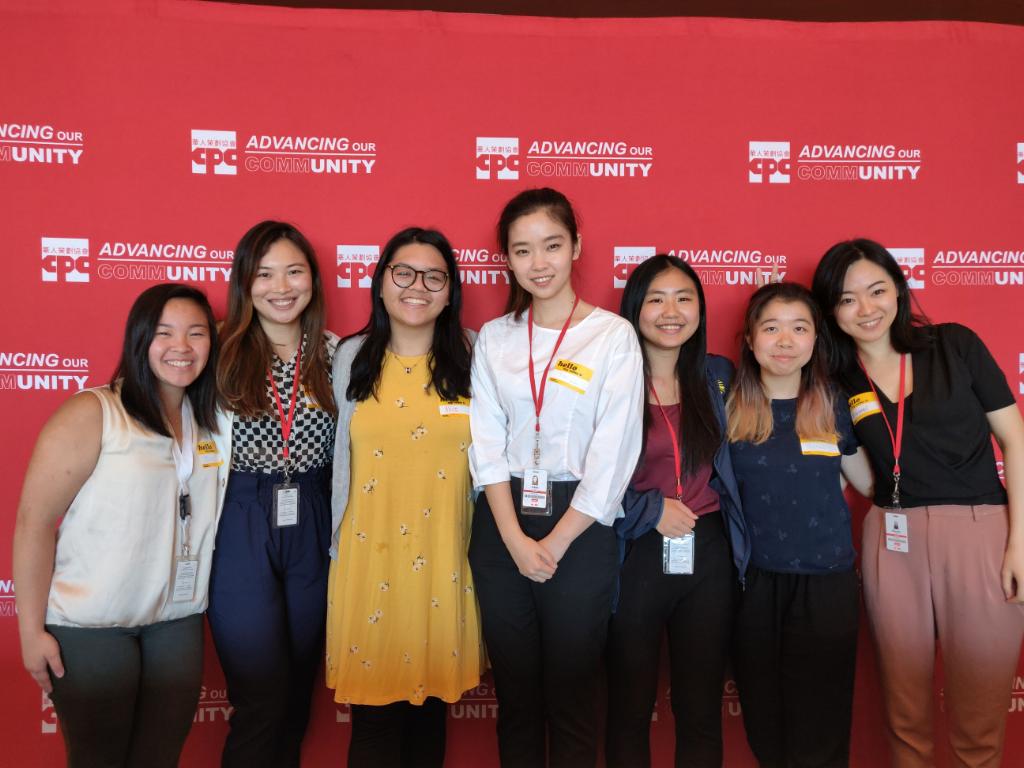 By Joyce Wong, 2019 Summer Operations/Compliance Intern
This summer, CPC welcomed seven interns as part of the CPC Summer Internship Program. This cohort included Operations and Compliance Interns Yifan Liu and Joyce Wong, Wellness Interns Alice Vo and Justine Luong, Development Interns Xinwei Zhang and Judy Zhang, and Legal Intern Shirley Li.
Throughout the summer, the cohort got to experience some of the daily functions of this organization. From leading arts and crafts sessions with the elderly to working on grant proposals, the internship program provided this cohort with an array of experiences catered to their individual interests, inclusive of accompanying team leaders to meetings with partners and community organizations, and visits to City Hall, the Museum of the Chinese in the Americas, and the Tenement Museum. While the interns were able to work in individualized areas, they were also given time to build relationships among themselves. In addition, interns were encouraged to network with staff throughout the organization through events such as site visits, Lunch-and-Learn Workshops, and All-Staff Meetings.
Overall, this summer internship program has again proved to be a success and continues an ongoing legacy of commitment to excellence. This was accomplished by relying on staff and stakeholder creativity, and a financial commitment by CPC's leadership despite a tight budgetary atmosphere. The work accomplished and relationships built this summer demonstrate the mutually beneficial nature of this experience.
We are grateful for the success of this summer's program, and we anticipate the future cohorts to come! Reflecting on the summer, our interns summarized their experience as such:
Yifan Liu, Operations and Compliance Intern (Columbia University School of Social Work):
It was such an honor to work at CPC and meet with all these excellent individuals this summer. My most memorable moment is to have interns and supervisors from different teams working in the same room and listen to their perspectives around the issues we were working on. It was inspiring to hear the stories from the current CPC employees and leaders and see why they chose to stay at CPC. We have been to multiple workshops and field trips with our CPC supervisors, which helped us better understand the organization, the population we serve, and the challenges they are facing. I saw how these professionals dedicated their time and energy to nurture us, and I am thankful for all their efforts into this internship program.
Joyce Wong, Operations and Compliance Intern (SUNY Binghamton University):
My summer internship experience with CPC has been incredibly insightful. Working with the Operations and Compliance team, I had the opportunity to be exposed to the various layers of a non-profit organization. It was a continuous learning experience that molded my understanding of collaboration and community. From visiting various CPC sites to networking with partnering organizations, this experience proved helpful in my personal professional development. Further, I felt that this internship perfectly complemented my curriculum in Public Administration, giving me practical experience towards my degree. I am extremely grateful for this internship opportunity, and I know that CPC will always hold a dear place in my heart.
Alice Vo, Wellness Intern (University of Richmond):
As a former CPC daycare participant, I am grateful for the opportunity to work on the front-lines at Hong Ning Housing for the Elderly and to give back to my community. I have worked with CPC in the past, but this year, I was fortunate to be able to come back to work with Hong Ning's Wellness Coordinator, Priscilla Fok. This summer has been memorable because there was never a dull moment at Hong Ning. As part of the Resident Wellness Team, I found myself jumping from one activity to the next, such as providing casework services, working on health workshops, preparing arts and crafts, and teaching ESL (English as a Second Language) classes. I also learned more about community health programming and resource management. Health, especially senior healthcare, is not always straightforward but has to be approached holistically. We tried to create activities that not only targeted the residents' physical well being, but also their mental and social well being. Even though this summer internship is ending, I know that the experiences and the lessons that I have learned will stay with me as I move forward.
Justine Luong, Wellness Intern (CUNY Hunter College):
My summer internship as a Wellness Intern at Hong Ning Housing for the Elderly was extremely fulfilling and insightful. I was always on my feet due to the different activities run throughout the week— arts & crafts, chair exercises, English classes, and cooking classes at Essex Market. Flyers for the activities throughout the week were posted floor by floor, as well as passed out door-to-door generally on a weekly basis. One of my most memorable experiences this summer were the door-to-door tenant visits. I was able to get to know some of the tenants when they invited us into their apartments to talk. Although the Wellness program at Hong Ning is relatively new, it has created a lasting impact on the tenants, as well as a sense of community.
Xinwei Zhang, Development Intern [Grant Writing] (Lehigh University):
"The experience of working with the Grant Writing team at CPC this summer is invaluable. I was able to learn steps to apply for public and private funding as a non-profit organization. One of the precious lessons I have learned from the internship is how to understand the community needs and connect them to the services that are provided at CPC in the grant proposals. I was very honored to be involved in meetings with some program directors at CPC and learned how they empowered community members by promoting access to community resources. Without the internship, I can hardly get an in-depth understanding of how important it is to listen to the community needs and how dedicated everyone I met at CPC is to enhance the community. I would like to thank my team, Elizabeth (Hendler), Helen (Fu), and Megan (Donovan), for their support during my internship, which makes it such a memorable experience. From them, I have learned how to work efficiently and remain detailed-oriented and holistic at the same time. I really appreciate having the opportunity to intern at CPC and being inspired by so many wonderful people here!"
Judy Zhang, Development Intern [Special Events & Donor Relations] (CUNY Hunter College):
Being able to work with the Development team at CPC this summer was an amazing opportunity for me to learn how non-profits worked behind the scenes. I've had no previous experience working with donors or coordinating large fundraising events, but under Flora (Lau)'s guidance I was able to quickly adjust. From researching venues for events to inputting data into Salesforce and Excel databases, I have gained so much experience in these two short months. Beyond donor and special events, my work here has reignited my passion for working with the AAPI community, and I am really grateful for my time here!
Shirley Li, Legal Intern (NYU Law School):
Working with CPC's Legal Department this summer has been an amazing learning experience. I had the opportunity to gain concrete insight into the various legal needs that a nonprofit entity will have, such as corporate governance, refinancing, incorporation and dissolution, labor and employment, copyright and trademark, and litigation. I was trusted with the responsibility of attending meetings and negotiations and reviewing various contracts, during which I learned to think critically about how to best serve the legal needs of CPC's programs and community members. Furthermore, I was able to work with all sorts of people, from Alan (Gerson), our dedicated General Counsel, to Rimma (Cohen), our amazing paralegal, to our incredible outside counsel, and the other interns, staff, and leadership team at CPC -- it truly made for not only a fruitful and educational summer, but a fun team-oriented experience as well since everyone worked to ensure that I was fully integrated into the Legal Department. I am very grateful to everyone at CPC that I was able to work with this summer, and I continue to admire everyone's dedication to advancing our community.