CPC Unveils Renovated Hong Ning Housing for the Elderly
Main Content
CPC Unveils Renovated Hong Ning Housing for the Elderly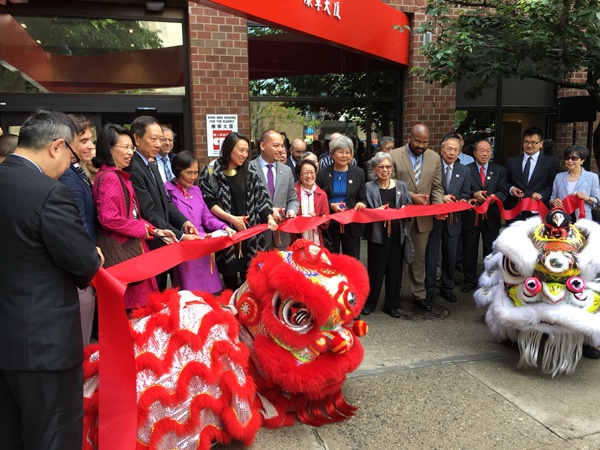 On May 31, 2017, CPC, the Chinatown Planning Council Housing Development Fund Company, and UnitedHealthCare celebrated the unveiling of the newly renovated Hong Ning Housing for the Elderly redesigned by Joe Franza. The Hong Ning Housing for the Elderly building is a 155 unit apartment building with 300 low-income senior residents currently residing in the building. Highlights from the renovation include two new elevators, a remodeled kitchen with top-of-the-line appliances, an open lobby featuring hand-painted wallpaper and a living green wall, upgraded activity room and an upgraded karaoke room. Hong Ning Housing for the Elderly also added a Resident Wellness Coordinator, who will strengthen the multi-social services offered to the residents of the building.
"We're excited to unveil these improvements that will benefit the lives of the seniors in the community. Hong Ning Housing for the Elderly can serve as a model of low-cost housing for seniors across New York City." said Wayne Ho, President & CEO of CPC.
"The upgrades that we made has brought a new energy to the building," said Jenny Low, Chair of CPC's Board of Directors. "Our seniors now have a beautiful lobby and more room for their recreational activities like dancing, calligraphy, bingo, and Tai Chi."
For 25 years, Hong Ning Housing for the Elderly has provided solace, aid and social activities for the seniors in our community. The renovation to the building will help CPC continue to improve the housing conditions of low-income families in various boroughs of NYC.
Thanks to UnitedHealthCare for sponsoring the ribbon cutting event.
Thank you to New York State Assemblymember Yuh-Line Niou​, New York City Councilmember Margaret Chin, Deputy Borough President Matthew Washington and representatives from the Office of the Public Advocate Letitia James and Office of Congressmember Nydia Velazquez for joining us.
For coverage by The LoDown click here
For coverage by Lower East Side Patch click here
For coverage by China Press click here
For coverage by Epoch Times click here
For coverage by NDTV read here | watch here
For coverage by on.cc click here