Working for Council District 1 Town Hall with Mayor de Blasio
Main Content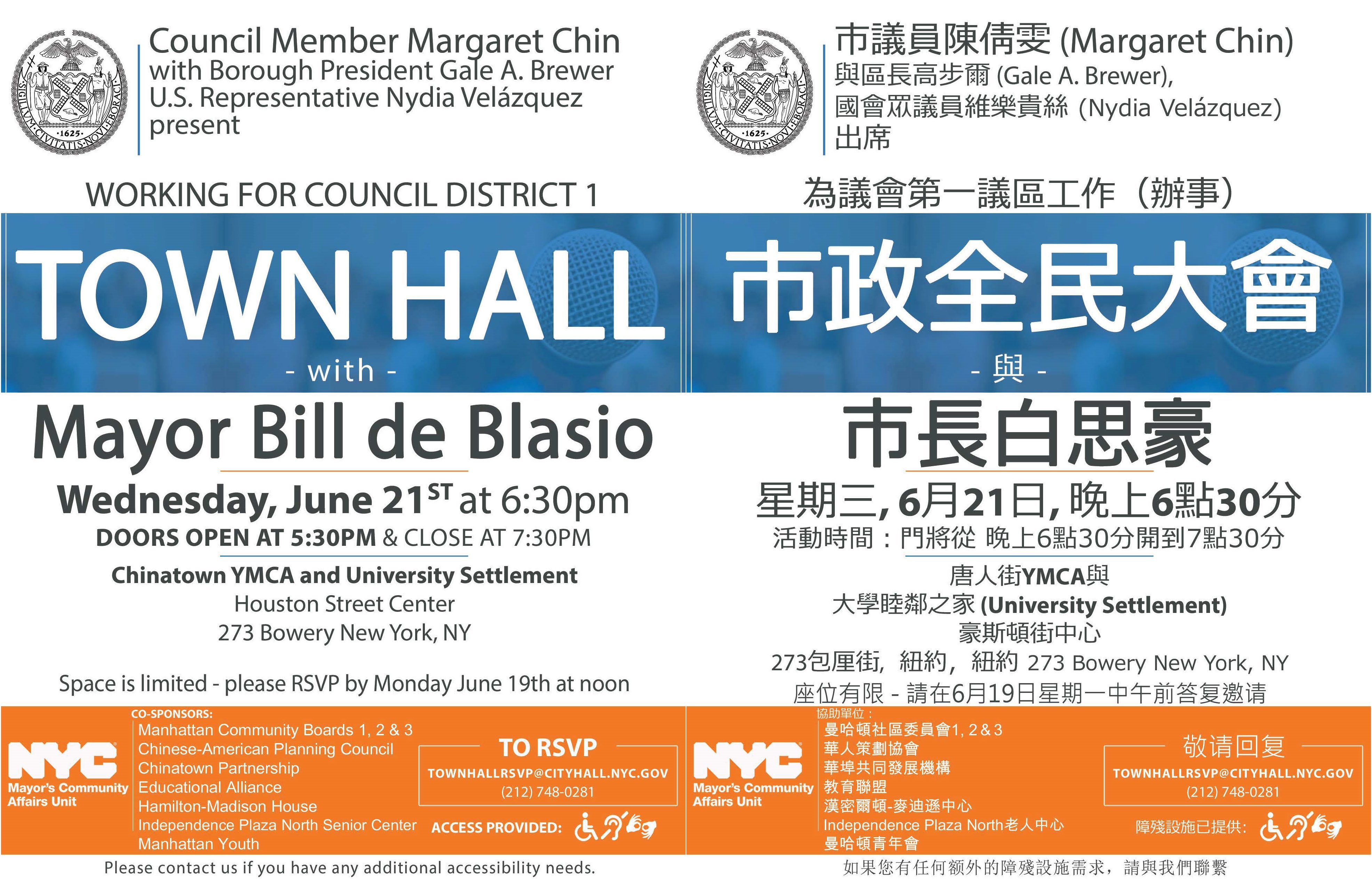 Working for Council District 1 Town Hall with Mayor de Blasio
CPC will be co-sponsoring a town hall meeting with Mayor Bill de Blasio on Wednesday, June 21st, at 6:30 PM. Doors open at 5:30 PM, and the town hall will be at the Houston Street Center of the Chinatown YMCA and University Settlement (273 Bowery).
Residents of Lower Manhattan will get a chance to ask questions to the Mayor at this town hall meeting.
RSVP by Monday, June 19, 2017, 12PM to townhallrsvp@cityhall.nyc.gov or call (212) 748-0281.
This town hall is co-hosted by Councilwoman Margaret Chin, Manhattan Borough President Gale Brewer, and Congresswoman Nydia Velazquez. Additional co-sponsors are Community Boards 1 and 3, Chinatown Partnership LDC, the Educational Alliance, Hamilton-Madison House, Independence Plaza North Senior Center and Manhattan Youth.
Date: Wednesday, June 21, 2017
Time: Doors Open 5:30PM, Start Time 6:30PM
Location: Chinatown YMCA & University Settlement Houston Street Center (273 Bowery Street New York, NY 10002)
RSVP: Monday, June 19, 2017 12PM townhallrsvp@cityhall.nyc.gov or (212) 748-0281
Please click the flyers below for information in English and Chinese.