CPC Brooklyn's Lunar New Year 4715 ‐ Year of the Rooster Celebration
Main Content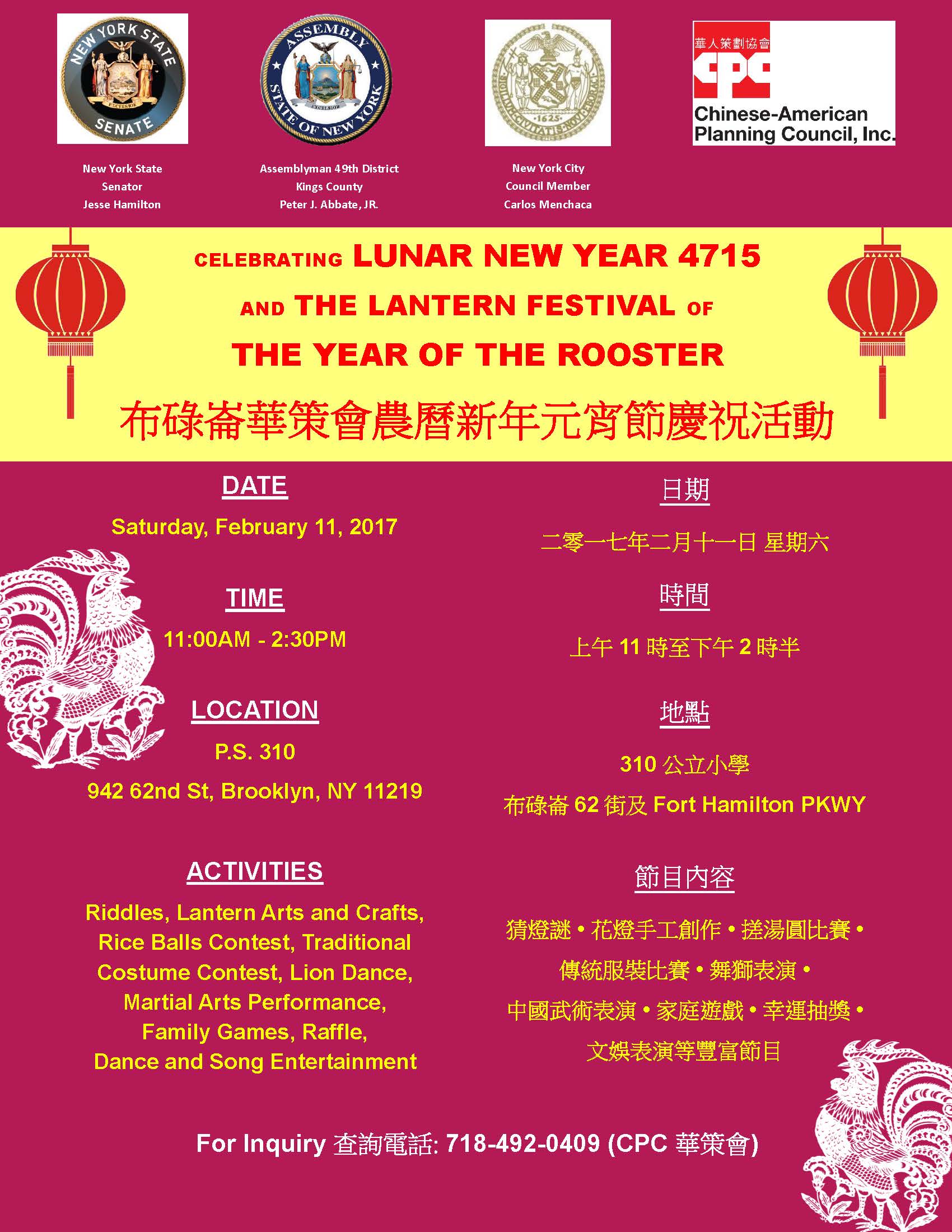 CPC Brooklyn's Lunar New Year 4715 ‐ Year of the Rooster Celebration
The Chinese‐ American Planning Council's (CPC) Brooklyn Community Services (BCS) is excited to announce that we will be hosting a Lunar New Year 4715 ‐ Year of the Rooster Celebration on Saturday, February 11th 2017 from 11:00am to 2:30pm. The event will take place inside the Gymtorium of P.S.310, located on 942 62nd St, Brooklyn, NY 11219. We'd like to welcome everyone to the Year of the Rooster!
The Lunar New Year is a wonderfully colorful and vibrant eastern holiday that showcases the beauty and richness of the Chinese culture and celebrates the importance and appreciation of family and friends. CPC Brooklyn Community Services hopes to engage our community into learning more about Asian heritage and the meaning behind the traditions we uphold by means of a Lunar New Year Celebration.
There will be many activities and live performances planned for this event. We will be featuring quality service vendors, family activities, traditional paper lantern arts and crafts, lion dances, martial arts performances, family games, traditional music and dance, entertainment, interactive games and more! Our celebration is the perfect spot for a family outing. We have brand new riddles for our ever popular Riddle Games and get your cameras ready for the various Culture Contests we will hold, such as our first ever Rice Ball contest and our widely popular Kid's Traditional Costume Contest, where finely dressed children ages 7‐ 12 take part in a stunning exhibition of their traditional garments. All attendees will also be eligible to join our free raffle prize drawings and receive incredible giveaways. This will be a free and open community event, easily accessible for people of ALL ages, ethnicity and culture so we encourage and invite everyone to join us!